• John Ensor is accused of crashing head-on into another car near Dexter, killing two girls, on April 4, 2021
• He waived a preliminary hearing
• The district court arraignment is set for 9 a.m., May 17 in Roswell
• Ensor is being held without bail pending trial after being found a danger to the community
Read the case write-up or past stories on this case
ROSWELL, N.M. — John Ensor's vehicular homicide case, for the fiery deaths of two Dexter girls after he allegedly crashed head-on into them while driving drunk or high, was moved to district court after Ensor waived a preliminary hearing.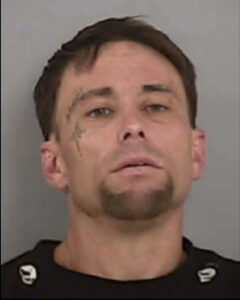 Fifth Judicial District Attorney's Office prosecutor Taylor Jaggers filed the criminal information on April 28, 2021, charging Ensor, 33, of Roswell, with the same seven charges levied in magistrate court: two counts of DWI vehicular homicide and one count each of possession of a controlled substance: methamphetamine, driving on a license revoked for DWI, overtaking on the left, driving an unregistered vehicle and no insurance.
Ensor's waiver does not state if he received any benefit or consideration from the prosecutor for waiving the hearing.
His arraignment is set for 9 a.m., May 17 in Roswell at the Chaves County Courthouse.
Jaggers wrote that he would have called six witnesses if the judge held a preliminary hearing: State Police Officer Trent Eby, Jason Knapp, Kiersten Harzewski, State Police Officer Marcus Gonzales, Mari Scott-Cihiy and Robert Sparks.
Eby wrote in an affidavit for a criminal complaint that, on April 4, 2021, Ensor was trying to pass multiple vehicles on State Road 2 near Crockett Yard Road in Dexter, when he crashed head-on into the Ford Focus driven by Danae Sosa, 17. Her sister, Darely, 12, was in the car with her.Eby wrote, based on an investigation by State Police Officer Marcus Gonzales, that multiple witnesses said after the crash, the sisters were unconscious and trapped in the car, which soon burst into flames. Officers found a syringe of alleged heroin and methamphetamine on the floorboard of his car.
"Witnesses reportedly attempted to extract Danae and Darely Sosa from their vehicle before it engulfed in flames but were unable to do so due to the amount of damage their vehicle sustained," Eby wrote.
Ensor was initially released, once he got out of the hospital, and ordered to appear for a future court appearance. Prosecutors then filed to have him held in jail until trial and at an April 16 hearing, District Judge Thomas Lilley found a danger to the community.
In an order outlining his reasoning filed on April 22, Lilley wrote that Ensor has "established a pattern and practice of dangerous driving," based on the homicide case as well as two prior drunk driving convictions.
Sisters Danae and Darely Sosa were remembered, in their obituaries.
Danae Sosa was a senior at Dexter High school and also attended the Goddard High School. She was part of the volleyball and track teams her freshman and sophomore years, according to her obituary.
"She enjoyed working out, shopping, thrifting, and spending time with family and friends. Her favorite things to do were playing Call of Duty, taking selfies, and listening to music," according to her obituary.
Darely Sosa was a sixth-grade student at Dexter Middle School. In the fifth grade at Washington Avenue Elementary School, she was the vice president of her class and always on the honor roll, according to her obituary.
"Darely was a loving and compassionate person who enjoyed spending time with her sisters. She enjoyed reading, writing in her journal, playing Call of Duty, eating, and watching Anime. Darely was creative when it came to editing videos and photos, she always looked forward to it," according to her obituary.
Do you have information about this case? NM Homicide needs your assistance to tell the stories of homicide victims. Please fill out this form.
See the case documents on DocumentCloud, read the case write-up or check out past stories on this case
Continue reading "Man charged for double DWI homicide in Dexter set for arraignment" →