Suspect: Mark Chavez
Victim: Tammie Cessna
Charges: Second-degree murder
Status: No contest plea to second-degree murder on Feb. 20, 2017
Sentence: 12 years
Date of incident: Jan. 13, 2014
Agency: State Police
Location: Moriarty, Torrance County
Judicial District: Seventh Judicial District
Magistrate case number:

M-56-FR-2014-00003

District Case number: D-722-CR-2015-00004
The killing
On Jan. 13, 2014, Tammie Cessna was seen alive for the last time at the Super 8 motel in Moriarty, where her boyfriend, Mark Chavez, lived and worked, according to an affidavit for an arrest warrant written by State Police Agent Rodger Brunson.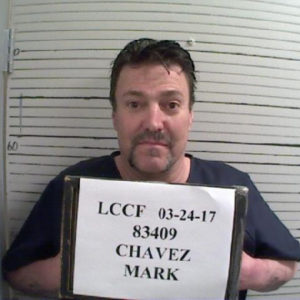 She was reported as missing a day later and it was noted that she never came back, after dropping her children off for Karate practice that night.
Her minivan was found in the parking lot of the motel and officers with the Moriarty Police Department immediately seized it, sealed it and had it towed on Jan. 14, 2014, the day she was reported as missing.
Four days later, Brunson got a search warrant for the car and found her body inside, covered by clean clothes and an open sleeping bag.
"Heavy blunt force trauma was observed all over the body," Brunson wrote. "In addition, some of the fingernails were broken, suggesting self-defense. The hair on the head of the body had been chopped off."
The pathologist conducting the autopsy later determined that she died from a combination of blunt force trauma and strangulation.
State Police officers then secured a search warrant for Chavez's room and interviewed him.
"They advised Mark of Ms. Cessna's brutal murder and they believed he was involved, including chopping her hair," Brunson wrote. "Mark replied multiple times, 'I don't cut hair,' 'I'm not a barber.' He did not once deny being involved in her murder."
When searching his room, State Police agents found that a portion of the carpet, "of considerable size," was saturated in blood, to the padding below. Blood was also found on the walls and on the trashcan lid across the hallway from the room. They also found women's clothing.
When confronted with the new evidence, Chavez told agents that the DNA found inside her would reveal who the killer was, that "It doesn't matter" and that she was raped, and her rapist was the last person to be with her.
On June 12, the lab results came back for the blood found in the room. It was Cessna's blood, and the DNA found under her fingernails was Chavez's.
Swabs of her genitals showed no male DNA, refuting rape allegations.
Brunson wrote, based on another agent's view of the case, that she was killed inside the residence, then moved into the vehicle post-mortem.
The plea deal
According to the plea deal signed Feb. 20, 2017, Chavez pleaded no contest to second-degree murder. Because it is a serious violent offense, Chavez must serve 85 percent of the sentence.
The court began the initial process of picking a jury the day of the plea deal and the potential jurors were excused by 10:23 a.m., according to hearing minutes.
As a part of the plea, three years of the maximum 15 year sentence were to be suspended, for a total sentence of 12 years. Additionally, the charge of tampering with evidence was dropped entirely.
Sentencing
Just a few hours after the plea deal, Chavez was sentenced to the 12 years because Cessna's family had come in from California.
He was given credit for 811 days of time already served, or a little over two years, according to a minutes sheet from the sentencing.
Cessna's daughter, Kirsten, said her mother would never be there for when she graduates college or be able to share in important milestones with her, and said Chavez showed no mercy.
Cessna's aunt, Adele, said Cessna was a light in their lives that Chavez extinguished.
Cessna's father, Bob, said that he was grateful for the remaining two children he had, while Cessna's husband, John, said that he was a Christian, but could not forgive.
See the case files, including the State Police investigation reports, on Google Drive or on Document Cloud
Latest posts by Wheeler Cowperthwaite
(see all)