Suspect: Kayla Baker
Victim: J.G. (male, YOB: 1988, enrolled Navajo Nation member)
Charges: Involuntary manslaughter, assault of a minor resulting in serious bodily injury
Date of incident: June 16, 2018
Type of incident: DWI crash
Status: Pending
Investigating Agency: FBI
Location: Route 12 near Navajo, N.M.
County: McKinley County
Federal district case number: 19-cr-04272
Search warrant case number: 18-mr-00603
Prosecutor: Nicholas Marshall
Summary
On June 16, 2018, Kayla Baker allegedly drunkenly passed a car on Route 12, near Navajo, New Mexico, and crashed head-on into another car, killing one Navajo Nation tribal member, a man named J.G., and injuring three others, one severely.
On Nov. 19, 2019, a federal grand jury indicted Baker on charges of involuntary manslaughter and assault of a minor resulting in serious bodily injury. Trial is tentatively set for July 6, 2020, in Albuquerque.
The incident
On June 16, 2018, Kayla Erika Baker, also known as Kayla Baker, was driving on Route 12 (mile post 36), near Navajo, New Mexico, when she allegedly tried to pass another car on the two-lane road, FBI Agent Lance Roundy wrote in an affidavit for a search warrant.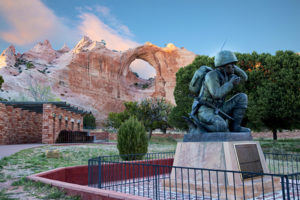 Baker, of Cornfields, Ariz., allegedly crashed head-on into a Ford Fusion carrying J.G. (YOB: 1988, a registered member of the Navajo Nation), his "common-law wife," their 16-month-old son and the "common-law wife's" 17-year-old sister, referred to as C.H., according to a response to the motion to dismiss filed by prosecutor Nicholas Marshall.
Navajo Police Officer Cherlyn Owens allegedly found that Baker smelled of alcohol, had slurred speech, bloodshot eyes and a lack of balance and tried to conduct a field-sobriety test, which Baker failed, Roundy wrote.
In the car, Owens found beer bottles and a "bottle of alcohol" in the passenger side, he wrote.
Navajo Police Officer Irene Six found C.H. injured on the ground outside the car. She was flown to a hospital in Fort Defiance, Ariz., before being flown to the University of New Mexico Hospital for a broken leg, Roundy wrote.
A year later. C.H. needed follow-up surgery a year later "on the hardware placed in her leg and to aid in her recovery" and still receives physical therapy, Marshall wrote.
Medics, and a physician who stopped to help, tried to save J.G., and he was flown to Fort Defiance as well, where he was pronounced dead, Roundy wrote.
J.G.'s girlfriend said she remembered trying to hold on tightly to her toddler during the crash. Both her and the toddler suffered minor injuries and were released from the hospital, Marshall wrote.
Navajo Criminal Investigator Farrell Begay interviewed Baker following the crash, but Roundy did not write if Baker waived her Miranda rights.
Roundy wrote:
"During the interview, Baker admitted to purchasing Blue Moon beer and a bottle of Southern Comfort liquor. Baker stated she consumed half a can of beer before driving her car on Route 12. Baker did not recall any details after turning on to Route 12, but did recall waking up in the hospital."
After federal investigators obtained her medical records, they showed she had a "blood serum of .151 of alcohol," while an FBI crime lab test showed a she had a blood-alcohol content of 0.12. The legal limit is 0.08, in addition to THC, Marshall wrote.
"The crash data information recovered from the vehicles indicated Defendant was in a passing zone, and went into the other lane, and was accelerating at the time of the crash. There is no indication of Defendant braking, or even swerving, to avoid hitting the other vehicle nor any indication that she even saw the other vehicle. Both cars were driving above the speed limit at the time of the crash."
Following the crash, Begay and investigator Samantha Yazzie interrogated Baker at the Window Rock Department of Corrections in Window Rock, Ariz.
During that interrogation, Baker consented to giving investigators her medical records, including the blood test results.
Her attorney tried unsuccessfully to have the blood test results suppressed.
It is not clear how long, or under what charges or jurisdiction, Baker was held in Arizona because she was never charged for the crash in federal magistrate court.
Indictment and release
On Nov. 19, 2019, 17 months after J.G. died in the crash, a federal grand jury indicted Baker on charges of involuntary manslaughter and assault of a minor resulting in serious bodily injury.
While involuntary manslaughter carries a maximum sentence of eight years, assaulting a minor carries a minimum mandatory sentence of 10 years with a maximum sentence of life. Assault resulting in serious bodily injury, but not done to a minor, carries a maximum sentence of 10 years.
After Begay arrested her on Nov. 25, 2019, at the Fort Defiance Indian Hospital, she was brought to federal court in Albuquerque where federal Magistrate Judge Jerry Ritter ordered her held without bail until a detention hearing on Dec. 3, 2019, where she was ordered released by Magistrate Judge Kirtan Khalsa. (LINK) She pleaded not guilty during her arraignment the day before.
Marshall opposed her release, but the minutes contain no documentation of why.
According to the conditions of her release, she was released into the custody of Carol Tapaha and ordered, with the exception of travel to court, to stay within Apache and Coconino counties in Arizona. She is also supposed be monitored for alcohol use.
After her release, Baker was fired from her job as a nurse "in an emergency room setting," her attorney, Aric Elsenheimer, wrote in a motion to modify the conditions of her release.
Her unnamed employer took the restriction of her release, that she have no contact with the victims or their families, to mean she could not work at the hospital and he wanted the judge to change the conditions so she could have incidental contact. Marshall did not oppose the motion, he wrote.
Khalsa granted it.
Motions
Motion to dismiss assault on a minor charge
Aric Elsenheimer filed two motions early in the case. The first was to dismiss the second count of the indictment, for assault of a minor resulting in serious bodily injury.
Elsenheimer wrote that the crime required Baker's knowledge that the person she severely injured was a minor.
District Judge William Johnson dismissed the motion.
Motion to suppress blood tests
Elsenheimer filed a separate motion to suppress the blood tests.
He wrote in a motion to suppress that the investigators, Begay and Yazzie, "did not obtain valid consent" from Baker to get her blood tests from the hospital.
Johnson denied that motion.
Still pending
On Feb. 28, 2020, Johnson granted a motion to continue the case for a jury trial tentatively set for July 6, 2020.
Do you have information about this case? NM Homicide needs your assistance to tell the stories of homicide victims. Please fill out this form.
See the case documents on Google Drive or Document Cloud
Latest posts by Wheeler Cowperthwaite
(see all)