Summary
On March 19, 2017, Aaron Sieben and Ameer Muhammad allegedly got into some kind of argument while Sieben was in his truck, parked at a Circle K gas station.
After Muhammad allegedly fled from Sieben, Sieben pursued him, leading to a fist fight. As the fight progressed, Muhammad allegedly produced a knife and stabbed Sieben two to three times. After stabbing Sieben, Muhammad allegedly took his wallet. Sieben died at the scene and Muhammad allegedly fled, only to be arrested shortly thereafter.
Muhammad was indicted by a grand jury on March 30, 2017, on first-degree murder or felony murder, armed robbery, tampering with evidence and shoplifting under $250. After multiple allegations of misconduct by the prosecution and defense, the Attorney General's Office took over the prosecution. The defense also tried to suppress statements he made to a detective after he asserted his right to an attorney.
On July 27, 2018, a jury found Muhammad guilty of felony murder, armed robbery and shoplifting under $250 while finding him not guilty of tampering with evidence.
On Nov. 7, 2018, Muhammad's attorneys appealed his conviction and on June 10, 2019, his attorneys filed a brief in chief, arguing his statements should have been suppressed and the judge should have given a self defense instruction to jurors.
The incident
On March 19, 2017, Albuquerque Police Officers were called to the Circle K gas station at 900 Eubank Boulevard after a husband and wife called in a stabbing.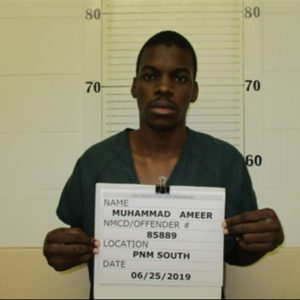 When officers arrived, they found Aaron Sieben, 30, dead on Lomas Boulevard NE, Detective Andrew Hsu wrote in a criminal complaint for Ameer Muhammad's arrest.
Multiple people were standing over Sieben and one person was trying to administer first aid. After paramedics arrived, a short time later, they declared Sieben was dead.
Officers, given a description of the alleged stabber, were able to locate Muhammad near-by.
Hsu interviewed two witnesses, George and Lindsy Brigham. They were parked on the south side of the gas station. Sieben, in a gray truck, was parked beside them.
"Mr. Brigham also observed a black male adult, later identified as Muhammad Ameer, standing outside the gray GMC pickup truck," Hsu wrote. "As Mr. Ameer started to leave the vehicle, the decedent got out of the GMC and started to Mr. and Mrs. Brigham, 'Get that mother fucker!' Mr. and Mrs. Brigham believed that the decedent was requesting their assistance for an emergency."
Sieben then chased Muhammad along the sidewalk behind the store while the Brighams got out of their vehicle and watched as the pair engaged in a fist fight, which spilled into the westbound lanes of Lomas Boulevard NE.
"While on Lomas Blvd NE, Mr. Ameer produced a six-to-seven inch knife," Hsu wrote. "Mr. and Mrs. Bringham saw Mr. Ameer going through the decedent's pants pockets. Mrs. Brigham observed Mr. Ameer remove a black wallet from the decedent's right rear pocket. Mr. Ameer then fled the scene on foot eastbound on Lomas Blvd NE."
The Brigham's tried to administer first aid until paramedics arrived and Lindsy Bringham called 911 and provided a description of Muhammad and the direction he was headed. George Brigham positively identified him, after officers detained him.
He was initially charged, the day of the alleged incident, on an open count of murder and robbery with a deadly weapon.
Below is the criminal complaint for Muhammad's arrest.
Muhammad Ameer PC -3-20-2017_Redacted

Indictment and case movements
On March 30, 2017, a grand jury indicted Muhammad on charges of:
First-degree murder, or in the alternative, felony murder
Armed robbery
Tampering with evidence for allegedly stealing the wallet
Shoplifting under $250 for razors blades and a knife allegedly stolen from Wal-Mart
Attempts at disqualifying the DA
On Sept. 7, 2017, Assistant District Attorney Les Romaine accused defense attorneys Robert Martin and Matthias Swonger of "engaging in gamesmanship to try and obtain suppression of witnesses." On Nov. 7, 2017, after more motions, including ones to remove the Second Judicial District Attorney's Office, the Attorney General's Office entered its appearance in the case.
Romaine, in his motion for sanctions, alleged Martin and Swonger were trying to suppress witnesses because of issues related to pre-trial witness interviews and by putting off interviews of police officers until closer to trial, but before the deadline. He also alleged that the defense, both employed by the Law Office of the Public Defender, did not "seem motivated to move forward in the adjudication of this matter."
He requested sanctions to "deter this sort of behavior."
Swonger filed a response on Sept. 11, 2017 and wrote that they were splitting the pre-trial interviews and Martin was not available until November 2017.
"The State responded on August 7, 2017 and stated that the 'interviews in this case cannot be put off any longer,' despite the fact that the interview deadline in this matter is not
until January 22, 2018," Swonger wrote about Romaine. "The State gave no further explanation to Defense of why interview dates in November, two months prior to the interview deadline, would be unacceptable to him."
Swonger also alleged that Grace Fonesca, employed by the Second Judicial District Attorney's Office and who was on the prosecution's witness list, was trying to avoid being served with a subpeona and had been providing false names to investigators for the defense. (According to an Oct. 27, 2017 court filing by Romaine, Fonesca saw Sieben's killing.)
On Sept. 18, 2017, the judge set a hearing for the motion for sanctions on Oct. 19, 2017.
On Oct. 18, 2017, Martin filed a motion to dismiss or disqualify the Second Judicial District Attorney's Office. Martin wrote in the motion that Fonesca allegedly lied to investigators, claimed she was a different person when an investigator tried to serve her with a subpoena and allegedly claimed that Romaine told her she did not have to accept the subpoena.
Martin wrote that Romaine violated Muhammad's Fifth and Fourteenth rights, as well as state constitutional rights, by "the obstruction and interference of the prosecutor in the service of a lawful subpoena upon the witness in this matter."
"This was in part due to the inherent conflict of interest by the witness being employed at the 2nd Judicial District Attorney's office and therefore, wanting to please her employer in this matter," Martin wrote.
Martin wrote that Romaine caused a denial of due process because of bias "formed" by Fonesca being an employee of his office.
"The interplay between the employee witness and the prosecutor has given rise to the appearance of impropriety and a need for a special prosecutor," Martin wrote.
According to an affidavit by Investigator Milton Rodriguez, and attached to Martin's motion, Rodriguez went to to Fonesca's house on Sept. 6, 2017 and a woman was sitting outside on the phone. She claimed her name was "Lisa" and she was the dog sitter. Rodriguez pulled up Fonesca's driver's license photo and found he had been duped, he wrote.
On Sept. 11, 2017, Rodriguez found Fonesca's 17-year-old son outside the house and explained why he was there.
"After explaining to Richard (Fonesca) Jr. the subpoenas I had in hand, Richard Jr. told me he witnessed the same incident in question. Richard Jr. told me, his mother told him not to tell the police what he had seen because she did not want him to get involved," Rodriguez wrote.
On Oct. 19, 2017, following a hearing, District Court Judge Christina Argyres denied Romaine's motion for sanctions in a form order.
On Oct. 27, 2017, Romaine filed a response and alleged that he never told Fonesca to refuse service of the subpoena.
On Nov. 7, 2017, prosecutor Mark Probasco, with the Attorney General's Office, entered his appearance in the case, taking the case away from Romaine and the Second Judicial District Attorney's Office.
Motion to suppress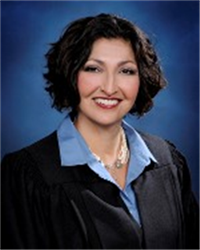 On April 2, 2018, Martin filed a motion to suppress statements Muhammad made to Det. Andrew Hsu on March 24, 2017, after he had been arraigned, asked for an attorney and was being represented by the Law Office of the Public Defender.
Martin wrote that Muhammad was "actively hallucinating" during the interrogation by Hsu and he was represented when Hsu interrogated him on March 24, 2017.
On April 12, 2018, Probasco filed an opposition to the motion to suppress statements and he wrote that Muhammad initiated conversation with Hsu on March 27, 2017. It is not clear which date is correct.
Probasco wrote: "After documenting an injury on the Defendant's hand, the Defendant — without any question being posed– volunteers 'Like, uh, never mind. I was going to say, like, I know I did it but that· is that what y'all want to know? Like I did it but I feel like I wasn't in my right mind at the time though. Like, I feel like everybody in Albuquerque, New Mexico was trying to kill me and shit.'"
"Law enforcement," although it is not clear if that was Hsu or someone else, stopped Muhammad from speaking and told him he needed to read him his rights, which he did.
District Court Judge Jacqueline Flores denied the motion to suppress for the reasons Probasco outlined.
Flores wrote:
"The waiver in this case comports with the requirements of the Constitution because Defendant initiated his interrogation: he was given repeated and individualized advice of
rights, he repeatedly attempted to discuss his criminal conduct, his demeanor showed relief when he initiated his statement, and his affirmative waiver of rights indicated that
he still wanted to provide a statement to the police in this case despite having on previous occasion asserted his right to counsel."
Guilty verdict and sentence
Trial began on July 23, 2018 and the jury found Muhammad guilty on July 27, 2018, of felony (first-degree) murder, armed robbery and shoplifting $250 or less.
Flores vacated the armed robbery charge because it was the predicate felony for felony murder. He was acquitted of tampering with evidence.
On Sept. 25, 2018, Flores sentenced him to life in prison, which is a term of 30 years, according to a remand order.
Supreme Court appeal
In an initial statement of issues filed Nov. 7, 2018, Martin raised four issues on appeal:
The denial of the suppression of Muhammad's statements to Andrew Hsu
The judge's denial of a self defense instruction to the jury
If the judge erred by allowing Det. Tasia Sullivan to be designated as the case agent, and attend the trial, despite not being the lead agent
If there was sufficient evidence to convict Muhammad
In the June 10, 2019 brief in chief, Assistant Appellate Defender Steven Forsberg, with the Law Office of the Public Defender, only challenged two issues: the judge not suppressing Muhammad's statement to the police and the lack of a self-defense instruction.
However, both of those issues are related because the judge, Flores, used Muhammad's statements as the basis for not giving a self-defense instruction, Forsberg wrote.
The 42-page brief outlines much of the testimony at trial.
In challenging the unsuppressed statement, Forsberg wrote that the Flores used the wrong legal standard to determine if it needed to be suppressed.
A Miranda rights waiver has to be both voluntary and knowing and intelligent, but Flores stated she believed police coercion was required to suppress the statement. However, that is only required to find if a statement was given voluntarily; a statement can still fail to meet the knowing and intelligent threshold in the absence of coercion, Forsberg wrote.
He wrote that Muhammad was "in the grips of severe mental illness" when he made the waiver.
The statement was also the only evidence Muhammad was the initial aggressor. When the defense argued for a self-defense instruction, the judge said she could not discount his statement to police. Forsberg wrote:
None of the eyewitnesses saw what caused Muhammad to flee from Mr. Sieben's truck while Mr. Sieben chased him, but Ameer in his statement said he had held a knife to Mr. Sieben. None of the witnesses could provide a motive for those events, until Mr. Muhammad said during his statement, according to the detective, "that he wanted to get meth; to get high; to kill himself, and he made statements that he killed him because he did not want to continue to ask people for money." [8 Tr. 23:24-25:15] Due to his mental state, Ameer' s statements were not knowing (let alone reliable).

When the defense was arguing for a self-defense instruction, the trial court judge emphasized the importance of the statement: "I think the problem for me is you really want me to discount the Defendant's statement, and I can't" [8 Tr. 56:16-56:18] Ameer's unknowing statement kneecapped any defense he might have had.
Forsberg wrote that the Supreme Court should either reverse his conviction and remand for a re-trial, with the statement suppressed, or remand the case to the District Court for a new hearing on the suppression issue.
Should the trial court, on remand, find the statement unknowing, then a new trial would be required. If, on the other hand, the trial court held that the statement was knowing and intelligent, then Mr. Muhammad could appeal that decision to this Court.
In the answer brief for the prosecution, filed June 20, 2019, Assistant Attorney General Maris Veidemanis wrote that, although Muhammad was experiencing delusions during the police interrogation, he was "coherent and articulate" and that the defense presented no information that Muhammad did not understand the Miranda warning.
If there had been an error, it wouldn't have mattered because there was ample evidence to convict him of felony murder, predicated on armed robbery, Veidemanis wrote.
As to the self-defense instruction, Veidemanis wrote that really, the Flores' decision was based on the lack of evidence that Muhammad had been attacked and pointed to State v Abeyta, which states that self defense must be reasonable in relation to the threat posed and that excessive force in self defense "renders the entire action unlawful."
On July 10, 2019, Forsberg filed a reply brief and focused on Veidemanis' emphasis on the voluntariness of Muhammad's statement. He wrote that the trial court should be ordered to consider evidence of Muhammad's mental state in determining if he knowingly and intelligently waived his rights.
He wrote that Veidemanis' claims that the case could have stood without his statement was contradicted by the trial prosecutor, who fought the suppression motion and highlighted the statement during his closing arguments.
The case is scheduled for oral arguments at 10:15 a.m., July 7, 2020.
On Oct. 19, 2020, the New Mexico Supreme Court unanimously upheld Muhammad's conviction for felony murder, rejecting the two arguments made by his defense attorney: Flores not suppressing Muhammad's statement to the police and the lack of a self-defense instruction.
Supreme Court Justice Barbara Vigil, in her opinion for the court, wrote that no self-defense instruction was appropriate because there was no evidence that the Sieben, 30, ever had a weapon, even if he struck first.
Muhammad's Miranda rights were not violated because, based on the recording of his interview, because his "mental illness did not affect his understanding of his rights but rather his motivation for not exercising those rights," Vigil wrote.
See the case documents on Google Drive or Document Cloud
Stories on this case
Supreme Court upholds Ameer Muhammad's conviction for 2017 ABQ stabbing death
Latest posts by Wheeler Cowperthwaite
(see all)