The summary
On July 30, 2015, Jefferson Herrera, 29, and his three brothers went to Richmond Sam's house, trying to get him outside to fight and destroying his property. Sam went to a neighbor's house, got a gun and started shooting. He hit no one the first time he shot, according to court records.
Sam claims he was fired upon first. The people involved, described as being unreliable witnesses, said they never shot first, according to court records.
He then opened fire a second time, after the assailants, including Herrera, were driving away. He may, or may not have, fired the shot that killed him. According to court records, the autopsy report casts doubt that Sam was low enough to the ground, or close enough, for the trajectory of the bullet that killed him, according to court records.
Sam's lawyer posited that it is possible one of Herrera's own brothers accidentally shot him while fleeing, according to court records.
Sam was initially charged with second-degree murder and possession of a firearm by a felon, according to court records.
He took a binding plea for involuntary manslaughter with a minimum sentence of 15 months and a maximum of 21. Federal District Judge James Browning gave him the minimum, 15 months, according to court records.
The incident
On July 29, 2015, a group of four men, all brothers, bought some Old English malt liquor and started drinking. The victim's brother, only identified as JH, told his brothers, one of whom was victim Jefferson Herrera, Richmond Sam owed him $45 for gas money. The debt was accrued several months prior, FBI Agent Ross Zuercher wrote in an affidavit for an arrest warrant.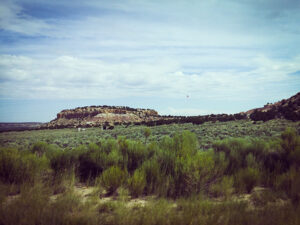 "Around midnight of July 30, 2015, the four men arrived at SAM's residence shouting that he owed JH money, and to pay his debts," Zuercher wrote. "The men tried to call SAM out of the residence to confront him."
After Sam refused to come out, they started smashing the windows of the two cars parked at his house.
"The windows were smashed with iron fence posts obtained from the property," Zuercher wrote. "JH stated that he saw a man, although he could not make out his face, begin to fire live ammunition at the four brothers."
After being shot at, the men got into their own car and fled. Herrera was driving, he wrote.
Herrera is not identified in court records but he is identified in his obituary and in his autopsy report.
"As the vehicle sped away down SAM's driveway, several more shots were fired at the vehicle," Zuercher wrote. "One round broke the back window of the vehicle. One of the rounds fired entered the back of John Doe's neck, and exited the oral cavity. JH stated that he saw his brother, John Doe, slump forward with blood coming out of his mouth. John Doe had made painful moaning noises as he slumped forward."
The car crashed into a ditch, JH got out of the vehicle, grabbed Herrera from the driver's seat and put him in the rear.
"JH could not recall where the other two brothers went," Zuercher wrote.
JH then drove to their mother's house, four miles away. At 5 a.m. that same morning, Sam surrendered at the San Juan County Sheriff's Office.
When officers conducted a search of his property, they found an AK-47 and a loaded drum magazine.
"The rifle was found wrapped in a blanket and placed inside a bush," he wrote.
In his own statement to officers, Sam said he had been watching a movie when he heard a loud commotion coming from outside, and someone trying to break his door down.
"SAM held the door shut with his body weight," Zuercher wrote. "While holding the door closed, SAM said that he heard a loud bang that sounded like a gunshot. Eventually the intruders lost interest into gaining access to the residence. SAM said that he heard a vehicle shift into drive, and believed it to be the best chance to escape from his residence."
Sam told the officers he then ran to his cousin's house, told him about the intruders and asked for a weapon and his cousin gave him the AK-47. He went back to his own house and positioned himself next to a wood pile.
"SAM then said that he was fired upon twice by what he believed to be a rifle," Zuercher wrote. "SAM said that he thought it was a rifle because he could see the light reflecting off what looked to be a long barrel. SAM said he returned fire and shot approximately five times. SAM saw approximately four to six men scatter."
He saw them get into a car and begin to drive away. He then moved closer, to a metal structure, and fired five more times. After he heard the vehicle crash, he wrapped the gun in a blanket and put it in a bush, he wrote.
Below if the affidavit for an arrest warrant.
Criminal Complaint - Richmond Sam - D.N.M._1-15-cr-03051_2_0

Court proceedings
Previous incident
Richmond Sam was on probation for previously shooting at a deputy who tried to pull him over for drunk driving. When he killed Herrera, he was still on probation.
Indictment and plea
On Aug. 24, 2015, a federal grand jury indicted Richmond Sam on charges of second-degree murder, felon in possession of a firearm and using a firearm during a crime of violence.
After a series of motions and the case was about to go to a jury trial, Sam pleaded guilty, instead, to involuntary manslaughter on Dec. 31, 2015.
In federal law, involuntary manslaughter carries a maximum sentence of eight years in prison. However, the plea agreement, which District Judge James Browning signed, dictated that Sam would receive a sentence of a year and three months (15 months) to a year and nine months (21 months).
Federal prosecutor David Adams proffered that binding plea deal and federal Magistrate Judge Karen Molzen initially accepted it although it was up to Browning to determine the final sentence.
Prosecutors filed a criminal information, dropping the other charges and decreasing second-degree murder to involuntary manslaughter.
Plea - Richmond Sam - D.N.M._1-15-cr-03051_53_0

Sentencing
When it came to sentencing, Adams requested Browning sentence Sam to the maximum, he wrote in a sentencing memorandum.
"Acknowledging that the plea agreement radically reduces the defendant's exposure to incarceration, the United States urges the Court to accept the agreement based on the fact that grounds for the plea are significantly tied to the facts of the case and the detrimental impact proceeding to trial would likely have on all parties involved," Adams wrote.
The three brothers were unreliable witnesses and Adams was not sure if they would even show up, if the case went to trial, he wrote. In addition, they had little credibility, considering they attacked Sam's property.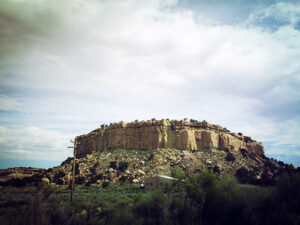 "If one of the witnesses decided not to show, the government's case in chief would collapse, the jury would more likely rely upon the Defendant and his version of events, which was well articulated in his statement to law enforcement," Adams wrote. "A spokesperson for the family had conveyed to the government that the brothers would likely be a no show at the day of trial. The allegation by the Defendant that one of the brothers was firing a rifle from the vehicle would become an even more difficult obstacle to overcome if one of the witnesses decided not to show. The government wasn't privy to what defenses witnesses would testify to, but the defense had eluded to the fact that one of their witnesses would testify that they heard or saw another weapon being fired, corroborating the Defendant's version of events."
Sam's attorney, Robert Gorence, argued that Sam had a legitimate claim to self defense, Adams wrote.
'"The United States agrees with the analysis that the Defendant's self-defense claim could have resulted in an acquittal or at the very least a step down to involuntary manslaughter which would have resulted in a sentence of two to three years," Adams wrote. "Taking those things into consideration, as well as the criminal history of the victim and his brothers, the parties negotiated a plea that reconciled what would have otherwise been an indeterminate trial dynamic."
US Sentencing Memo - Richmond Sam - D.N.M._1-15-cr-03051_59_0

Gorence wrote in his own sentencing memorandum that it was a highly contested case, as evidenced by his release appeal (Sam spent the entire time before trial in jail) and the FBI hardly did its own job, and that he wanted Sam to be sentenced at the low end of the sentence spectrum:
"Mr. Sam's investigation in this case revealed the following that had not been uncovered by the FBI:
1. Mr. Sam had been the victim of repeated threats and violence directed against him and his property;
2. On the night of July 30, 2016, Mr. Sam was not intoxicated and was peaceably minding his business at his residence;
3. That the alleged victim in this case and his brothers, close to midnight, began what would be called an 'attempted home invasion,' and, when unsuccessful in breaching the residence, the alleged victim and his brothers proceeded to smash a house window and the windows of Mr. Sam's vehicles."
In addition, Sam was not armed in his own house and only retrieved a gun from his neighbor, who tried himself to call 911, but was unable to. In addition, three different neighbors would corroborate that they heard Sam being shot at before he returned fire, Gorence wrote.
"Perhaps of greatest significance in this case is the odd autopsy findings cursorily set forth in paragraph 17 of the PSR (Pre-sentence report)," Gorence wrote. "Although Mr. Sam was at least 15 feet higher in elevation than the alleged victim, the autopsy identified that the alleged victim died from a single bullet which entered his left upper back, went through his left shoulder blade and the left side of his neck, into his oral cavity and exited the right side of his mouth. Given the difference in elevation, this trial would have established great uncertainty as to whether or not Mr. Sam actually fired the fatal shot. Quite conceivably the alleged victim was accidentally shot by one of his brothers either in the vehicle or before entering it. This would explain the bizarre behavior of the victim's brothers in not transporting him immediately to a hospital and instead going to a sister's house for a very lengthy period of time. The argument would have been made at trial that the prolonged stay at the alleged victim's sister's house was an attempt by his brothers to cleanse themselves of his blood and hide other critical evidence, namely their firearm."
Browning gave him the minimum sentence: 15 months followed by three years of supervised probation, according to the sentencing minutes.
See all the documents on Google Drive or view the case on CourtListener.com
Latest posts by Wheeler Cowperthwaite
(see all)