Suspect: Christopher Pino, 52
Victim: Daniel "Scooby" Arballo
Charges: Voluntary manslaughter; originally Open count of murder, aggravated assault with a deadly weapon.
Status: No contest plea to voluntary manslaughter
Sentence: 3 1/2 years
Date of incident: April 30, 2017
Agency: Albuquerque Police Department
Incident Location: Central Avenue and Solano Drive, Albuquerque
Magistrate case number: T-4-FR-2017-002578
District case number: D-202-CR-201701879
Summary
Allegedly tired of having his property stolen, Christopher Pino, 52, allegedly ran down homeless man Daniel Arballo and tried to run down his friend, Billy Harper, after he saw the pair with a set of speakers.
He was initially arrested on charged of aggravated battery with a deadly weapon and aggravated assault with a deadly weapon.
On May 1, 2017, Arballo was pronounced dead and on May 4, an autopsy was conducted. After the autopsy, officers decided to charge Pino with murder.
On May 19, 2017, a grand jury indicted Pino on five charges, including second-degree murder.
In June 2018, Pino pleaded no contest to voluntary manslaughter with a sentence capped at six years. In August 2018, District Court Judge Cristina Jaramillo sentenced him to 3 1/2 years. He received credit for 197 days served.
The incident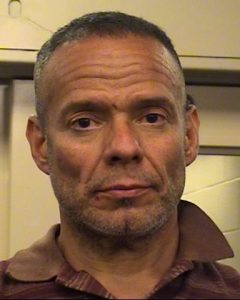 On April 30, 2017, officers responded to an alley at Central Avenue and Solano Drive. Daniel Arballo was immediately transported to the University of New Mexico Hospital for extensive injuries, Officer P. Moya wrote in an affidavit for an arrest warrant.
When Officers Israel Martinez and Lea Lopez first arrived, they thought it was a simple crash. While talking to the driver of a red hummer involved, Christopher Pino, Martinez was told that Pino was a suspect and he immediately read him his Miranda rights.
"Pino stated he was contacted by an unknown person who lives in the area," Moya wrote. "The person stated there were two males taking stuff from his property, which is located at 3715 Silver SE. The building is an old church formally known as The Trinity Methodist Church. Pino decided to go to his property in hopes to stop the inviduals from taking his belongings."
When he arrived, he saw two men in the alleyway carrying his radio.
"Pino then intentionally struck one of the males at approximately 20 miles per hour and was trying to hit the other male so they could be contacted by police when they arrived," Moya wrote. "As he was attempting
to confront the other male, a crowd started to gather in the street. It was at this time Pino decided to leave the area."
Homeless man Billy Harper's view
Moya interviewed the other man, Billy Harper, who told him he was in the area when he saw his friend, Arballo, cleaning up weeds and branches from the church property.
"Scooby told Billy, 'this was his people's church,'" Moya wrote. "It was unclear when Billy decided to help him out but they
started to throw some trash and some branches inside the dumpster. They then obtained some speakers and while
in the process of walking those to the dumpster a red Hummer turned down the alley and accelerated."
Harper estimated the Hummer to be going at least 40 mph.
"The driver then directed his attention towards Billy and told him, 'you stealing from my church, you stealing from my church?'" Moya wrote. "He did this while shaking a shovel at him. The male was shaking the shovel at him while threatening to harm him. Billy stated he was only a short distance away, he estimated 15 feet."
Shortly afterward, Harper alleged Pino left, then came back and threatened him again.
Seven Clover Security Guard Gregory Kreitman's view
Seven Clover security guard Gregory Kreitman told Moya that he was outside smoking a cigarette when he saw two homeless men in the alley, shaking off jeans and throwing away trash.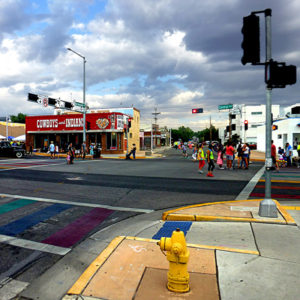 "He then saw a red Hummer 'fly' down Solano and enter the alley and wreck his vehicle directly into the two males," Moya wrote. "One was able to jump out of the way but the other was struck with the vehicle and went 'flying.' After the collision, the vehicle reversed and went after the other male."
After the initial crash, Kreitman alleged, Pino started threatening to hit Harper with the car.
"Gregory then stood in front of the male to avoid him from being harmed," Moya wrote. "The vehicle eventually drove off and turned east on Central and came back around on Silver to Solano. He continued yelling at the male, 'You're going to be killed, I'm going to kill you, you stole from me.'"
Pino allegedly stayed a few minutes before he heard sirens, then took off and he said he never saw Pino get out of the vehicle, contrary to Harper's statement.
"Gregory added the driver kept telling the other male to come out into the road so he can hit him with his car," Moya wrote.
Seven Clover employee Jamilex Delgado's statement
Jamilex Delgado, an employee at Seven Clover Dispensary, told Moya she Kreitman dealing with a commotion outside. When he left the building, she saw a man in a hat, later identified as Harper, "freaking out" because it appeared the red Hummer was going to crash into him.
"Delgado recalled seeing the red Hummer enter alley way and possibly hit something," Moya wrote. "This occurred prior to her any having knowledge of any situation that was transpiring."
Pino allegedly threatened Harper with what appeared to be a shovel in his back seat, but she was not sure if it was a shovel, a bat or something else.
"Delgado stated the male was 'raging,'" Moya wrote.
The perimeter
While at the scene, Moya saw a set of speakers in the alley and one was missing a cover. The cover was inside the gated church property.
"Officer Lucero and myself walked the perimeter of the church and could not locate any forced entry or any other type of entry," Moya wrote. "I did locate some branches inside the dumpster. There was also a green couch cushion as well."
A "responsible party," Jacob Welch, allowed them in to make sure there were no signs of forced entry.
"Everything appeared secure and could only locate a window that was not locked," he wrote. "The window was closed and could not determine whether that could've been used as any point of entry."
Pino's interview
At the scene, Moya talked to Pino and told him he would interview him at the police station.
"Pino uttered he was contacted by someone who lives in a triplex close by," Moya wrote. "The person informed him that there were two individuals taking items from the church. I told Pino I will continue to speak with him at the substation so I could advise him of His Constitutional Rights per Miranda."
At 5:18 p.m., at the Phil Chacon police substation, Moya read Pino his Miranda rights.
"Pino was asking me what he should do. I advised him I could not provide legal advice and that he would have to make the decision or he could contact an attorney," Moya wrote. "During this time, Pino stated he only wanted to detain them until the police got there. He was tired of dealing with continuous burglaries and other property crimes that have been occurring on the property."
Moya told Pino that he could not ask him any questions or engage in conversation, and Pino allegedly continued to say that he meant to knock the men down so they would not leave and after knokcing the first one done, he tried to knock down the second.
"He has been dealing with fires being lit inside the property and other nuisances," Moya wrote. "He just wanted them to get arrested to send a message to others to leave the property alone. Pino stated he had a shovel in the car and wanted to knock the other guy out until the cops got there. It should be noted I did not ask any questions or partake in the conversation. When I engaged in conversation it was merely to provide understanding of his Constitutional Rights."
Pino allegedly said he did not know what else to do about his property and said he was outside of his vehicle, threatening Harper.
"Pino reiterated he wanted to detain them when he saw them carrying his stereo," Moya wrote. "Pino stated he didn't have any intentions of killing or hurting anybody he just wanted them to stop. I eventually terminated the interview due to his indecision to waive his Constitutional Rights. I instructed him to contact an attorney and contact me for an interview if he wanted to."
He was initially arrested on charges of aggravated battery with a deadly weapon and aggravated assault with a deadly weapon.
Arballo died at 5 p.m., May 1, 2017. On May 4, a pathologist conducted an autopsy and thereafter, officers made the decision to charge Pino with murder.
PC - Christopher Pino - 5-4-2017

Indictment, plea and sentence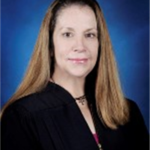 On May 19, 2017, a grand jury indicted Pino on five charges:
Second-degree murder
Vehicular homicide (reckless driving)
Knowingly leaving the scene of an accident causing great bodily harm or death
Two counts of aggravated assault with a deadly weapon
On June 5, 2018, Pino pleaded no contest to voluntary manslaughter, which has a maximum sentence of six years, signed by prosecutor David Waymire and accepted by Jaramillo. Waymire dismissed the other charges against Pino.
On Aug. 15 2018, District Court Judge Cristina Jaramillo sentenced him to 3 1/2 years. He received credit for 197 days served.
See the case documents on Google Drive.
Latest posts by Wheeler Cowperthwaite
(see all)