Summary
On March 9, 2021, after being asked to leave the house of neighbor R.L. in Smith Lake, and then grabbed by R.L., Eric Garcia grabbed a knife R.L. gave him to peel potatoes and stabbed him repeatedly in the chest and neck, FBI Agent Mark Spencer wrote in an affidavit for a criminal complaint.
The case has been stayed after Garcia's attorney raised competency and wrote that Garcia has an extreme intellectual disability and the mindset and cognitive ability of a 5-year-old child. Garcia is being held without bail.
The incident
Navajo Police Department officers initially received a call at 12:44 a.m., March 9, 2021. for a person laying on the floor of a house in Smith Lake, bleeding, FBI Agent Mark Spencer wrote in an affidavit for a criminal complaint.
When officers arrived, they found R.L., YOB 1957, bleeding from the chest, abdomen and neck. Paramedics declared him dead 35 minutes later, at 1:19 a.m, Spencer wrote.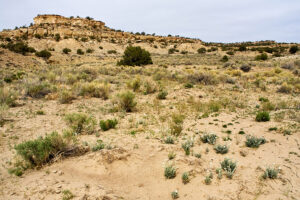 A woman identified by the initials P.E., and referred to as Witness 1, told investigators she, R.L. and Eric Garcia, 40, had been drinking inside the house. R.L. asked Garcia to leave "and a conflict happened." Garcia had a knife and stabbed John Doe. P.E. ran outside, ran into another woman identified as M.L. and told her to call the police, he wrote.
M.L. told investigators she heard noises and went outside. P.E. told her to call the police. She went to the house and saw Garcia standing over R.L., left, told another family member what happened and then called the police, Spencer wrote.
Navajo police learned that Garcia lived a half-mile away, across the main road and knocked on his door, he wrote.
"GARCIA opened the door and had what appeared to be blood his hands, pants, and boots," Spencer wrote. "GARCIA was taken into custody by NPD."
FBI agents contacted a magistrate judge for an oral search warrant and found a bloody knife in a search of his house, he wrote.
FBI and Navajo Nation Police officers interrogated Garcia at the Crownpoint Police Department after Garcia waived his Miranda rights, Spencer wrote.
Spencer described the interrogation of Garcia:
"GARCIA stated that he was drinking at John Doe and Witness 1 's house, located at 22 52 Rte. 49, Smith Lake, NM. They started drinking outside by the trees but eventually went to the house. GARCIA helped make some food and John Doe gave GARCIA a sharp knife to peel the potatoes. After a time, John Doe told GARCIA to leave. GARCIA did not want to leave. John Doe continued to tell GARCIA to leave but GARCIA did not want to. John Doe and GARCIA began yelling and cussing at each other. John Doe grabbed GARCIA's arms and tried to get him out of the house. GARCIA had the knife from peeling the potatoes in his pocket and pulled it out and stabbed John Doe in the chest area. The next stab was to the neck and then continued stabbing John Doe in the chest and back. GARCIA left and went home."
Spencer charged Garcia with an open count of murder.
Competency
Magistrate Judge Jerry Ritter ordered Garcia held without bail on March 15, 2021 at his initial appearance and set a formal detention hearing for March 17, according to court records.
On March 16, Garcia's attorney. Lucas Babycos, filed a motion for Garcia to be evaluated for his competency.
Babycos wrote that Garcia has been formally diagnosed with a severe form of intellectual disability, he has the mindset and cognitive ability of a 5-year-old child.
"Defendant has no concept of what is occurring, or the magnitude of the allegations brought forward against him," Babycos wrote.
Babycos wrote that he cannot effectively consult with his client, nor can Garcia assist in his own defense.
Babycos and federal prosecutor Allison Jaros agreed a competency evaluation should be conducted by Julie Brovko and, in the alternative, he asked that Garcia be sent to a Bureau of Prisons facility to be evaluated, he wrote.
Magistrate Judge Laura Fashing granted the motion the same day, according to the docket.
The following day, Fashing held a hearing and Babycos told her he has "concerns" with Garcia remaining "at facility," according to the minutes. Fashing ordered the case be stayed until the competency evaluation is complete.
Spencer made no mention in his affidavit if it seemed, during the interrogation, like Garcia had any cognitive issues, or the mindset of a 5-year-old child.
Defendants must "knowingly and intelligently" waive their Miranda rights, including the rights to remain silent and right to counsel.
In Garner v. Mitchell, a 2007 appeal in the Sixth Circuit Court of Appeals, the court found that "petitioner's waiver of his Miranda rights was invalid because testing demonstrated that the petitioner's mental incapacity rendered him unable to fully comprehend the warnings and his right to remain silent."
No further court hearings are set.
View the case files on Document Cloud, Google Drive or Court Listener.
Previous stories
Competency raised for Smith Lake man with mindset of a 5-year-old child
Latest posts by Wheeler Cowperthwaite
(see all)