Summary
On April 16, 2017, Scott Wade Bachicha, 32, allegedly shot live-in girlfriend Mindy Stuart, 30, in the neck with a shotgun, killing her.
During an interview with a police detective, Bachicha allegedly said the gun went off accidentally, he panicked and threw it on a near-by roof.
Despite his claims of the killing being an accident, he was charged in Albuquerque Metro Court with an open count of murder.
On May 2, 2017, he was indicted by a grand jury for first-degree murder and tampering with evidence. On Feb. 12, 2018, prosecutor John Duran dismissed the case without prejudice after the judge denied a motion to extend the deadlines for scientific evidence that same day.
According to a defense motion to dismiss, the Albuquerque Police Department failed to analyze the ballistics evidence and prosecutors refused to let a defense expert analyze first, because APD wanted the first chance.
On Dec. 4, 2018, he was indicted, this time for involuntary manslaughter and tampering with evidence and a jury trial is tentatively set for March 16, 2020.
While first-degree murder carried a life sentence, involuntary manslaughter and tampering with evidence are fourth-degree felonies with a maximum sentence, each, of 18 months.
The case is pending an appeal after a judge dismissed a firearms enhancement.
The incident
On April 17, 2017, Albuquerque Police Department officers were dispatched to a house in the 2400 block of Madeira NE in reference to a shooting, Detective Andrea Ortiz wrote in a criminal complaint for Scott Wade Bachicha's arrest.
Shortly after officers arrived at the scene, they arrested Bachicha on a count of open murder for allegedly killing his live-in girlfriend, Mindy Stuart.
Officer Jacob Perea, dispatched at 6:35, was flagged down by three neighbors standing in front of the house.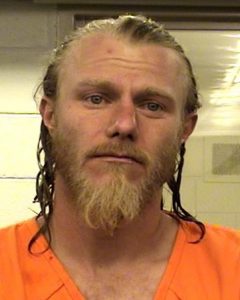 The neighbors, Fletcher Johnson, Tamika Johnson and Brian Garcia, told Perea that they had been told to come to the house by Bachicha. He had allegedly told them someone shot Stuart.
"Officer Perea made entry into the home and he advised he observed broken glass and blood near the front entrance," Ortiz wrote. "The officer advised he observed Scott Wade in the living room and Scott was covered in blood. Officer Perea advised he saw a female who was lying on a mattress that had been placed in the living room."
Stuart had a large amount of blood pooling under her head.
"Brian Garcia told the officer that Scott Wade had moved Mindy Stuart from the couch in the living room to the mattress before the arrival of officers," Ortiz wrote.
Perea searched the house and found a Glock pistol case and two shotgun shells near Stuart.
"Officer Perea advised he saw a large fist size hole in the sheet rock near the victim," Ortiz wrote. "This hole had blood around it. Rescue arrived on scene and pronounced the victim deceased."
Perea read Bachicha his Miranda rights, including his right to remain silent, and Bachicha allegedly agreed to talk to him and alleged that that someone shot Stuart.
"Scott told him he and Mindy had been watching a movie and he fell asleep," Ortiz wrote. "He was awakened by Mindy shouting 'What the fuck?' and he then heard a loud bang. Scott advised he saw a shadowy figure leaving the home."
Several people who were outside when they heard the gun go off said they saw no one fleeing the area or from Bachicha's house.
"The only person they saw exiting the residence was a male subject who appeared to be covered in blood," Ortiz wrote.
Ortiz walked through the house, after getting a search warrant for it.
"I noticed several blood drops throughout the residence," Ortiz wrote. "The back door facing north appeared to have blood on the door handle. On the exterior side of the door had smudge marks also appearing to be blood."
He then went to the Albuquerque Police station to interview Bachicha, who was in custody. He read Bachicha his Miranda rights again and again, Bachicha allegedly agreed to talk.
"Scott advised he and his 'wife' Mindy returned to their residence after Easter celebration," Ortiz wrote. "He fell asleep on a mattress located in the living room while his wife was watching television."
Bachicha allegedly said he woke when he heard a gunshot.
"He turned toward the couch and noticed Mindy was bleeding from her head," Ortiz wrote. "He saw a dark shadow exit his residence out his front door. Scott couldn't locate his cell phone and was in a panic, exited his residence, and ran to Brian's residence requesting they telephone 911."
After Ortiz alleged that Garcia told officers that Bachicha had recently bought a shotgun, that they found shotgun shells at the house and that no one was seen leaving the house after the gunshot went off, Bachicha allegedly began to cry.
"(He) advised he was messing around with his shotgun while seated on the mattress in the living room," Ortiz wrote. "Mindy was seated on the couch directly behind him. As Scott manipulated the shotgun it suddenly discharged. Scott turned around and saw Mindy had been shot on the right side of her neck."
Bachicha allegedly told Ortiz that he panicked, held Stuart in his arms, but knew that she was already dead, then took the shotgun and the spent shells and left out the back door.
"He threw the shotgun and the shotgun shell on the roof of the building directly west of his residence and across his
back alley," Ortiz wrote. "Scott returned inside his residence and ran out his front door to request assistance from his neighbor Brian. He advised he did not wipe down the shotgun. The interview was concluded."
PC - Scott Bachicha - 4-17-2017

Dismissed and re-indicted
After the Albuquerque Police Department failed to test ballistics by deadlines imposed by the court and the prosecutor, John Duran, refused to allow a defense expert to test the evidence before the Albuquerque Police Department, Bachicha's defense attorney, Christopher Dodd, filed a motion to dismiss the case on Feb. 7, 2018.
Following a hearing five days later, Duran dismissed the entire case against Bachicha without prejudice, meaning the charges could be re-filed.
Duran did just that, after securing a new indictment, this time on charges of involuntary manslaughter and tampering with evidence, on Dec. 4, 2018.
Although prosecutors did not write their rationale for either dismissing the murder case or for bringing the new charge of involuntary manslaughter, according to a July 18, 2019 motion to disqualify the Second Judicial District Attorney's Office from prosecuting the case, Detective Andrea Ortiz previously testified that the shooting had an "upward shot trajectory" and that would match Bachicha's statements that the shooting was accidental.
"The investigation (criminalistics and OMI) revealed an upward trajectory of as much as 19 degrees," defense attorney Raymond Maestas wrote.
Maestas was trying to get the the Second Judicial District Attorney's Office removed from the case because, he alleged, a witness gave a statement to Duran that he had not previously disclosed and he wanted to call Duran as a witness.
He withdrew that motion on Aug. 30, 2019, after prosecutors wrote that they would not call that witness.
The case had been set for a tentative trial of March 16, 2020.
Dismissal of firearms enhancement
On Oct. 8, 2019, Meastas filed a motion to dismiss the firearm enhancement accompanying the involuntary manslaughter charge.
He wrote that the firearms enhancement is not supposed to be applied to an involuntary manslaughter charge, per a 1993 decision by the New Mexico Court of Appeals in State v. Franklin.
In that case, the Appeals Court found that the firearms enhancement was subsumed within the charge involuntary manslaughter and keeping the enhancement would constitute double jeopardy.
Prosecutor Mia Ulibarri wrote in a response that, in this case, the firearms enhancement didn't constitute double jeopardy because " there is no charge by the State for the misdemeanor of negligent use of a firearm."
District Judge Daniel Ramczyk dismissed the firearms enhancement in an order on Nov. 20, 2019, following a hearing.
After Ramczyk dismissed the firearms enhancement, Ulibarri filed a motion for Ramczyk to reconsider his dismissal of the firearms enhancement on Nov. 18, 2019. He denied that request and prosecutors James Grayson and Mia Rubin then filed an interlocutory appeal of his decision on Jan. 29, 2020.
In a docketing statement, Grayson wrote that Ramczyk should have been following precedent set in State v. Baroz, but did not state what precedent in Baroz the judge was supposed to follow.
Case stayed pending prosecution's appeal
On Jan. 31, 2020, Rubin filed a motion to stay the case pending the appeal of the firearms enhancement.
Ramczyk heard that motion on Feb. 12, 2020 and orally denied the motion, but never filed a written order. On Feb. 21, 2020, Ramczyk recused himself from the case, but listed no reason.
District Judge Brett Loveless was assigned to the case on Feb. 27, 2020, after three other judges recused themselves and on March 11, Meastas again argued against the stay.
On April 17, 2020, Loveless granted the motion to stay the appeal.
"Inefficiencies may result from ruling on Defendant's pending motions as they may dispose of the case without approval from or knowledge of the appellate court," Loveless wrote. "This Court will not rule on those matters while the appeal is pending."
Among the motions that are now stayed pending the appeal is a speedy trial motion Maestas filed on Jan. 10, 2020.
"In this case, the nearly three-year delay from Mr. Bachicha's arrest on April 16, 2017 and charging to the present trial setting of March 26, 2020 (total: 1,066 days) is simply unconstitutional," he wrote.
Also pending is a motion to suppress statements as involuntary.
No hearings or pleadings have been filed in the prosecution's appeal of the firearm enhancement dismissal.
In a proposed summary disposition filed on Sept. 10, 2020, Court of Appeals Judge Miles Hanisee wrote that the New Mexico Supreme Court rejected the basis of the double jeopardy claim Ramczyk used in State v Baroz, where the supreme court found that a firearms enhancement did not violate double jeopardy even though the use of a firearm is an element of the charge.
"Given the holding in Baroz, we propose that the firearm enhancement in this case does not violate double jeopardy," Hanisee wrote. "Accordingly, we propose to reverse the district court's order dismissing the firearm enhancement."
According to a flow chart provided by the Court of Appeals, Bachicha's attorney has 20 days to file a memo in response. The court could then issue another notice or issue an opinion. Once an opinion is issued, his attorney could file a motion for a rehearing.
See the documents on Google Drive or Document Cloud
Latest posts by Wheeler Cowperthwaite
(see all)