Suspect: UNKNOWN/UNSOLVED
Victim: Tyrell Bellson, 35
Date of birth: Unknown
Status: UNSOLVED
Date of incident: Between Sept. 16 and Sept. 24, 2019
Type of incident: Unknown
Investigating agency: FBI
Investigator: Unknown
Location: Near mile marker 23 on Highway 53, Zuni
County: McKinley
Reward for information: $1,000
Summary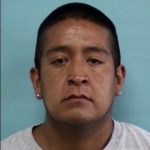 Tyrell Bellson, 35, was killed sometime between Sept. 16, 2019 and Sept. 24, 2019, the day his body was found off of Highway 53 in Zuni. He had likely been dead for several days, according to a poster the FBI produced seeking information on his killing.
His body was found "near" the highway, at mile marker 20.
The FBI is offering a reward of $1,000 for information leading to the arrest and conviction of the person or people responsible for his death.
He was also known as Tyrell J. Bellson.
Did you know Tyrell Bellson? We want to know who he was, besides the victim of an unsolved homicide. Please fill out this form or contact us.
Latest posts by Wheeler Cowperthwaite
(see all)