Suspect: Richard Griego
Victim: Jimmy Griego, 37
Charges: First-degree murder, tampering with evidence
Status: Pending; stayed for competency
Date of incident: March 28, 2017
Investigating Agency: State Police
Location: Pecos River Bridge, State Route 3, Ribera, San Miguel County
County: San Miguel
Magistrate case number: M-48-FR-201700095
District case number: D-412-CR-201700129
Judicial District: Fourth Judicial District
Prosecuting office: Fourth Judicial District Attorney's Office
Prosecutor: Thomas Clayton
Defense attorney: Todd Farkas
District Judge: Gerald Baca
Summary
On March 28, 2017, Richard Griego allegedly threw Jimmy Griego, 37, off of a bridge over the Pecos River on State Road 3, an allegation backed up by data from an ankle bracelet Richard Griego was wearing from a separate case which tracked his movements via GPS, according to court filings.
On May 1, 2017, Richard Griego was bound over to District Court on charges of first-degree murder and tampering with evidence following a preliminary examination. On Nov. 15, 2017, his competency to stand trial was raised as an issue and proceedings were stayed until Sept. 11, 2018, when the Notice of Competency Issue was withdrawn.
A year later, on Sept. 11, 2019, competency was again raised as an issue and the case has been stayed.
The incident
On March 28, 2017, Beverly Quintana called 911 to report that someone dumped a body off of the bridge over the Pecos River, on State Road 3, and the dumped person was her cousin, State Police Agent Patrick Montoya wrote in an affidavit for an arrest warrant.
Quintana told Montoya that she was driving south when she passed a white Ford truck heading the opposite direction. She described the driver as being angry.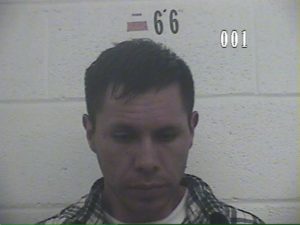 "As the pickup continued passed (sic) her, she noticed a male in the bed area of the pickup," Montoya wrote. "She recognized the male in the bed of the pickup as her cousin, who she identified as Jimmy Griego."
Quintana kept the truck in her rear view mirror and she watched as the truck stopped. Her cousin was on his knees in the back and he appeared to be terrified.
The driver pulled over and stopped on the bridge, got out and walked toward the back of the truck with someone in his right hand.
Quintana then turned around and drove back toward the truck and watched as the man, allegedly Richard Griego, carried her cousin on his shoulder, walked to the edge of the bridge and threw him over, to the river below.
When she stopped, got out, and looked down, she saw her cousin's body floating in the river and blood on the back of his shirt. She then recognized the driver was Richard Griego.
The agent then learned that Richard Griego was on probation and required to wear an ankle monitor with a GPS unit in it. The tracking device allegedly placed him at the river at 4:18 p.m., the day of Jimmy Griego's death.
Quintana called 911 two minutes later at 4:20.
"A Field Examiner for the Office of the Medical Investigator found blunt force trauma and two lacerations to Jimmy's head," Montoya wrote. "I observed the injuries to Jimmy's head, including an indentation to the left side of his head."
He was charged with an open count of murder and tampering with evidence, according to the docket.
On April 6, 2017, a waiver of time limits was filed and a preliminary hearing was set for May 1, 2017.
Las Vegas Magistrate Judge Christian Montaño held a preliminary hearing on May 1 and bound over Richard Griego on charges of first-degree murder and tampering with evidence. On May 19, in District Court, Richard Griego's attorney Todd Farkas filed a motion in District Court to waive the arraignment and to enter a plea of not guilty.
Jail recordings
According to a Dec. 11, 2018 motion filed by prosecutor Thomas Clayton, Richard Griego made multiple phone calls while he was in jail that he wanted admitted as evidence.
In a May 1, 2017 call, he allegedly told his mother that someone else wanted to borrow his truck, that "those weren't even my shoes and I wasn't driving my truck." His mother responded that they should not discuss "this stuff" on the phone.
Clayton wrote that the truck is an issue because Quintana saw him in his truck, on the bridge with the victim. A shoe print was also taken from the crime scene and it is a similar pattern to one seized from his house.
In a June 6, 2017 call, he talked to his mother about conversations with his attorney about getting out on bail.
"I feel this even more leaning towards, if I could get this to a justifiable homicide by citizen, protecting myself and family and property from all these conspiracies against me and stuff, will that make it easier to get a bond," Clayton wrote, quoting from Richard Griego's call.
In July 24 call, Richard Griego allegedly told his mother he could "beat these charges" because he didn't "do" them and that he never hit Jimmy Griego with a weapon, but he didn't want him "to come back and try to kill me, but he could have crawled out of the water and fucking not died. And let me alone. But no, they do, they do all this stuff. It's all their fault that this stuff happened. Not my fault." Clayton wrote, quoting Richard Griego.
Competency raised the first time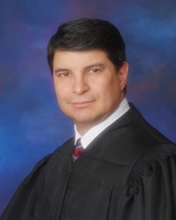 On Nov. 15, 2017, competency was formally raised in a written motion for the first time by Farkas. In an order on the same date, District Court Judge Gerald Baca wrote that Richard Griego had been found "in-competent" by Dr. Susan Cave and that the proceedings would be stayed pending a determination on his competency and the issue of his dangerousness.
According to notes from the June 14, 2017 status hearing, Farkas notified District Judge Gerald Baca has a documented history of mental illness and he needed to be assessed.
During a Aug. 16, 2017 hearing, prosecutor Thomas Clayton told Baca that Richard Griego sent a letter to State Police officers about an unrelated homicide, a theft and that there were also jail recordings he wanted the psychologist to listen to and that he agreed that he "may have mental issues," according to the notes.
During an Oct. 11, 2017, hearing, Baca told the attorneys he was concerned about the discussions of competency when no motion about competency had been filed. Farkas replied that he was waiting for a report on his mental health, according to the notes.
On Sept. 11, 2018, Baca ordered that the case would start moving forward because Richard Griego's attorney had withdrawn his claim that his client was not competent to stand trial. Farkas did not file a motion but a hearing on competency had previously been held on Sept. 7, 2018, and the records of that hearing were sealed.
No-bail hold lifted
On Aug. 1, 2018, Baca ordered Richard Griego be released if he could post a $50,000 cash bail and into the custody of a third party.
Prosecutors did not contest that finding until Sept. 25, when Clayton filed a motion for pre-trial detention.
"Upon information and belief, the family of the defendant has raised the funds to post the bond," Clayton wrote.
On Aug. 3, 2018, Richard Griego was charged with two counts of possession of a deadly weapon by a prisoner, specifically, a handcuff key and a "nail/bolt like device approximately 4 1/2 inches in length," he wrote.
Baca then held a hearing on Oct. 2, 2018 and ordered Richard Griego be held without bail pending trial, according to notes from the hearing.
Competency raised second time
Richard Griego's case was placed on hold a second time, on Sept. 11, 2019, after his attorney raised the question of his competency to stand trial a second time, according to the docket.
According to the docket, the case had been set for a trial on Oct. 7, 2019 in the San Miguel County Courthouse.
A docket call was set for Sept. 25, 2019 and the judge issued an order staying the case, according to the docket.
Past stories
More competency tests ordered for Richard Griego, charged for death of Jimmy Griego
Richard Griego's competency questioned by his attorney; case likely to be placed on hold
View the case files on Document Cloud
Latest posts by Wheeler Cowperthwaite
(see all)