Suspect: Tavor Tom, 18
Victim: Unidentified woman (Tom's maternal aunt)
Charges: Second-degree murder (initially charged as first-degree murder)
Status: Pending
Date of incident: July 1, 2019
Investigative agencies: Federal Bureau of Investigations, Navajo Nation Criminal Investigation Section, McKinley County Sheriff's Office
Location: Single-wide trailer, 25 yards east of Nizhoni Smile Dental, Shiprock, NM
County: McKinley County
Relation to victim: Nephew (maternal)
Federal Magistrate case number: 19-mj-01913
Federal District case number: 19-cr-02180
Summary
Tavor Tom, a member of the Navajo nation, allegedly went on July 1, 2019 to his maternal aunt's house and stabbed her repeatedly, killing her, stole her car, then crashed it into a fence, according to his alleged confession.
He was allegedly trying to get to Farmington because he wanted to steal the over-the-counter drug Mucinex, generically known as guaifenesin.
A federal grand jury indicted him eight days later on July 9, 2019, on a charge of second-degree murder. His case is pending.
The incident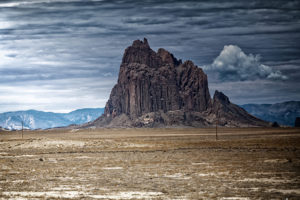 At 10 a.m., July 2, 2019, the victim was found dead in her house by her father. Sometime during that same morning, Tavor Tom was found in the victim's Jeep Cherokee, after he crashed into a fence in front of a church in Nenahnezad. Navajo Nation police officers found a bloody knife in the car, FBI agent Cary Cahoon wrote in an affidavit for an arrest warrant.
FBI agent Kalon Fancher interviewed Tom and advised him he did not have to speak with him, but Cahoon did not write if Fancher told Tom his Miranda rights.
According to Fancher's interview with Tom, the latter allegedly admitted to killing the victim with a folding knife he took from his father's vehicle with the intention of going to the victim's house to steal her car so he could drive it to Farmington to steal Mucinex, Cahoon wrote.
Tom allegedly said he went to the victim's trailer, "slit her throat and then stabbed her seven (7) or (8) times with the knife he took from his father's vehicle, and then stole her vehicle," Cahoon wrote.
Tom allegedly said he drove to the Wal-Mart in Farmington, stole Mucinex from the store around 7 p.m. and drove on the back roads toward Shiprock, Cahoon wrote.
He then crashed the vehicle into a fence at a church in Nenahnezad, rendering the vehicle undriveable. He was found in the vehicle the next morning.
Crashed car
Navajo Nation firefighter Derrick Woody told Cahoon that he responded to Tom's car crash and that Tom allegedly tried to overdose on Mucinex. The drug, as well as vomit, were found in the vehicle.
Navajo Nation Sgt. Francis Yazzie told Cahoon that he also responded to the crash and he found a folding knife with blood on it on the passenger-side floorboard.
Family interviews
The victim's father, only identified by the initials R. C., found the victim, unnamed in federal court documents, when he went to check on her at the behest of her adult children, who could not reach her on the phone.
"After R.C. discovered Victim and realized she was deceased, he called 911," Cahoon wrote.
Cahoon was called by Navajo Nation detective Jerrick Curley that there had been a killing in Shiprock, in the exterior boundaries of the reservation.
Curley told Cahoon that he found the woman lying on her bedroom floor with multiple cuts and blood around her. He also told Cahoon that the woman's nephew, Tom, had been in a car crash near Nenahnezad. The car he crashed allegedly belonged to the alleged victim and inside the vehicle police found a knife with blood on it.
The victim's father, Tom's grandfather, told Cahoon that Tom had come to his house, next door to the victim's, at 6 p.m., July 1, 2019, to use his computer, and then left.
Tom's mother, who was the victim's sister and is only identified by the initials "M.T.," told Cahoon that Tom lived with her at her house in Shiprock, which was in "close proximity" to the victim's house, a single-wide trailer. Tom got around on a red ATV, parked next to R.C.'s house.
"M.T. received a text message from TOM the previous night (07/01/2019) and indicated he was with his friends," Cahoon wrote. "M.T. went to visit Victim at her residence the previous evening (07/01/2019), at approximately 6:30 p.m., when M.T. arrived and saw that Victim's vehicle was gone, she assumed Victim left in her vehicle to go somewhere."
She said her son had been addicted to Mucinex for several years and uses it to get high.
"TOM also had been suicidal in the past and has become more violent recently," he wrote.
M.T. alleged her son often takes her car without permission and drives it to stores where he can steal Mucinex. She also acknowledged that Tom was found in the victim's vehicle.
"M.T. believed TOM was the one who killed Victim," Cahoon wrote. "R.C. and M.T. both advised that Tom often went by and visited Victim at her house and that they got along with one another."
The crime scene
In the afternoon of July 2, 2019, officers searched the interior and exterior of the victim's trailer, although Cahoon did not write whom he obtained consent from, since the victim was dead.
During the search, officers found the key to Tom's red ATV on a couch in the living room. A cell phone was found on a different couch in the living room and there were drops of blood in the kitchen, laundry room and bedroom.
"Additionally, the medicine cabinet door was open in the kitchen and it appeared that someone had rummaged through the prescriptions and over-the-counter medications," Cahoon wrote.
The field investigator with the Office of the Medical Investigator found the victim had "trauma" and cuts to her neck, back and chest.
gov.uscourts.nmd.424819.1.0

Case progress
According to the court docket, Tom initially appeared July 3, 2019 and on July 10 in Albuquerque federal court, and he was ordered held indefinitely after his attorney waived a detention hearing.
On July 10, his attorney filed a waiver of a preliminary hearing. However, a federal grand jury had already indicted him on July 9, 2019, on a charge of second-degree murder. It was then set for a tentative trial date of Sept. 3, 2019.
According to the docket, that trial date was continued on Aug. 26, 2019 and the new tentative trial date is Feb. 10, 2020.
See the case on CourtListener.com or read the documents on Google Drive or Document Cloud
Latest posts by Wheeler Cowperthwaite
(see all)