Summary
Tavor Tom, a member of the Navajo nation, allegedly went on July 1, 2019 to Roberta Clyde's house (his maternal aunt) and stabbed her repeatedly, killing her, stole her car, then crashed it into a fence, according to his alleged confession.
He was allegedly trying to get to Farmington because he wanted to steal the over-the-counter drug Mucinex, generically known as guaifenesin.
A federal grand jury indicted him eight days later on July 9, 2019, on a charge of second-degree murder.
On Nov. 24, 2020, Tom pleaded guilty to second-degree murder. On April 7, 2021, Judge William Johnson sentenced Tom to 15 years in federal prison.
The incident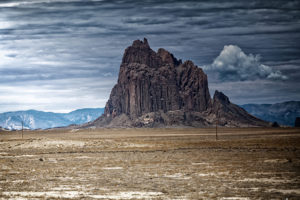 At 10 a.m., July 2, 2019, the Roberta Clyde, 45, was found dead in her house by her father. Sometime during that same morning, Tavor Tom, of Shiprock, was found in the Clyde's Jeep Cherokee, after he crashed into a fence in front of a church in Nenahnezad. Navajo Nation police officers found a bloody knife in the car, FBI agent Cary Cahoon wrote in an affidavit for an arrest warrant.
FBI agent Kalon Fancher interviewed Tom and advised him he did not have to speak with him, but Cahoon did not write if Fancher told Tom his Miranda rights.
According to Fancher's interview with Tom, the latter allegedly admitted to killing Clydewith a folding knife he took from his father's vehicle with the intention of going to her house to steal her car so he could drive it to Farmington to steal Mucinex, Cahoon wrote.
Tom allegedly said he went to the Clyde's trailer, "slit her throat and then stabbed her seven (7) or (8) times with the knife he took from his father's vehicle, and then stole her vehicle," Cahoon wrote.
Tom allegedly said he drove to the Wal-Mart in Farmington, stole Mucinex from the store around 7 p.m. and drove on the back roads toward Shiprock, Cahoon wrote.
He then crashed the vehicle into a fence at a church in Nenahnezad, rendering the vehicle undriveable. He was found in the vehicle the next morning.
Crashed car
Navajo Nation firefighter Derrick Woody told Cahoon that he responded to Tom's car crash and that Tom allegedly tried to overdose on Mucinex. The drug, as well as vomit, were found in the vehicle, Cahoon wrote.
Navajo Nation Sgt. Francis Yazzie told Cahoon that he also responded to the crash and he found a folding knife with blood on it on the passenger-side floorboard, Cahoon wrote.
Family interviews
Clyde's father, only identified by the initials R. C., found his daughter, when he went to check on her at the behest of her adult children, who could not reach her on the phone, Cahoon wrote. Clyde is unnamed in federal court documents and referred to as "victim."
"After R.C. discovered Victim and realized she was deceased, he called 911," Cahoon wrote.
Cahoon was called by Navajo Nation detective Jerrick Curley that there had been a killing in Shiprock, in the exterior boundaries of the reservation, he wrote.
Curley told Cahoon that he found Clyde lying on her bedroom floor with multiple cuts and blood around her. He also told Cahoon that Clyde's nephew, Tom, had been in a car crash near Nenahnezad. The car he crashed allegedly belonged to Clyde and inside the vehicle police found a knife with blood on it.
Clyde's father, Tom's grandfather, told Cahoon that Tom had come to his house, next door to the victim's, at 6 p.m., July 1, 2019, to use his computer, and then left.
Tom's mother, who was Clyde's sister and is only identified by the initials "M.T.," told Cahoon that Tom lived with her at her house in Shiprock, which was in "close proximity" to Clyde's house, a single-wide trailer. Tom got around on a red ATV, parked next to R.C.'s house.
"M.T. received a text message from TOM the previous night (07/01/2019) and indicated he was with his friends," Cahoon wrote. "M.T. went to visit Victim at her residence the previous evening (07/01/2019), at approximately 6:30 p.m., when M.T. arrived and saw that Victim's vehicle was gone, she assumed Victim left in her vehicle to go somewhere."
She said her son had been addicted to Mucinex for several years and uses it to get high.
"TOM also had been suicidal in the past and has become more violent recently," he wrote.
M.T. alleged her son often takes her car without permission and drives it to stores where he can steal Mucinex. She also acknowledged that Tom was found in the Clyde's vehicle, he wrote.
"M.T. believed TOM was the one who killed Victim," Cahoon wrote. "R.C. and M.T. both advised that Tom often went by and visited Victim at her house and that they got along with one another."
The crime scene
In the afternoon of July 2, 2019, officers searched the interior and exterior of Clyde's trailer, although Cahoon did not write whom he obtained consent from, since Clyde was dead.
During the search, officers found the key to Tom's red ATV on a couch in the living room. A cell phone was found on a different couch in the living room and there were drops of blood in the kitchen, laundry room and bedroom.
"Additionally, the medicine cabinet door was open in the kitchen and it appeared that someone had rummaged through the prescriptions and over-the-counter medications," Cahoon wrote.
The field investigator with the Office of the Medical Investigator found Clyde had "trauma" and cuts to her neck, back and chest.
Pathologist Ross Zumwalt wrote in the autopsy report that Clyde suffered a total of 75 separate "sharp force injuries," meaning stab wounds and incised, or slashing, wounds.
"Two of the stab wounds of the back of the head penetrated the skull resulting in bleeding around the brain," Zumwalt wrote.
Clyde also has four stab wounds in her chest and one in her abdomen, which penetrated her stomach. She also has cutting wounds on her hands, which Zumwalt classified as probable defensive wounds.
"Death was a result of the blood loss caused by the multiple wounds," Zumwalt wrote.
According to the deputy field investigation conducted by Kayelynn Williams, Clyde got home after work at 5:15 p.m. and went next door to check on her parents at 6 p.m.
Roberta Clyde
According to her obituary, Clyde had three children, Erik, Alyssa and Ryland Benally, all of Shiprock, as well as three sisters and two brothers.
She was a piano player for the Ojo Amarillo Baptist Church.
According to her autopsy report, she worked at the Northern Navajo Medical Center.
Held without bail
According to the court docket, Tom initially appeared July 3, 2019 and on July 10 in Albuquerque federal court, and he was ordered held indefinitely after his attorney waived a detention hearing.
On July 10, his attorney filed a waiver of a preliminary hearing. However, a federal grand jury had already indicted him on July 9, 2019, on a charge of second-degree murder.
Tom pleaded guilty, Nov. 24, 2020, to second-degree murder in front of federal Magistrate Judge Kirtan Khalsa during a virtual hearing that lasted just over 30 minutes. Khalsa deferred final acceptance of the plea deal until sentencing by a district court judge.
According to the plea deal proffered by federal prosecutor Joseph Spindle, there is no agreement as to the sentence.
Prosecutors will agree that Tom accepted responsibility for his conduct and grant that, under the sentencing guidelines, he is entitled to a reduction of two levels from the base offense. Spindle and Tom's defense attorney, James Loonam, can argue whatever they want when it comes to the sentence.
In the plea agreement, Tom wrote that he stabbed his aunt repeatedly with a knife, "intentionally and without justification."
When interrogated by FBI agents, he said he stabbed her repeatedly and slit her throat, according to court documents.
According to the autopsy report, she had 75 separate stab and incised wounds on her face, scalp, neck, chest, abdomen, back, arms and hands.
Zumwalt did not write in the autopsy report her throat was slit but did note many wounds to the back of her neck, some of which went from the back to the front of her neck.
Sentencing guidelines
Second-degree murder carries a base offense level, per the federal sentencing guidelines for second-degree murder, is 38. The plea deal provides Tom with a two-level reduction for pleading guilty, putting the base level at 36.
According to the federal sentencing table, with little or no criminal history, that puts Tom's proposed sentence, sans any increases or decreases, at 16 to 20 years. At a base offense level of 38, the level without the consideration of his guilty plea, the range increases to 20 to 24 years.
Based on a search of federal and state court records, Tom does not appear to have any prior state or federal arrests. His tribal criminal records are unknown.
His final sentence will be up to the sentencing judge.
Sentencing memos
Tom's sentencing is currently set for 2 p.m., April 7, 2021, after being reset multiple times because the judge, William Johnson, was unavailable.
Tom is asking for a seven-year sentence while Spindle is asking for the maximum under the sentencing guidelines, as calculated by the U.S. Probation Office, of 14 to 17.5 years.
Tom's attorney, James Loonam, wrote in a sentencing memorandum that Tom's age at the time, 18, was one reason, and that Tom, high on and addicted to dextromethorphan, also known as Mucinex, was "operating under diminished capacity" when he stabbed his aunt to death. That he killed a family member, and "will face consequences of loss of part of his family for the rest of his life," was the third reason for giving Tom a sentence below the guidelines. Tom had been addicted to the drug since he was 14.
"Tavor knows that his actions have caused everyone he loves and cares about almost unbearable pain," he wrote.
Loonam wrote that Tom was hospitalized 10 times for dextromethorphan overdoses and five times were suicide attempts. He included a timeline of the overdoses.
"Each hospitalization indicates that Tavor exhibited signs of chronic depression," he wrote.
Loonam wrote that Tom's actions were "a product of that (drug) abuse and addiction."
Prosecutor Joseph Spindle wrote in his own sentencing memorandum that Johnson should sentence Tom to the high end of the sentencing guideline calculated by the U.S. Probation Office, 17.5 years.
Spindle wrote that Tom went to Clyde's house to steal her car.
"However, once he was inside her house, the attempted theft became infinitely worse," he wrote. "Before stealing her car, Defendant decided to stab his aunt seventy-five times in the face, back, abdomen, arms, hands and neck. She died of blood loss on the floor of her bedroom, alone and suffering."
Among the reasons for a sentencing at the top of the guideline was how "senseless and brutal" it was.
"The stabbing was so frenzied, two of the stab wounds penetrated her skull," Spindle wrote. "She died of blood loss. This level of brutality far exceeds what would have been necessary to effectuate a murder."
While Tom is young and experienced traumatic events, his drug use contributed to them and he seems disinterested in curbing his use, he wrote. Spindle wrote:
"According to Defendant, treatment "takes up too much time." (Doc. 38, ¶ 60). This level of apathy to his drug use, even after multiple overdoses and the murder of a loved-one, indicates that he is not interested in changing his life. Therefore, even if the brutal murder of his aunt can be partially attributed to Defendant's drug use, the fact that he does not intend curtail his drug use indicates he will remain a public safety risk."
Spindle is also asking for $21,606 in restitution.
On April 7, 2021, Judge William Johnson sentenced Tom to 15 years in federal prison.
Tom appeared via video for the sentencing hearing and family members appeared via Zoom and one of them addressed the court, according to minutes from the hearing.
The minutes do not say who spoke or what was said. At the hearing, Spindle argued for 17.5 years and Loonam argued for seven years.
Tom must also pay $4,077 in restitution to Erik Benally, $11,522 to State Farm and $6,000 to the New Mexico Crime Victim's Reparation Commission.
See the case on CourtListener.com, read the documents on Google Drive or Document Cloud or read past stories on the case.
Past stories
Tavor Tom to ask for 7 years at sentencing, prosecution for 17
Navajo Nation man, 19, arrested for allegedly stabbing his aunt to death in Shiprock
Case documents
Latest posts by Wheeler Cowperthwaite
(see all)