Victim: Daniel Boscon, 46
Suspect: Bernalillo Police Officer Jeff McGinnis
Suspect: Bernalillo Police Sgt. Darrell Sanchez
Accused Agency: Bernalillo Police Department/Town of Bernalillo
Accused Agency: Sandoval County Detention Center
Date of incident: March 28, 2014
Location: Sandoval County Detention Center
Allegation: Denied medical care
Cause of death: Methamphetamine overdose with hypertensive and arteriosclerotic cardiovascular disease as significant contributing conditions, per autopsy report
Manner of death: Accident
Status: Settled
Settlement, Sandoval County: $100,000
Settlement, Sandoval County, per lawsuit:

$256,581.54

Settlement, town of Bernalillo: $90,000
Investigating Agency: State Police
District case: D-1329-CV-201501602
Detention case: M-45-MR-201400246
Plaintiff attorney: Rachel Higgins
Summary
On March 28, 2014, Daniel Boscon, 46, Bernalillo Police Officer Jeff McGinnis arrested Daniel Boscon for being disorderly. Despite his pleas for medical attention for dizziness and the laceration on his head, he was brought to the Sandoval County Detention Center where he died 30 minutes after being placed in a cell, according to a lawsuit.
The case settled in June 2017.
The incident
On March 28, 2014, Bernalillo Police Officer Jeff McGinnis arrested Daniel Boscon after reports that he was "acting in a disorderly fashion," attorney Rachel Higgins wrote in a first amended complaint for wrongful death filed Oct. 26, 2015.
Boscon's estate was represented by Leon Howard, an attorney.
McGinnis handcuffed Boscon and placed him in the back of a police car. During the drive, Boscon "begged" McGinnis to take him to the hospital and said he was dizzy and had a cut on his head, Higgins wrote.
"There was no doubt that Decedent had injured his head–Defendant McGinnis could clearly see that Decedent's head was bleeding, and had witnessed Decedent bang his head on the partition cage in Defendant McGinnis' car," Higgins wrote.
McGinnis told his supervisor, Sgt. Darrell Sanchez, that Boscon was bleeding and wanted to go to the hospital. Sanchez told McGinnis to take him to the Sandoval County Detention Center and "see what happens," she wrote.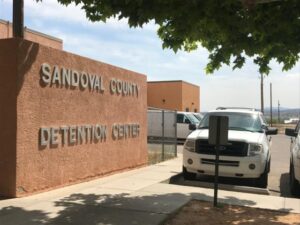 McGinnis tried to remove Boscon from the car without waiting for jail personnel to open the sally port, "contrary to known safety protocols," she wrote.
Three unnamed Bernalillo Police Department officers then arrived at the jail and helped McGinnis try to pull Boscon out of the car with "significant force," Higgins wrote.
One unidentified officer tried to remove Boscon by "using all of his body weight" against him and when that didn't work, another tried to push push him out "using a great amount of force with with his body," she wrote.
That struggle ended with officers pulling Boscon out of the rear passenger door, "after which Decedent fell face down onto the ground," she wrote.
As he lay on the ground, multiple Bernalillo officers held him face down and handcuffed for two minutes and shackled his legs.
He was then taken to the booking area where he struggled. McGinnis accompanied him and did not tell jail staff that Boscon had complained about dizziness or that he had injured his head.
In apparent surveillance footage, McGinnis follows Boscon into the shower area after he was led away from booking and during the booking process he can be seen using a cell phone. He refused to hand over documents related to the cell phone, including its number, citing ongoing investigations, Higgins wrote in a motion to compel.
"Decedent again requested that he be given medical attention, this time, also, to SCDC personnel," Higgins wrote in the complaint.
Jail staff did not give him any medical attention and staff did not conduct an "adequate" screening. He was then "placed in restraints", booked, and placed in a cell with a window in the door, she wrote.
"Decedent was discovered unconscious by SCDC personnel 30 minutes after he was placed into the cell," Higgins wrote.
The jail's policy is to refuse to book anyone who arrives "in the midst of medical emergencies" and if he had told jail staff that Boscon said he had been feeling dizzy and had an injured head, they would have refused to book him, she wrote.
Higgins charged negligence by the police officers an the jail staff, battery by McGinnis and the three unnamed Bernalillo Police officers and failure to train and supervise both the officers and jail staff.
According to an autopsy report written by pathology fellow Linda Szymanski and Pathologist Ross Zumwalt, Boscon died from an overdose of methamphetamine. Hypertensive and arteriosclerotic cardiovascular disease were significant contributing conditions. The manner of death was an accident.
The autopsy showed one-vessel severe coronary artery disease and evidence of chronic myocardial ischemia, which is the death of heart tissue due to a lack of oxygen.
He had minor scrapes and bruises on his face and legs and blood in his chest, although this was put down to likely results of CPR.
The concentrations of methamphetamine in Boscon's blood were "high."
According to the toxicology report, he had an amphetamine level of 99 ng/ml and 2500 methamphetamine ng/ml in his blood, although no comparison is given for those quantities.
Settlement
The Town of Bernalillo and Sandoval County both settled in June 2017, for a total of $346,581.
According to a lawsuit filed by the Human Rights Defense Center, the Sandoval County jail's print out for "NMAC Law Enforcement cases closed" in October 2017 reported the county "paid $256,581.54 to the estate of Daniel Boscon for a "[w]rongful death claim while in jail."
According to a settlement agreement provided by the county, they paid $100,000.
The Town of Bernalillo settled the claims for $90,000, according to a claims release.
Daniel Boscon
According to his obituary, Boscon was born in Long Beach, Calif. and he was a musician who played guitar.
"Daniel liked geology, panning for gold and was a jack-of-all-trades," according to his obituary.
He is survived by his mother, his son and his sister.
Do you have information about this case? NM Homicide needs your assistance. Please fill out this form or contact us.
See the case documents on Google Drive or Document Cloud