LAS CRUCES, N.M. — District Court Judge Douglas Driggers sentenced Taylor James Enriquez to 19 1/2 years, July 6, 2018, the maximum sentence after he pleaded guilty, April 10, 2018, to charges of second-degree murder, false imprisonment and aggravated battery causing great bodily harm. Driggers' sentence was the maximum under the plea deal.
Enriquez stabbed Alberto Nunez in the neck with a broken bottle, killing him, on Feb. 26, 2017, according to court documents.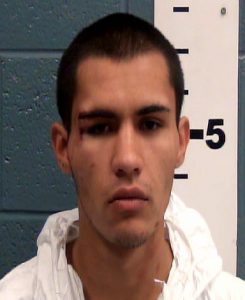 He also attacked Manuel Lopez Polanco, who had injuries to his face. The attack on Lopez Polanco was the basis of the aggravated battery charge.
According to the plea agreement, signed by prosecutor Rebecca Duffin, Enriquez was going to face a maximum sentence of 19 1/2 years in prison and that the sentences for each crime would run consecutively, or one after another. His defense attorney, James Baiamonte, agreed that he would argue for a minimum sentence of 15 years followed by five years of supervised probation while prosecutors would argue for 19 1/2 years.
On July 9, 2018, Driggers sentenced Enriquez to the maximum allowed, 19 1/2 years. Although second-degree murder carries a maximum sentence of 15 years, Enriquez was also sentenced to the maximum sentences on the charges of false imprisonment and aggravated battery.
Continue reading "Taylor James Enriquez receives 19 1/2 years for killing Alberto Nunez after guilty plea" →