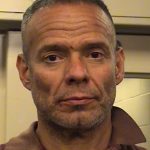 ALBUQUERQUE, N.M. — In June 2018, Christopher Pino pleaded no contest to voluntary manslaughter with a sentence capped at six years.
In August 2018, District Court Judge Cristina Jaramillo sentenced Pino to 3 1/2 years, according to the Albuquerque Journal.
According to police reports, Pino ran down homeless man Daniel Arballo, whom Pino saw with a pair of speakers. He also ran down Arballo's friend, Billy Harper.
Do you have information about this case? NM Homicide needs your assistance. Please fill out this form.
For more on the case, please see the case summary.
Suspect: Christopher Pino, 52
Victim: Daniel "Scooby" Arballo
Charges: Voluntary manslaughter; originally Open count of murder, aggravated assault with a deadly weapon.
Status: No contest plea to voluntary manslaughter
Sentence: 3 1/2 years
Date of incident: April 30, 2017
Agency: Albuquerque Police Department
Location: Central Avenue and Solano Drive, Albuquerque
Magistrate case number: T-4-FR-2017-002578
District case number: D-202-CR-201701879