SANTA FE, N.M. — On April 22, 2019, Ian Sweatt's family filed a wrongful death lawsuit (D-101-CV-2019-01095) against General Motors, which manufactured the Chevy Cobalt that Bryant was driving, and Mansoor Karimi, who allegedly crashed into his vehicle, killing him and Christopher Bryant, 30.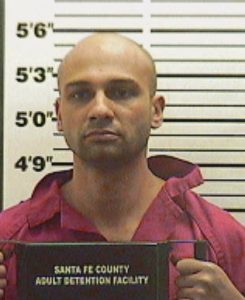 According to the amended lawsuit complaint, Sweatt, 33, and Bryant were both wearing seat belts but were still killed by the crash because the Cobalt "violated several crashworthiness principles and thereby failed to protect them."
"The injuries complained of herein occurred because the vehicle in question was not reasonably crashworthy and, thereby, created an unreasonable risk of injury and harm," attorney Justin Kaufman wrote in the complaint.
He listed a series of problems with the Cobalt, including that the seat belts did not prevent "adequate protection to far sided occupants," that it failed to prevent "rollout" from the far side, the car's side structure was "weak and inferior" and the "survival space" in the car was destroyed.
The case
On Friday, Dec. 16, 2016, Santa Fe Police officers were dispatched to the intersection of Camino Carlos Rey and Plaza Verde for a car crash.
At the scene, Christopher Bryant, 30, the driver of a blue Chevy Cobalt, was pronounced dead. His passenger, Ian Sweatt, 33 was transported to the hospital by ambulance, where he was also pronounced dead, Officer James Plummer wrote in an affidavit for an arrest warrant filed on Jan. 12, 2017.
At the scene, Karimi, 38, was sitting in a different vehicle, not related to the crash, he wrote.
Plummer found that Byrant has been driving east on Plaza Verde when he was allegedly T-boned by Karimi, driving a BMW 335i.
The point of impact was 44 feet into the intersection, which meant Karimi allegedly blew through it, going at least 50 mph, Plummer wrote.
An unnamed witness, headed north on Camino Carlos Rey told Plummer that Karimi was allegedly driving an estimated 60-70 mph. The speed limit for the residential area was 25 mph.
Later investigation would show that Bryant had a blood-alcohol content of 0.07, he wrote.
On March 24, 2017, a grand jury indicted Karimi on charges of:
Two counts of vehicular homicide (reckless driving)
Failure to give information and render aid at the scene of an accident
District Judge Mary Marlowe Sommer arraigned him on April 21, 2017 and released him on a $10,000 signature bond.
Trial is tentatively set for January 2020.
Do you have information about this case? NM Homicide needs your assistance. Please fill out this form.
See the court documents on Google Drive or Document Cloud