See the full case write-up here
SANTA FE, N.M. — Paulo Vega-Mendoza, of Santa Fe, will spend up to 15 years in prison after he pleaded guilty, April 29, to a single count of DWI vehicular homicide for a drunken crash that killed motorcyclist Paul Padilla, 63.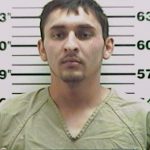 According to the plea deal, prosecutors agreed to drop the other charge he was facing, leaving the scene of an accident causing great bodily harm or death. However, there is no agreement on a sentence, which means District Court Judge T. Glenn Ellington could sentence him to the maximum: 15 years.
Ellington set the sentencing hearing for Sept. 27, 2019.
Vega-Mendoza ran into the back of Padilla's motorcycle, April 15, 2017, on Airport Road in Santa Fe. He fled from the scene and then crashed his own car, a Dodge Neon. It landed on its hood.
Witnesses, and then officers, allegedly chased Vega-Mendoza on foot before he tried to climb and fence and it broke, throwing him backward.
Padilla died from extensive brain injuries on April 25, 2017.
For more details, please see the summary of the case.
Do you have information about this case? NM Homicide needs your assistance. Please fill out this form.
See the case documents on Google Drive. or Document Cloud