Sentence was the maximum allowed under a plea deal
BERNALILLO, N.M. — On July 30, 2019, District Court Judge Louis P. McDonald sentenced Thomas Goodridge, 74, to eight years in prison for killing his wife with a rock on April 22, 2017, according to court documents.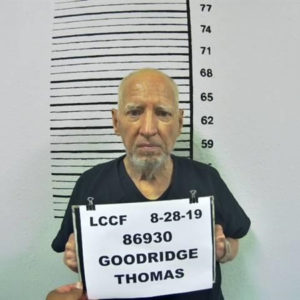 McDonald previously, on May 2, accepted a no contest plea from Goodridge that capped his maximum sentence at eight years and set a minimum of four years. That plea mandated that the rest of his sentence be suspended, in this case seven years, and he be placed on supervised probation for five years after he is released from prison. The judgement and sentence also states that he will be placed on parole for two years.
Second-degree murder carries a maximum sentence of 15 years.
Second-degree murder is a serious violent offense which means he must serve 85 percent of his sentence before he can be released, compared to the 50 percent required for crimes that are not considered to be serious violent offenses.
According to the judgement, Goodridge received credit of 828 days for time served while he was in jail awaiting trial, just over two years.
According to charging documents, on April 22, 2017, Thomas Goodridge listened to a voice in his head that told him to kill his wife, Anna Goodridge, 76, because they were both going to be attacked in their Placitas home. He took a rock from the front of their house and bludgeoned her in the head while she slept. He then washed his hands, combed his hair, brushed his teeth and then called police to say what he had done.
He was indicted on a charge of first-degree murder on May 4, 2017.
Do you have information about this case? NM Homicide needs your assistance. Please fill out this form.
For more details, please see the summary of the case.
Suspect: Thomas Goodridge, 72
Victim: Anna Goodridge, 76
Original charge: First-degree murder
Status: No contest plea to second-degree murder
Sentence: Eight years in prison
Date of incident: April 22, 2017
Agency: Sandoval County Sheriff's Office
Location: 5 Alexi Place, Placitas, NM
Relation to victim: Husband
Magistrate case number: M-45-FR-2017-00272
District case number: D-1329-CR-201700168