Andrew Magill received a 45-year sentence, after facing a maximum of 51 years
CARRIZOZO, N.M. — A District Court judge sentenced Andrew Magill to 45 years in prison followed by five years of supervised probation, Sept. 6, 2019, for nearly decapitating a woman at a Glencoe ranch in April 2017 and shooting a Lincoln County Sheriff's deputy after trying to turn himself in to police.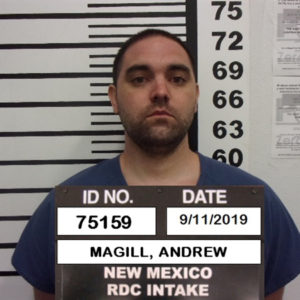 Magill had previously pleaded guilty on May 22, 2019, to charges of second-degree murder, two counts of assault with intent to commit a violent felony against an officer and felon in possession of a firearm. District Court Judge Daniel Bryant accepted his plea and entered the sentence. He suspended six years of his sentence and if he violates his probation after being released, he could be sentenced to the remaining six years.
According to the plea deal, Magill faced a maximum sentence of 51 years after he agreed that aggravating circumstances were present, which increased his maximum sentence by 1/3.
According to the Ruidoso News, a psychiatrist hired by prosecutors found Magill killed Mary Ann Moorehouse during a "drug-induced psychosis." Sugg said during a press conference, after the plea hearing, that the psychiatrist was paid $100,000.
Magill believed himself to be Jesus Christ and killed Moorehouse to save the world, Sugg said, according to the Ruidoso News.
He also shot Lincoln County Sheriff's Deputy Jason Green with his own gun during a fight in an emergency room.
All the crimes were considered serious violent offenses, meaning Magill must serve 85 percent of his sentence before being eligible for release, or just over 38 years. He also received credit for over two years time served while awaiting trial.
According to a press release from Sugg, dated Sept. 6, 2019, Bryant considered Magill's mental health to be a mitigating factor and wanted him to be supervised for longer after he is released from prison, and that was why he did not impose the maximum sentence.
Bryant wrote he recommended, under the special conditions of probation, that Magill be screened for a "treatment guardian."
Do you have information about this case? NM Homicide needs your assistance to tell the stories of homicide victims. Please fill out this form.
For more details on the case, please see the full case write-up, here.
Suspect: Andrew Poteet Magill, 25
Victim: Mary Ann Moorhouse, 61
Non-fatal victim: Jason Green
Charges: First-degree murder
Status: Plea to second-degree murder, two counts of assault with intent to commit a violent felony on an officer and felon in possession of a firearm
Sentence: 45 years followed by 5 years supervised probation
Date of incident: April 1, 2017
Location: 27544 US Highway 70, Glencoe
Magistrate case number: 

M-30-FR-2017-00024

District case number: D-1226-CR-2017-00064