Mateo Maestas drunkenly crashed into an unidentified Laguna Pueblo woman's car on April 19, 2019, killing her
The binding plea deal mandates his sentence will be between 5-8 years
In secret court documents, federal prosecutor Elisa Dimas asked for Maestas to receive either the maximum sentence or one greater than allowed under his plea deal
ALBUQUERQUE, N.M. — A 22-year-old Acoma Pueblo man is tentatively set to be sentenced on Jan. 17, 2020, for an April 2019 crash that killed a woman and injured her two children on the Laguna Pueblo.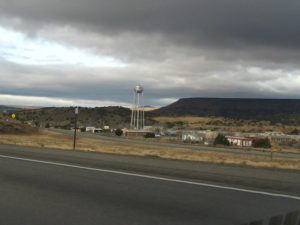 Mateo Maestas pleaded guilty to a single count of involuntary manslaughter on Sept. 5, 2019. According to the plea deal, accepted by federal Magistrate Judge Laura Fashing, the sentencing judge is bound to sentence Maestas to five to eight years in prison. Eight years is the maximum sentence for involuntary manslaughter. He was previously indicted on the manslaughter charge on June 12, 2019.
According to an order continuing his sentencing hearing, Federal District Court Judge James Browning is set to sentence Maestas at 8:30 a.m., Jan. 17, 2020 in Federal District Court in Albuquerque.
In preparation for the sentencing hearing, his attorney, Britany Schaffer, filed a 15-page sentencing memorandum on Dec. 31, 2019.
She wrote that Maestas drove because his friends left him at his car following a minor argument.
"He made a terrible error in attempting to drive back to safety, one for which he will be haunted by for the rest of his life," Schaffer wrote. "He called out for help to one of his loved ones, but he was too far away to be able to help."
Schaffer does not write how Maestas was in danger, or what he was in danger from, that he needed to drive, drunk, to safety, or what safety he was trying to drive toward.
The presentence report, which isn't public, suggested a sentence of 2 1/2 to 3 years, she wrote.
Schaffer wrote that she wants Browning to give Maestas a sentence at the low end of the plea agreement.
"Mr. Maestas has a criminal history of zero: that is, prior to this case, he has never been convicted of a crime, other than a single speeding ticket," she wrote. "He is young, hard-working and educated, and aspires to help others in his future as he has been doing during his counseling sessions while this case has been pending."
He is the grandson of Wilson Joe Chiquito, who was killed in his home. The Federal Bureau of Investigation's investigation into his killing is still unsolved.
"Although there is no excuse for his actions on the date of the accident, Mr. Maestas was heavily impacted by the loss of his grandfather, and, at the time when this accident occurred, he had unfortunately fallen into a pattern of using alcohol in an unhealthy manner. He was forthright with his probation officer when he discussed his drinking habits, and that he 'was struggling with alcohol use,'" Schaffer wrote.
Prosecutor Elisa Dimas wants Browning to give Maestas a sentence above the maximum of eight years agreed to in his plea deal because of his "uncharged conduct," Schaffer wrote. This is because of the injuries to the Laguna Pueblo woman's children.
One child, L.R., received "liver lacerations and spleen injuries." She was unrestrained in the back seat.
Dimas' actual request to increase Maestas' possible sentence does not appear in the public court docket. The public docket is missing entries 38 and 39 and 44 through 46.
According to Schaffer's sentencing memo, Dimas' request for Maestas to receive a sentence above what she agreed to in the plea agreement is document 45, which does not appear on the public court docket. There is no explanation as to why the document is being kept secret and there are no entries indicating it was sealed, or that either the defense or prosecution requested it be sealed.
According to Schaffer's memo, Dimas wants Maestas to be sentenced to at least a maximum of eight years and one month, one month above what was allowed in his plea deal, although it is not clear if she is seeking a sentence above that and her request is not on the public docket.
In 2018, journalist Jeff Proctor wrote about prosecutors with the U.S. Attorney's Office, which prosecutes federal cases, and public defenders, improperly sealing court documents, a process that requires a judge's consent.
Maestas also wrote a letter to Browning and the dead woman's family. Although he wrote that he feels sympathy for the woman's family and he regrets the decision he made, because it killed the Laguna Pueblo woman, much of his letter is about the unsolved killing of his grandfather.
Maestas is tentatively set to be sentenced on Jan. 17, 2020.
The details of the crash are in the case write-up.
Do you have information about this case? NM Homicide needs your assistance to tell the stories of homicide victims. Please fill out this form.
Suspect: Mateo Maestas
Victim: A Laguna Pueblo woman (YOB 1975)
Non-fatal victim 1: A child, YOB 2010
Non-fatal victim 2: A child, YOB 2012
Charges: Involuntary manslaughter
Status: Guilty plea to involuntary manslaughter, pending sentencing. Agreement, sentence range of 5 to 8 years.
Date of incident: April 16, 2019
Investigative agencies: Bureau of Indian Affairs
Location: State Road 124 at Yellow Hill Road, Laguna Pueblo, Cibola County
Federal Magistrate case number: 19-mj-1030
Federal District case number: 19-cr-01614
Prosecutor: Elisa Dimas
See the case documents on Google Drive
Britany Schaffer's sentencing memorandum:
Mateo Maestas - Sentencing memo def - 12-31-2019 - 19-cr-01614-JB_47_0