Kimsey Barboan beat his roommate with a baseball bat and left him to die
The binding plea deal set his sentence at 4 years and he must serve 85 percent
Barboan already served 1.5 years while awaiting trial
BERNALILLO, N.M. — A 35-year-old Cuba man received a four-year sentence, June 17, 2019, for beating to death his roommate with a baseball bat in 2017.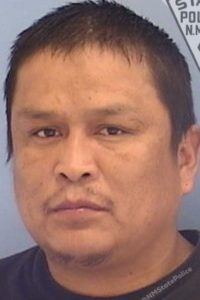 Kimsey Barboan pleaded guilty in Bernalillo District Court to charges of voluntary manslaughter, unlawful taking of a vehicle and DWI third offense.
According to court documents, Barboan beat Anthony Martinez, 61, of Cuba on Dec. 16, 2017, and left him for dead in their home, where he was discovered two days later by a friend who was looking for work.
District Court Judge Louis McDonald accepted the plea deal, signed by prosecutor Amy Lopez Dooling, which set Barboan's sentence at four years followed by three-and-a-half years of supervised probation. McDonald sentenced Barboan the same day, according to the provisions of the plea deal.
Because of the time he already spent in custody (1.5 years), he only has to serve just over two years in prison.
According to the plea, Barboan's killing of Martinez was done as "a result of sufficient provocation." Court documents do not state what Martinez did to sufficiently provoke Barboan.
On Feb. 1, 2018, a Sandoval County grand jury indicted Barboan on charges of second-degree murder, unlawful taking of a vehicle, tampering with evidence, DWI, driving on a license revoked for DWI and open container of alcohol in a vehicle.

According to an affidavit for an arrest warrant written by State Police Agent Marcus Lopez, Barboan told him that Martinez "jumped" him while armed with a baseball bat on Dec. 16, 2017. Barboan beat Martinez with the baseball bat and then drove to the Circle K gas station in Cuba, where he was arrested on unrelated charges.
Officers found a bloody baseball bat in the truck but did not seize it at the time.
When Barboan left Martinez on the floor of their house, he was groaning, Lopez wrote.
Two days later, two friends of Martinez found him dead in the house. They called 911 and the case was turned over to State Police agents who interviewed Barboan at the Sandoval County jail, where he confessed to killing Martinez, Lopez wrote.
Do you have information about this case? NM Homicide needs your assistance to tell the stories of homicide victims. Please fill out this form.
Below is the plea agreement for Barboan:
6-17-2019 - Plea - Kimsey Barboan

Suspect: Kimsey Barboan
Victim: Anthony Martinez, 61
Charges: Second-degree murder, unlawful taking of a vehicle, tampering with evidence, DWI, driving on a license revoked for DWI and open container of alcohol in a vehicle
Status: Pleaded down to voluntary manslaughter, unlawful taking of a vehicle and DWI third offense,
Sentence: 4 years followed by 3.5 years supervised release, per plea agreement; credit for 1.5 years time served
Date of incident: Dec. 16, 2017
Investigating Agency: State Police
Location: 334 County Road 13, Cuba, Sandoval County
Magistrate case number: M-45-FR-2017-00919
District case number: D-1329-CR-201800063