• Raylan Reano waived an evidentiary hearing
• District Judge James Parker ordered him back to prison for five months
• Reano killed girlfriend Nicky Chavez in a drunk driving crash in 2016
ALBUQUERQUE, N.M. — Raylan Reano will spend the next five months in prison after a judge ordered him back, Aug. 25, 2020, after he was initially released on supervised probation after serving a two-year sentence for killing his girlfriend in a drunk driving crash.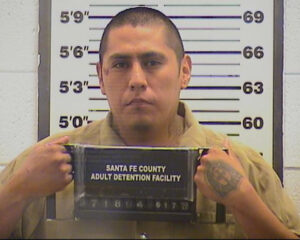 Reano, 27, admitted to violating the conditions of his release by failing to follow the instructions of his probation officer, failing to reside at a halfway-house after his release and taking drugs, according to a judgement signed by District Judge James Parker.
Reano killed his girlfriend, Nicky Chavez, 26, in a drunk driving crash on Oct. 23, 2016. He received a two-year sentence after pleading guilty to involuntary manslaughter.
Reano faced a maximum sentence of nine additional months for the probation violations, according to federal court documents.
Reano pleaded guilty on March 13, 2018, to a single count of involuntary manslaughter and a year later, Parker sentenced Reano to two years in federal prison, to be served at the same time as three tribal sentences, followed by supervised release for three years. One of those tribal sentences was for escaping from jail.
Reano's probation officer,  Christopher Fiedler, reported problems with Reano as soon as he was initially released, on Jan. 3, 2020, and that Reano admitted to using drugs before even leaving prison, according to court documents.
In the original petition filed March 25, 2020, Fielder alleged Reano admitted to using methamphetamine and Suboxone and he tested positive for drugs on Jan. 3, 4 and 7, 2020.
In the second amended petition filed May 18, 2020, Fiedler wrote Reano tested positive for cocaine on March 20, 2020 and admitted to using cocaine in a subsequent interview. A drug testing sweat patch, applied on April 17, showed positive results for THC, the chemical in marijuana.
The case
To read more about the crash, the plea, or the arguments over sentencing, please read the case write-up.
According court documents and an autopsy report, on Oct. 23, 2016, Reano, with a blood-alcohol content of 0.365, drove off State Road 53, overcorrected and flipped, ejecting Chavez, killing her.
According to a response to a sentencing memorandum by prosecutor Sarah Mease, witnesses said Reano was driving recklessly and at a "high rate of speed" when he lost control of his car and it rolled. He had a blood-alcohol content level, or BAC, of 0.365, over four times the legal limit of 0.08, and in the area of possible alcohol poisoning, which Mease described as "shockingly high."
See the case documents on Google Drive or Document Cloud.
Suspect: Raylan Reano
Victim: Nicky Chavez, 26
Charges: Involuntary manslaughter
Status: Remanded to prison for five months for probation violation after plea to involuntary manslaughter and sentence (2 years)
Date of incident: Oct. 23, 2016
Investigative agencies: Zuni Police Department
Prosecutor: Sarah Mease
Prosecuting agency: U.S. Attorney's Office
Location: State Road 53 in Ramah, exterior boundaries of the Zuni Pueblo
County: McKinley County
Type: DWI crash
Relation to victim: Boyfriend
Federal Magistrate case number: None
Federal District case number: 17-cr-03403