See the case write-up or previous stories
ALBUQUERQUE, N.M. — Raylan Reano will be free from the federal court system after he serves nine months in prison after he admitted to violating the provisions of his supervised release.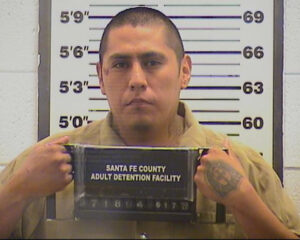 Federal District Judge James Parker sentenced Reano, 27, of Zuni, to serve the nine months concurrently, or at the same time as, a sentence in Zuni tribal court, where Reano pleaded guilty to resisting arrest, intoxication, criminal mischief and drug abuse, according to court records.
Reano admitted to violating the conditions of his supervised release, including that he failed to report at a halfway house as ordered and committed more crimes while he was on release, during the Dec. 4, 2020 hearing, according to the minutes.
After Reano serves those nine months, he will be released from the supervised release he was on after serving a two-year sentence for killing his girlfriend in a drunk-driving crash.
Reano killed his girlfriend, Nicky Chavez, 26, in a drunk driving crash on Oct. 23, 2016. Parker sentenced him to two years on March 21, 2019 followed by three years of supervised release, after he previously pleaded guilty to involuntary manslaughter, a sentence served at the same time as multiple tribal sentences.
It is unclear from court records why Reano will be released early from his sentence of three years supervised release.
During the Dec. 4, 2020 hearing, federal prosecutor Sarah Mease asked that Reano be placed on supervised release. The minutes do not document what his attorney, Aric Elsenheimer, asked of the judge.
Reano's issues with supervised release started the day the day he got out of prison, Jan. 3, 2020, after he admitted to using methamphetamine and Suboxone and he tested positive for drugs on Jan. 3, 4 and 7, 2020, Probation officer Christopher Fiedler wrote in a petition for a revocation of his supervised release filed March 25, 2020. In March, he was ordered to report to a halfway house, which he did not.
On Aug. 25, 2020, Parker ordered Reano remanded to prison for five months after he admitted to violating the conditions of his release by failing to follow the instructions of his probation officer, failing to reside at a halfway-house after his release and taking drugs, according to a judgement signed by Parker.
After he was released a second time, his probation officer again asked his supervised release be revoked in September after he failed, again, to report to a halfway house. Reano was subsequently arrested on Oct. 28, 2020 and held without bail pending the Dec. 4, 2020 hearing.
The case
According court documents and an autopsy report, on Oct. 23, 2016, Reano, with a blood-alcohol content of 0.365, drove off State Road 53, overcorrected and flipped, ejecting Chavez, killing her.
According to a response to a sentencing memorandum by Mease, witnesses said Reano was driving recklessly and at a "high rate of speed" when he lost control of his car and it rolled. He had a blood-alcohol content level, or BAC, of 0.365, over four times the legal limit of 0.08, and in the area of possible alcohol poisoning, which Mease described as "shockingly high."
On Nov. 28, 2017, over a year after Raylan Reano killed Chavez, a federal grand jury indicted him on a single charge of involuntary manslaughter. The case was filed with the federal court on Dec. 5, 2017.
On March 23, 2018, just three months after his indictment, Reano pleaded guilty to a single charge of involuntary manslaughter, a deal prepared by prosecutor Sarah Mease and accepted by federal Magistrate Judge Karen Molzen.
There was no agreement in the plea as to sentence, but prosecutors agreed that the judge should reduce Reano sentence by six months because of his six-month sentence in tribal court for killing Chavez, according to the plea.
On March 21, 2019, District Judge James Parker sentenced Reano to two years, the minimum suggested for a level I criminal history after six months was subtracted for time served in tribal jail, and allowed him to serve the sentence at the same time as his convictions in tribal court. That was to be followed by supervised probation for three years, according to the court docket.
See the case documents on Google Drive or Document Cloud.
See the case write-up or previous stories
Continue reading "Raylan Reano sentenced to 9 months for probation violation, supervised release terminated" →