• John Ensor allegedly crashed head-on into an oncoming car on April 4, 2021
• Sisters Danae and Darely, ages 17 and 12, died in the crash after bystanders were unable to get them our of their car before it burst into flames
• Ensor will be held without bail pending trial after Judge Thomas Lilley found him a danger to the community on April 16
ROSWELL, N.M. — John Ensor will be held without bail indefinitely after he allegedly killed two girls from Dexter, ages 12 and 17, in a fiery drunk driving crash on April 4, 2021.
District Judge Thomas Lilley found Ensor, 33, of Roswell, is a danger to the community and ordered him held without bail following a dangerousness hearing on April 16, 2021.
Ensor is charged in magistrate court with two counts of DWI vehicular homicide for the crash that killed Darely Sosa, 12, and sister Danae Sosa, 17. Darely Sosa is referred to as Daraly Sosa in court documents.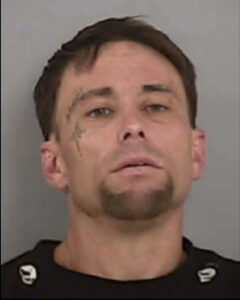 State Police Officer Trent Eby wrote in court documents that Ensor was trying to pass multiple vehicles on State Road 2 near Crockett Yard Road in Dexter, when he crashed head-on into the Ford Focus that Danae was driving.
Roswell Magistrate Judge E. J. Fouratt initially ordered Ensor released on his own recognizance on April 6, after Eby filed a criminal complaint charging him with DWI vehicular homicide. Ensor was still in the hospital at the time and Fouratt ordered him to contact the magistrate court within 72 hours of being released.
The following day, April 7, Fifth Judicial District Attorney's Office prosecutor Sarah Jean Grew filed an expedited motion for pre-trial detention. She wrote that Ensor had two previous drunk driving convictions various shoplifting and theft-related cases. In his second drunk driving case, from May 7, 2020, he drove his car over a curb and when police arrived, he was slumped over the wheel. He pleaded guilty in that case in August 2020.
"Defendant has an extensive criminal history in New Mexico that clearly belies an ongoing, serious substance abuse issue," Grew wrote. "Tragically, his addiction has now led to the death of two young girls."
Grew wrote that Ensor does not "respect or comply with court orders" and cited his multiple probation violations, being arrested while on probation, his failure to appear at court hearings and his failure to pay fines. Although Grew cites Ensor's failure to pay court fines, she also wrote that he has a "serious substance abuse issue." She did not write how someone with a "serious substance abuse issue" would be able to pay court fines and fees.
The American Civil Liberties Union has come out against the use and abuse of court fees to keep people trapped in a "modern-day debtor's prison."
Grew lumped his non-appearances into his failure to pay what could be problematic court fines and fees.
"The defendant has six failures to appear and pay in his past, as well as multiple probation violations," she wrote.
Lilley issued a no-bond warrant on April 12 after Ensor failed to appear for the pre-trial detention hearing.
According to minutes from that hearing, an attorney appeared filling in for William Waggoner, Ensor's attorney. Lilley issued the warrant after finding Ensor did not appear.
The court minutes do not state if Waggoner had been in contact with Ensor, if anyone confirmed he was released from the hospital or if he had been told about the hearing.
Although no warrant return was entered into the court record, a hearing on the motion to hold Ensor without bail was scheduled on April 14 for April 16, 2021.
According to the minutes from the April 16 hearing, Lilley heard from Gonzales and Eby and found Ensor is a danger to the community, granting Grew's motion for indefinite pre-trial detention.
A preliminary hearing is set for 9 a.m., April 23, 2021.
On April 4, 2021, around 2:30 p.m., Ensor allegedly tried to pass multiple vehicles on State Road 2, near Crockett Yard Road, when he crashed his Oldsmobile Bravada head-on into a 2009 Ford Focus driven by Danae Sosa, 17, Eby wrote in an affidavit for a criminal complaint.
Eby wrote, based on an investigation by State Police Officer Marcus Gonzales, that multiple witnesses said after the crash, Danae Sosa and sister Darely Sosa, 12, of Dexter, were unconscious and trapped in the car, which soon burst into flames.
"Witnesses reportedly attempted to extract Danae and Darely Sosa from their vehicle before it engulfed in flames but were unable to do so due to the amount of damage their vehicle sustained," Eby wrote.
Eby wrote that by the time he arrived, the Focus was severely burned and heavily damaged and the bodies of both girls were still inside. Gonzales told Eby that he found a syringe in Ensor's vehicle and that he was being transported to the hospital.
A day later a "TruNarc" test showed the syringe to be filled with a "fentanyl compound and/or methamphetamines," he wrote.
At the hospital, unidentified "ambulance personnel" told Eby at the hospital that Ensor said he was drinking in Cloudcroft earlier in the day, Eby wrote.
Eby wrote he found the syringe where Gonzales said it was and another officer. Austin Wilson, volunteered to collect it as evidence. He then drove to the hospital where Ensor was taken. Ensor was intubated and unconscious, with a breathing tube down his throat. Eby read the unconscious Ensor the state's implied consent law and then had his blood drawn.
He wrote he did this in compliance with the 2019 Supreme Court case Mitchell v. Wisconsin, which found that generally, police can conduct warrantless blood draws on drunk driving suspects.
In 2018, New Mexico changed its implied consent law to allow for warrantless blood draws.
Eby wrote that Ensor's sport-utility vehicle's registration was expired and had no insurance and according to a National Crime Information Center, or NCIC, query, Ensor's driver's license was suspended for drunk driving and he had two prior drunk driving convictions.
Danae, 17, and Darely Sosa, 12, also known by the last name Sosa-Zubia, were both born in Phoenix, Ariz., to Manuel Aaron Sosa Marquez and Iveth Sosa Zubia. They lived in Dexter.
Danae Sosa was a senior at Dexter High school and also attended the Goddard High School. She was part of the volleyball and track teams her freshman and sophomore years, according to her obituary.
"She enjoyed working out, shopping, thrifting, and spending time with family and friends," according to her obituary. "Her favorite things to do were playing Call of Duty, taking selfies, and listening to music."
Danae Sosa was fun, outgoing and vivacious and she "dearly loved" being part of the Dance of the Matachines.
"When you think of Danae, celebrate the good memories you have of her," according to her obituary. "Remember that life is fragile and short and should be lived to the fullest."
Sister Darely Sosa was a sixth-grade student at Dexter Middle School. In the fifth grade at Washington Avenue Elementary School, she was the vice president of her class and always on the honor roll, according to her obituary.
"Darely was a loving and compassionate person who enjoyed spending time with her sisters," according to her obituary. "She enjoyed reading, writing in her journal, playing Call of Duty, eating, and watching Anime. Darely was creative when it came to editing videos and photos, she always looked forward to it. "
Darely was outgoing and enjoyed being in the Dance of the Matachines.
"Darely will be remembered for her uniqueness and the way she could captivate people and their hearts," according to her obituary.
Both girls are survived by their parents, sister Debany Sosa and grandparents Emilia Berzoza Valles, Maria Sosa Marquez and Jesus Navarette.
Darely Sosa is also survived by her precious pets, Boots the cat and Lucky the dog.
Danae Sosa is also survived by her pets Cyder and Moonia.
See the case documents on DocumentCloud.