• Judge Martha Vazquez sentenced Joshua Gutierrez to 12 years, per a binding plea deal
• Gutierrez shot Llewyn Platero in the chest, killing him
• Prosecutor Allison Jaros offered the 12-year plea deal for voluntary manslaughter
See past stories or the case write-up
ALBUQUERQUE, N.M. — Joshua Gutierrez was sentenced to 12 years for for fatally shooting Llewyn Platero in 2020, per a binding plea deal.
District Judge Martha Vazquez sentenced Gutierrez, 22, of To'Hajilee on April 7, 2021, after accepting to be bound by the terms of his plea deal, which gave him a 12-year sentence.
Vazquez had the final discretion of whether to accept or reject the plea agreement proffered by prosecutor Allison Jaros. Gutierrez originally pleaded guilty on Oct. 15, 2020, in front of Magistrate Judge Paul Briones who accepted Gutierrez's guilty plea to a criminal information charging him with voluntary manslaughter and discharging a firearm in the course of a crime. The firearm charge mandates a 10-year sentence.
He received just two years for killing Platero, 36 and the remaining 10 years on his sentence came from the firearm charge.
Gutierrez apologized to Platero's family during the hearing and introduced his own family members. Platero's mother, Jackie Platero, addressed the judge, according to the sentencing minutes. The minutes do not detail what anyone said at the hearing.
In a sentencing memorandum, Jaros justified the binding plea deal's 12-year sentence, even though it was made over the objections of Jackie Platero, who reportedly told Jaros she wanted Gutierrez to serve a life sentence.
"At the time of the change of plea, she expressed that she was not happy with the plea agreement, which she viewed as too lenient," Jaros wrote.
Jaros justified the 12-year sentence with Gutierrez's self-defense claims and the evidence.
"The proposed plea agreement holds Defendant accountable for the death of John Doe and the terrorizing of John Doe's relatives by requiring Defendant to serve a significant prison sentence," Jaros wrote.
Platero leaves behind four children.
The killing of Llewyn Platero
On March 29, 200, Gutierrez was spending the night at the house where his girlfriend, identified in court records as C.P., (YOB: 1987) and her father, L.P., lived. Platero was C.P.'s ex-boyfriend and the father of her child, Jaros wrote in the sentencing memorandum.
Gutierrez as at least partially motivated by "bad blood" between himself and Platero because of Platero's past relationship with Gutierrez's new girlfriend, Jaros wrote.
The night Gutierrez shot Platero, Platero went to L.P.'s house as part of a group who wanted to hang out with him, Jaros wrote. The group included Platero's brother, Michael Kelewood, referred to in court documents as "M.K.," Kelewood's girlfriend and Platero's cousin, referred to as "J.L." J.L.'s age is not given but he is a teenager.
"The group arrived at L.P.'s house in the early morning hours of March 29, 2020 after a night out," Jaros wrote. "L.P. invited the group into his room to drink, smoke, and hang out."
At some point, Platero and Kelewood started arguing and wrestling in the father's room. C.P. then ordered them to leave and they started walking down the hallway, she wrote.
"Almost immediately after leaving the room, John Doe ran into Defendant who had armed himself with a gun and come to the room to challenge the group," Jaros wrote.
Most witnesses agreed that Platero made an aggressive movement toward Gutierrez. Gutierrez told police that Platero swung at him and grazed his face, panicked and shot Platero. C.P. told police that Platero swung at Gutierrez as he was walking down the hallway, Gutierrez got mad and shot Platero, Jaros wrote.
Cousin J.L. gave "varying" accounts, including one immediately after Platero's death, that Platero shoved Gutierrez prior to being shot. Platero died in J.L.'s lap, she wrote.
"In a later statement, after the stress of the moment had passed, J.L. indicated he did not recall seeing any physical altercation between John Doe and Defendant before the shooting," Jaros wrote.
Federal Bureau of Investigation Agent Dibiassi Robinson wrote in an affidavit for a criminal complaint that he spoke to J.L. at the Route 66 Casino, where Platero was taken by minivan to wait for an ambulance. Kelewood drove while J.L. applied pressure on Platero's wound.
"JL indicated that as they approached the kitchen GUTIERREZ raised a handgun up, in his right hand, and fired one shot into the chest of DOE," Robinson wrote. "JL made no mention of an assault or attempted assault by Doe towards GUTIERREZ. While attempting to provide aid to DOE, JL explained that GUTIERREZ told him and MK to get out of the residence 'or I'll shoot you too!' Gutierrez pointed the firearm at the two as he spoke those words."
According to the autopsy report, Platero died from a single gunshot wound. The bullet went through his heart and lungs, causing a "large amount" of bleeding in the chest cavity.
Past stabbing
The "bad blood" between Platero and Gutierrez was actually a stabbing.
Crownpoint Police Officer James Dan Jr. wrote in a police report he was called to the site of a domestic and found Gutierrez on the side of the road, clutched over in pain. After he was taken to the hospital, he talked to a woman identified as J.P., who told him she was in her house with her grandchildren when Gutierrez started banging and kicking on the door, saying he "was gonna kill all of us."
A.L., who was working on his jewelry, said he heard someone banging on the front door. Gutierrez then broke the screen door and A.L. told the officer "I then went after him to stop him."
Gutierrez was charged for criminal damage and the officer did not write if anyone admitted to stabbing him.
Jaros wrote that the shooting was an outgrowth of that bad blood. It is not clear from the police reports what role, if any, Platero had in the prior stabbing.
"Six months prior to the shooting, Defendant went to John Doe's house and threatened John Doe and his family with a large metal pipe that was made to look like a firearm," Jaros wrote.
Pattern of improper sealing
According to the court records, Guteirrez's attorney, Sylvia Baiz, a federal public defender, appears to have improperly placed her sentencing memorandum under seal. The document does not appear on the federal court docket but is mentioned in other court records.
Improperly sealed documents appear to be a problem in New Mexico's federal court, as outlined by Jeff Proctor, writing in New Mexico In Depth. He found a pattern and practice by prosecutors and public defenders to improperly seal documents in federal criminal cases, contrary to local and federal rules on sealing procedures. Baiz is a public defender.
Who was Llewyn Jose Platero?
Llewyn Platero, 36, of To'hajilee and the Pueblo of Nambe, was a family man who loved his five children. He was an artist like his father.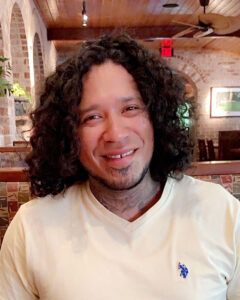 "Llewyn was such a loving and selfless man, with a big personality and an even bigger voice. Family meant everything to Llewyn, and he was the protector…the linchpin," according to his obituary.
Family was extremely important to Platero and he was his family's protector. He had four children, Joshua Platero, Llewyn Platero Jr., Corey Platero and Zahmarra Platero, and is also survived by his partner Candace Ruben.
"His laughter was contagious and his drive and motivation to provide for his family was inspiring. He loved to joke around, and enjoyed cooking, fishing, and drawing," according to his obituary.
Like his father who preceded him in death, Ernest Mirabal, Llewyn Platero was a great artist.
"He always had the best advice for any situation. No matter the time or circumstance, he was always there to guide his siblings," according to his obituary.
He is also survived by his mother, Jackie Platero, sisters Miranda Simmons, Michelle Kelewood, Nakiva Mirabal, Paige Loretto, Khiah Long, Khaleah Long, and Kharalius Long and his brothers, Michael Kelewood, Khiry Kelewood, Natanni Mirabal, and Austin Long III.
"Everyone looked up to him because he motivated everyone he came in contact with; he made everyone want to be better," according to his obituary.
See the case documents on Google Drive or Document Cloud