Joshua Gutierrez  pleaded guilty ahead of a grand jury indictment
The plea sets his sentence at 12 years, but final acceptance is at the discretion of the sentencing judge
He pleaded guilty to charges of voluntary manslaughter and discharging a firearm for killing Llewyn Platero, 36
See new and past stories or the case write-up
ALBUQUERQUE, N.M. — A To'Hajiilee man pleaded guilty Thursday, Oct. 15, 2020, in federal court to voluntary manslaughter and discharging a firearm for fatally shooting another man in an early-morning incident on March 29, 2020, on the reservation.
Joshua Gutierrez, 21, appeared via Zoom from a Cibola County detention center before Magistrate Judge Paul Briones who accepted Gutierrez's guilty plea to a criminal information and set sentencing before a District Court judge at an undetermined time.
According to the plea deal, it is binding and Gutierrez will be sentenced to 12 years. Final acceptance of the plea was deferred until sentencing by the district court judge, according to the form minutes.
Federal agents charged Gutierrez with murder in the death of Llewyn Platero, 36, on March 30, and Gutierrez has been in detention since.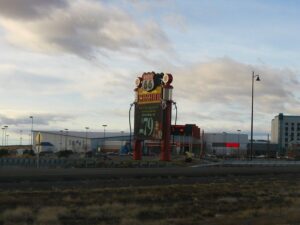 Gutierrez was staying at his girlfriend's house on March 29 in To'Hajilee when guests of his girlfriend's father including Platero, identified as "John Doe" in charging documents, and Platero's brother, identified as "MK" began to scuffle, Assistant U.S. Attorney Allison Jaros said in court.
Jaros signed the plea deal.
"My girlfriend entered the room and told them to leave," Jaros said, reading aloud the facts of the case from Gutierrez's point of view. "Shortly thereafter I armed myself with a handgun and began walking down the hallway. John Doe exited the room. As we passed each other in the hallway, John Doe swung at me. I shot John Doe in the chest."
Gutierrez pointed the firearm at MK and another witness, JL, telling them, "I'll shoot you too!" according to MK, FBI agent Dibiassi Robinson's affidavit for a criminal complaint alleged. JL allegedly told MK "he'll do it!"
MK and JL drove Platero toward Albuquerque, dialing 911 and stopping at the Route 66 Casino, according to Robinson.
Gutierrez "fled" the house on foot, Robinson wrote, and was found at his own home 1 1/2 miles away.
Another man, JG, told Robinson that Gutierrez "confided in him that he had shot DOE," he wrote.
"JG told GUTIERREZ to 'lay down, the cops will be here,'" Robinson wrote.
After being read his Miranda rights, Gutierrez allegedly told investigators he shot John Doe because he attempted to "assault" him and that the gun he used was at JG's house. A .380 caliber pistol and one spent cartridge were found at that house.
Gutierrez's plea deal waives any claim of self-defense, Jaros said.
When Briones asked Gutierrez if he felt he had enough time to talk about the case with his public defender, Sylvia A. Baiz, Gutierrez said, "Yeah, somewhat."
Briones asked Gutierrez several additional questions about Baiz's representation in which Gutierrez responded positively. With the plea deal, Gutierrez waives any appeal attempts except on the grounds of his representation.
Baiz said Gutierrez reached the plea deal ahead of a grand jury indictment deadline, which she said would have brought additional charges against Gutierrez.
Jaros said Platero's family listened into the hearing, and would speak at sentencing.
Gutierrez's next hearing was not scheduled at the conclusion of the plea hearing.
Do you have information about this case? NM Homicide needs your assistance. Please fill out this form.
Wheeler Cowperthwaite contributed to this report.
See the case documents on Document Cloud or Google Drive
Below is Robinson's affidavit for a criminal complaint:
D.N.M._1_20-mj-01001-SCY_1_0