• The New Mexico Supreme Court upheld Ameer Muhammad's conviction on felony murder
• The justices rejected arguments that Muhammad's mental illness prevented him from waiving his Miranda rights
• He received a mandatory life sentence, with parole after 30 years.
See the full case write-up or previous stories about this case
SANTA FE, N.M. — The New Mexico Supreme Court unanimously upheld the felony murder conviction of Muhammad Ameer, 26, who stabbed Aaron Sieben to death in 2017.
The justices rejected his defense attorney's arguments, that District Court Judge Jacqueline Flores refusal to suppress Muhammad's statement to the police and not allowing a self-defense instruction made the case worthy of a new trial.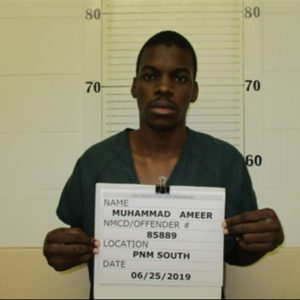 Defense attorney Steven Forsberg wrote in the appeal that the statement should have been suppressed because Muhammad was "in the grips of severe mental illness" when he made the waiver of his Miranda rights and gave a statement to detectives.
Justice Barbara Vigil wrote in the opinion for the court that Flores rejected the initial argument to suppress the statement, "stating that without more information about Defendant's apparent delusions there was not enough to conclude that those delusions impacted Defendant's ability to waive his rights."
She did not, however, address if it was made "knowingly and intelligently."
In challenging the unsuppressed statement, Forsberg wrote that the Flores used the wrong legal standard to determine if it needed to be suppressed.
Vigil wrote that the defense argued that Muhammad thought it was pointless to exercise his right not to speak to detectives because he had delusions that they would hear his thoughts and therefore they already knew everything. She wrote:
"The recording of the interview at the MDC demonstrates that Defendant's mental illness did not affect his understanding of his rights but rather his motivation for not exercising those rights. No other evidence was presented concerning Defendant's claimed diagnosis of schizophrenia or its effect on his ability to comprehend his rights. Because the record otherwise supports the district court's findings that Defendant was cogent and could accurately articulate his rights and the consequences of abandoning them, the totality of the circumstances demonstrates that Defendant's waiver was knowing and intelligent."
As for the argument that a self-defense instruction should have been given, there was no evidence that the Sieben, 30, ever had a weapon, even if he struck first.
"We have held that evidence of a simple battery against a defendant is insufficient for a reasonable jury to find that the defendant acted reasonably by responding with deadly force," Vigil wrote, before quoting State v. Lucero, a 2010 case, which in turn quotes a 1996 case, State v. Duarte.
There was not enough evidence to support a self defense claim, she wrote.
The case
On July 27, 2018, a jury found Ameer, 26, guilty of felony murder and armed robbery, although the latter charge was dropped as the predicate felony for felony murder. The jury acquitted him on a charge of tampering with evidence.
According to court documents, victim Aaron Sieben and Ameer allegedly got into some kind of argument while Sieben was in his truck on March 19, 2017, parked at a Circle K gas station in Albuquerque.
After Ameer allegedly fled from Sieben, Sieben pursued him, leading to a fist fight. As the fight progressed, Ameer allegedly produced a knife and stabbed Sieben two to three times. After stabbing Sieben, Ameer allegedly took his wallet. Sieben died at the scene and Ameer allegedly fled, only to be arrested shortly thereafter.
District Judge Jacqueline Flores sentenced Ameer to life in prison, which is a term of 30 years, on Sept. 25, 2018, according to court documents.
See the full case write-up or previous stories about this case