• Muhammad Ameer is appealing two issues from his trial
• The case is scheduled for a year after the last brief was submitted to the court in July 2019
See the full case write-up
Update: Listen to the oral arguments
SANTA FE, N.M. — Justices will hear oral arguments in Muhammad Ameer's appeal of his felony murder conviction on July 7, 2020, although it may be done via teleconference.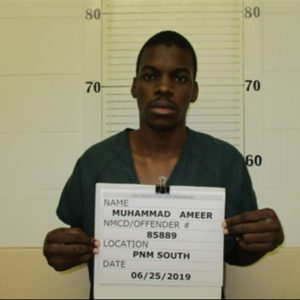 The case is scheduled for oral arguments 10:15 a.m., July 7, 2020, but whether it will be in person or via video is still up in the air because of the coronavirus pandemic.
On July 27, 2018, a jury found Ameer, 26, guilty of felony murder and armed robbery, although the latter charge was dropped as the predicate felony for felony murder. The jury acquitted him on a charge of tampering with evidence.
According to court documents, victim Aaron Sieben and Ameer allegedly got into some kind of argument while Sieben was in his truck on March 19, 2017, parked at a Circle K gas station in Albuquerque.
After Ameer allegedly fled from Sieben, Sieben pursued him, leading to a fist fight. As the fight progressed, Ameer allegedly produced a knife and stabbed Sieben two to three times. After stabbing Sieben, Ameer allegedly took his wallet. Sieben died at the scene and Ameer allegedly fled, only to be arrested shortly thereafter.
District Judge Jacqueline Flores sentenced Ameer to life in prison, which is a term of 30 years, on Sept. 25, 2018, according to court documents.
Although four issues were initially raised in a statement of issues for Ameer's automatic appeal to the Supreme Court, in the June 10, 2019 brief in chief, Assistant Appellate Defender Steven Forsberg, with the Law Office of the Public Defender, only challenged two issues: the judge not suppressing Ameer's statement to the police and the lack of a self-defense instruction.
In challenging the unsuppressed statement, Forsberg wrote that the Flores used the wrong legal standard to determine if it needed to be suppressed.
A Miranda rights waiver has to be both voluntary and knowing and intelligent, but Flores stated she believed police coercion was required to suppress the statement. However, that is only required to find if a statement was given voluntarily; a statement can still fail to meet the knowing and intelligent threshold in the absence of coercion, Forsberg wrote.
He wrote that Ameer was "in the grips of severe mental illness" when he made the waiver.
The statement was also the only evidence Ameer was the initial aggressor. When the defense argued for a self-defense instruction, the judge said she could not discount his statement to police. Forsberg wrote:
None of the eyewitnesses saw what caused Ameer to flee from Mr. Sieben's truck while Mr. Sieben chased him, but Ameer in his statement said he had held a knife to Mr. Sieben. None of the witnesses could provide a motive for those events, until Mr. Muhammad said during his statement, according to the detective, "that he wanted to get meth; to get high; to kill himself, and he made statements that he killed him because he did not want to continue to ask people for money." [8 Tr. 23:24-25:15] Due to his mental state, Ameer' s statements were not knowing (let alone reliable).

When the defense was arguing for a self-defense instruction, the trial court judge emphasized the importance of the statement: "I think the problem for me is you really want me to discount the Defendant's statement, and I can't" [8 Tr. 56:16-56:18] Ameer's unknowing statement kneecapped any defense he might have had.
Forsberg wrote that the Supreme Court should either reverse his conviction and remand for a re-trial, with the statement suppressed, or remand the case to the District Court for a new hearing on the suppression issue.
Should the trial court, on remand, find the statement unknowing, then a new trial would be required. If, on the other hand, the trial court held that the statement was knowing and intelligent, then Mr. Muhammad could appeal that decision to this Court.
In the answer brief for the prosecution, filed June 20, 2019, Assistant Attorney General Maris Veidemanis wrote that, although Ameer was experiencing delusions during the police interrogation, he was "coherent and articulate" and that the defense presented no information that Ameer did not understand the Miranda warning.
If there had been an error, it wouldn't have mattered because there was ample evidence to convict him of felony murder, predicated on armed robbery, Veidemanis wrote.
As to the self-defense instruction, Veidemanis wrote that really, the Flores' decision was based on the lack of evidence that Ameer had been attacked and pointed to State v Abeyta, which states that self defense must be reasonable in relation to the threat posed and that excessive force in self defense "renders the entire action unlawful."
On July 10, 2019, Forsberg filed a reply brief and focused on Veidemanis' emphasis on the voluntariness of Ameer's statement. He wrote that the trial court should be ordered to consider evidence of Ameer's mental state in determining if he knowingly and intelligently waived his rights.
He wrote that Veidemanis' claims that the case could have stood without his statement was contradicted by the trial prosecutor, who fought the suppression motion and highlighted the statement during his closing arguments.
The case is scheduled for oral arguments at 10:15 a.m., July 7, 2020.
See the case documents on Google Drive or Document Cloud