SANTA FE, N.M. — State Police detectives are looking for a 2015 Ford truck, and its driver, which allegedly hit and killed 45-year-old Kevin Poirer around 10 p.m., March 27, 2020, as he walked down Highway 14, near the Santa Fe County Detention Center, which he had just been released from.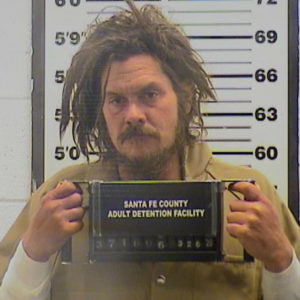 The driver of the truck, described as having front end damage and a missing mirror, allegedly fled the scene after hitting Poirer, State Police Officer and spokesman Ray Wilson wrote in a press release.
The truck hit Poirer near near mile post 43, he wrote.
Wilson spelled Poirer's last name as "Poirier."
Although Poirer was transported to St. Vincent's Hospital, he died from his injuries, he wrote.
"The investigation indicates Poirier (sic) was walking south on Highway 14 and was struck by what investigators believe to be a south bound 2015 Ford Pick-up Truck," Wilson wrote. "After striking Poirier, (sic) the truck fled the scene.  The truck will have front end damage and will be missing a mirror."
According to a booking sheet from the Santa Fe County Detention Center, Poirer was booked on March 26 at 2:27 p.m. and released the following day, March 27, at 8:25 p.m.,  before he was hit around 10 p.m. It is not clear, from State Police, when the initial call was received.
Poirer was booked on a failure-to-appear warrant, according to the booking sheet.
According to a court docket, Poirer was initially arrested on a charge of breaking and entering on Dec. 9, 2019.
The Albuquerque Journal reports Poirer allegedly "pried open the doors to a Best Western hotel," where police found him inside, and he told police he "just wanted to warm up.
Jail staff refused to admit him to the jail because of "severely infected" arm wounds, according to the Albuquerque Journal.
Wilson wrote that anyone with information should call State Police at (505) 841-9256, option 0, and tell the dispatcher they have "information related to the Highway 14 hit and run."
Do you have information about this case? NM Homicide needs your assistance to tell the stories of homicide victims. Please fill out this form.
See the case write up here.
See the current case documents on Google Drive.
Suspect: UNKNOWN/UNSOLVED (Driver, 2015 Ford truck, with a missing mirror and front-end damage)
Victim: Kevin Poirer
Charges: n/a
Status: Unsolved; police seeking public's help in finding suspect
Date of incident: March 27, 2020
Type of incident: Hit and run
Agency: State Police
Location: Highway 14, outside Santa Fe County Detention Center, Santa Fe County
Magistrate case number: N/A
District case number: N/A