• Jagjeet Singh is charged with fatally running over a woman walking on Interstate 40 near Gallup with her infant
• Although the woman's unnamed infant also died, a judge dismissed a charge of knowingly leaving the scene of a crash for the infant's death
• Singh will continue to live in Indiana pending trial
See the case write-up or past stories on this case
GALLUP, N.M. — A truck driver from Indiana will be confined to his home state, except to pick up his semi-trailer, after he was arraigned on April 26, 2021, for allegedly fatally running over a woman and her infant on Interstate 40 near Gallup.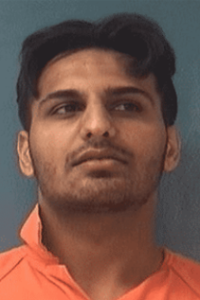 Jagjeet Singh, 24, of Indianapolis, pleaded not guilty during his virtual arraignment to one charge of knowingly leaving the scene of an accident causing death, two counts of possession of a controlled substance and one count of possession of drug paraphernalia, through a Punjabi interpreter.
State Police Agent Larry Reuter wrote in a statement of probable cause that Singh ran over Jessica Ann Copey, 24, of  Tohlakai, and her unnamed infant as she walked on Interstate 40 on Jan. 19, 2021.
Magistrate Judge Pat Casados previously bound Singh over to district court on the four charges following a preliminary examination on March 3.
Reuter initially charged Singh with two counts of knowingly leaving the scene of an accident, Casados dismissed one count, specifically for killing the unnamed infant.
According to the audio log from the arraignment, District Judge Robert Aragon allowed Singh to keep the conditions of his release originally imposed in the magistrate case.
Gallup Magistrate Judge Virginia Yazzie initially released Singh on an unsecured $100,000 bond after he was initially arrested and ordered he wear a GPS bracelet. Casados removed that condition and he was ordered to check in with his "compliance team" once a week.
He is allowed to drive throughout the state of Indiana and also is allowed to go back to New Mexico to pick up his semi-trailer and drive it back to Indiana.
A pre-trial conference is set for Aug. 2, 2021, followed by a tentative jury trial for Sept. 14, 2021.
In an amended statement of probable cause for Singh's arrest, Reuter wrote he interrogated Singh, who admitted he ran something over.
Reuter wrote he read Singh his Miranda rights but made no mention of them in any language other than English or that Singh had, or did not have, trouble understanding him.
In court documents, Singh indicated he needs a Punjabi interpreter. Miranda rights are supposed to be knowingly and intelligently waived.
Singh allegedly told Reuter he knew he hit someone who had long, white hair, Reuter wrote.
"Jagjeet confirmed he had observed the person walking from North side of the median and walking Southbound across the highway," Reuter wrote. "Jagjeet told me he took the exit at mile marker 16, stopped and looked in his mirror but could not see anyone in his mirror. Jagjeet never called the police and did not stop to look for the person he hit."
For more on the incident, see the case write-up. See the case files on Document Cloud or Google Drive.
Continue reading "Indiana man arraigned for death of woman near Gallup in hit-and-run crash" →