Editor's note: This story was originally published by Source New Mexico on Oct. 13, 2021, and is republished here under a Creative Commons BY-ND license.
Mary Margret Begay from Grand Canyon, Ariz., has been missing since Aug. 2, 1957. Paul Benally from Winslow, Ariz., has been missing since May 1, 1972. Gloria Ann Talley went missing out of Albuquerque on June 19, 1986 and hasn't been heard from since. These are just a few of the forgotten missing that advocate Meskee Yatsayte is working on bringing awareness to.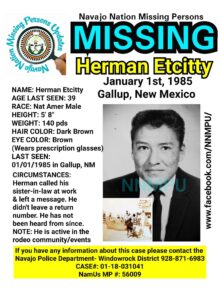 Herman Etcitty from Gallup has been missing since 1985.  Anthonette Christine Cayedito has been missing since 1986. Danny Nelson went missing in Flagstaff in 1996. Christine Lester from Indian Well, Ariz., went missing on April 5, 1987. Betty Ann Claw went missing in 1996 in Farmington. Wade N. Benally went missing in 2000, and he was last seen in Crownpoint, N.M.
These names of the missing, some with photos and some without, along with many others are posted on flyers, booklets, and the Facebook group Navajo Nation Missing Persons Updates. Printed media and social networks are the resources Yatsaye started and has been using for a few years now to put a spotlight on these cases, whether they be cold cases or current.
When Gabby Petito was reported missing on Sept. 11, 2021, social media, mainstream media, talk shows, celebrities all went into a frenzy to bring this case to prominence. Some refer to this as "missing white woman syndrome." Yatsayte sees it as another example of how frustratingly different missing people cases are handled when Natives are missing.
"I wish someone would hand me the mic … I'll tell you some names you probably never heard of," Yatsayte said. "This is shining a whole new light on what you have to mean to the world to be seen. For us to be noticed, do we have to be a public figure? Do we have to be a personal blogger? Do we have to be a personal figure on social media for people to notice our people are missing?"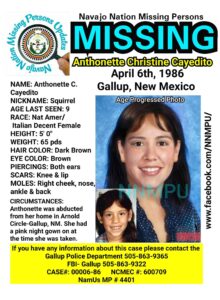 Petito was a 22-year-old woman driving across the country in a white van with her boyfriend Brian Laundrie. Chronicling their travels on social media sites like Instagram and Youtube, the couple had thousands of followers. Van life influencers on social media have become increasingly popular, so when Petito went missing, but her van and Laundrie were found in Florida, the entire world knew.
MISSING AND MURDERED: See all of the unsolved cases we're covering
This coverage and fascination did not die down, it only intensified as the days continued until Petito's body was found. It would take only a few more days for the autopsy to be done on Petito to confirm it was her remains. This quick confirmation from the autopsy astonished Yatsayte and proved to be another example of unequal treatment.
"She was reported missing Sept. 11, her body was found Sept. 19, and her autopsy was done Sept.21," Yatsayte said. "And it was confirmed it was her. That was only a week."
A family she keeps in contact with is still waiting for confirmation since last November on their own missing persons case, where remains were found, Yatsayte said. That isn't just an isolated case, she added, and there are other incidents where unidentified remains found aren't being confirmed nearly as quickly as Petito.
UNSOLVED KILLING IN REHOBOTH: Donnie Barney found stabbed to death in a hogan on Aug. 19, 2017, on Shadow Farm Road
As Peitto and Laundrie embarked on their cross-country travel in June, the Navajo Nation had been working toward locating 64-year-old Ella Mae Begay, who was reported missing June 15 in Sweetwater, N.M. On this same day, Ranelle Rose Bennett from Hogback, N.M., was last seen by her mother. Neither woman to this day has been located. Suspects or people of interest have been arrested on other charges, but not officially charged with the disappearance of either woman.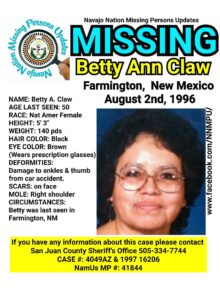 Bennett, a 33- year- old mother of two, barely made it into local papers.
Begay's missing case was made known because her community and family brought attention to it, but media attention wasn't nearly as pervasive and constant as it was with  Petito.
UNSOLVED KILLING IN NENAHNEZAD: Tyrone Tallman found in canal beaten, stabbed on July 17, 2018
"My sister, she was stolen," said Begay's brother, Robert Curley, during a July 22 family meeting to discuss Begay with Navajo tribal officials.  "This is the worst thing to happen. It really affected the whole nation. It's been happening for too many years. Some of the people have never been found. Some of them give up and are looking up to our police officers, FBI and criminal investigators."
Unlike the Petito case, the Federal Bureau of Investigation or Navajo Criminal Investigators rarely, if ever, gave updates to the public besides a short press release. The Navajo Police Department, which takes the initial report until it has to be given to these other entities, has been publicly scrutinized over the handling of Begay's case, even if it's no longer in their hands.
Once the case goes to Navajo CI and FBI, Navajo police aren't given any more information than what they already found out on their own. "What we are frustrated about here on Navajo is once it's turned over to the FBI and our investigators, there's not much communication, or much reach out to the media, at least for our cases here," said Navajo Police Chief Phillip Francisco. "That's the problem because everyone comes looking at the police department for their answers, but yet it should be coming from the investigative agency … CI and Federal Bureau of Investigation."
UNSOLVED KILLING IN RED ROCK: James Naswood found stabbed to death in red Pontiac Grand Am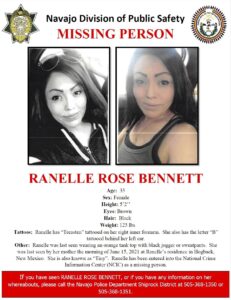 You won't see the FBI or CI go before a camera and give information to the public on a case on Navajo, he said.
Francisco continued to explain the efforts taken when it comes to a missing case, and they include: talking with witnesses, tracking, utilizing drones and K-9 dogs, calling on law enforcement partners to use their helicopters, getting information available from cell phone towers and looking over surveillance videos in the first few hours. They also use the Amber Alert, Missing Person Alert, and All Hazard Alert that NPD along with Navajo Emergency Management Department developed.
"It's an all-in effort with missing people when it comes to the Navajo Nation Police Department," Francisco said. "We do everything we can. After a while when we believe something is suspicious, then our investigators and FBI will get involved. The problem is our investigators and FBI won't get involved unless they believe there is a homicide."
Although Francisco describes the FBI as not informing the public on missing cases as much as the agency should, the FBI website has a page of missing Native Americans across the country. The FBI also started a Navajo-translated missing persons poster initiative.
"We always strive to release information the public needs to assist us in getting criminals off the streets, obtaining justice for victims, and keeping communities safe," Frank Fisher, an FBI spokesperson said in an email. "The FBI does not typically investigate cases of adults reported as missing on the Navajo Nation and other areas in which we have jurisdiction unless there is a reasonable suspicion of foul play."
There is often information that can't be shared publicly because it could jeopardize an investigation, he continued.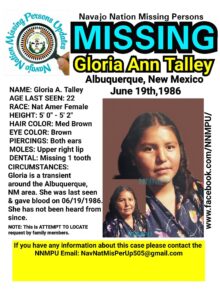 In June 2021, when Begay and Bennett went missing, it was reported that 113 other individuals also went missing from 19 different Indigenous tribes. The numbers climb each month. By  July, there were 115 from 19 tribes, and in August there were 119 from 21 tribes. September numbers when Petito went missing haven't been updated, according to the National Missing and Unidentified Persons System.
Fisher noted that they are working alongside Navajo Nation with the Safe Trails Task Force, which shares intelligence, and provides forensic expertise and other support. But groups like these are just one of many that Francisco has to be a part of. Other groups Francisco has to be involved in are a blanket of federal and state lead groups, and separate Navajo Council and executive branch groups, all working separately to come up with a solution about missing Navajo individuals.
"Everybody is trying to fix this so they're all coming up with their own plans," Francisco said. "It's hard to be a part of all these groups when they want you to be involved, and trying to develop their own procedures and protocols. Honestly, we have procedures and protocols in place already for the police department."
But, as all these groups compete with one another for a solution, Yatsayte continues to do what she can with the Facebook site she developed after noticing people posting on Facebook groups of their missing family members. Besides posting flyers on the Navajo Nation Missing Persons Updates, she volunteers at search parties held to locate the missing, she takes her drone out on her own to search for missing people from where they were last seen. She also established Missing and Murdered Indigenous Relatives and Missing Persons of the 21 Pueblos Facebook pages.
Even with all that she is doing, Yatsayte said a lot more can be done when it comes to bringing awareness. She described when she saw Nancy Grace, among many other popular television programs, highlight Petito's case, that made it even more obvious how Native missing people cases aren't given equal weight as others, because it was over a year ago Yatsayte reached out to Grace for some help in highlighting the missing.
"I've reached out through social media and sent emails to Nancy Grace … I even sent her flyers of our people," said Yatsayte. "I got no response. Because (missing Indigenous individuals) are not a public figure, they are not going to be seen. That's where we as family members, friends and advocates reach out and try to get their loved ones seen."