Jodie Martinez was allegedly impaired by methamphetamine when she crashed on July 6, 2019
The crash killed her son and severely injured a woman in the opposite vehicle

Martinez is being held without bail after waiving a detention hearing
See the case write-up
Update: Jodie Martinez's son has been identified as Christian Molina, 9.
ALBUQUERQUE, N.M. — A federal grand jury indicted a 33-year-old woman who allegedly killed her son after crashing her car while under the influence of methamphetamine.
The grand jury indicted Jodie Martinez on charges of involuntary manslaughter and assault resulting in serious bodily injury, on Dec. 30, 2019, although she was not arrested on the warrant until Jan. 17, 2020, in Gallup, by Federal Bureau of Investigations Agent David Loos.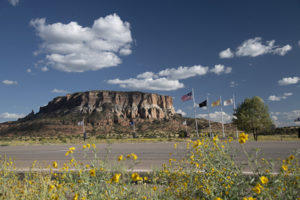 According to court records, Martinez allegedly crashed head-on into car driving the opposite direction on July 6, 2019, on State Highway 53, outside of Zuni, within the boundaries of the pueblo.  A woman in the other vehicle, a truck, suffered severe injuries and medics flew her to Albuquerque for treatment. Martinez's son died following the crash but his age is not listed in court documents and in the indictment, he is referred to as John Doe.
The indictment alleges Martinez was under the influence of drugs when she crashed and a federal search warrant alleges she a urine test she took, following the crash, was positive for methamphetamine.
She first appeared in federal court in Albuquerque on Jan. 21, 2020, where she was ordered held without bail pending a detention hearing by federal Magistrate Judge Jerry Ritter. Federal public defender Mallory Gagan was appointed to the case and Ritter arraigned her on Jan. 22, 2020. Martinez pleaded not guilty. She does not appear to have ever been charged in federal magistrate court.
On Jan. 29, 2020, Martinez waived her right to a detention hearing and Ritter ordered her held without bail.
On Feb. 21, 2020, Gagan filed a motion to continue the case. A jury trial is tentatively set for June 8, 2020 and the case is pending.
The crash
On July 6, 2019, Martinez was driving a Ford Explorer on State Highway 53, in the Zuni pueblo, when she allegedly slammed head-on into a truck (a blue GMC Sierra) driving in the opposite direction, FBI Agent Joshua Rock wrote in an affidavit for a search warrant.
When Zuni Police Department officers arrived, they found the victim, a child, not breathing and unresponsive, either lying next to the Explorer or being held by Martinez. Rock also describes the Explorer, an SUV, as a truck. The child, Martinez's son, is neither named nor given an age in court documents.
"The child was later pronounced dead at the scene," Rock wrote.
Martinez's boyfriend, identified as C.R., was also in the Explorer when it crashed while Martinez's son was in the rear passenger-side seat. Rock does not write how old the boy was. In the search warrant, Rock refers to Martinez as "J.M." with a year of birth of 1986.

The driver of the truck allegedly Martinez crashed into received minor injuries while the passenger, his wife, "sustained serious injuries and was flown to Albuquerque, NM for medical treatment," Rock wrote.
Rock wrote that Martinez allegedly told officers at the scene and investigators, later, two different stories about how the crash happened.
"J.M. told the officers she had fallen asleep at the wheel while driving westbound on Highway 53," he wrote. "When she woke up, she was in the opposite lane of travel. J.M. saw a blue pickup truck travelling in the opposite direction and tried to avoid the vehicle but was unable to react in time causing her to crash into the vehicle."
Her story allegedly changed.
"In a subsequent interview, J.M. stated a cell phone fell. J.M. reached down to pick it up and looked up and saw a truck coming," Rock wrote. "J.M. stated the truck was just there, there was no avoiding it."
In an interview with Agent David Loos, both Martinez and her boyfriend allegedly admitted to using methamphetamine at least four days before the accident. Zuni police officers arrested Martinez, collected her urine and it tested positive for methamphetamine.
Zuni Police officers also searched the SUV and found a green backpack that had an alleged homemade pipe with burn residue. According to a search warrant return, pill bottles and a white pill were seized.
Below is the approximate location of the crash, according to the search warrant: One mile east of BIA route 4.
See the case files on Google Drive or on Document Cloud or See the full case write-up.
Do you have information about this case? NM Homicide needs your assistance. Please fill out this form.