Trudy Martinez pleaded guilty to voluntary manslaughter and a firearm enhancement
Martinez shot her sister-in-law, Cornelia McCabe, in the abdomen in Twin Lakes, in front of at least one of the woman's children

She faces a minimum sentence of 10 years and a max of 15 years

Sentencing is tentatively set for Aug. 24, 2020
ALBUQUERQUE, N.M. — A Twin Lakes woman pleaded guilty, March 16, 2020, to voluntary manslaughter and a firearm enhancement for shooting and killing her sister-in-law with an AR-15 in April 2019.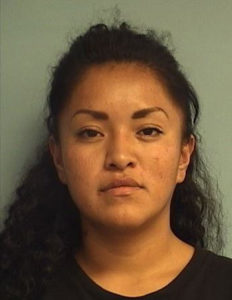 Trudy Martinez, 29, of Twin Lakes, will spend at least 10 years in prison for killing Cornelia McCabe, 36, her sister-in-law. She is identified in court documents as C.M.
Martinez pleaded guilty in front of federal Magistrate Judge Paul Briones who deferred acceptance of the plea to the district judge sentencing her in the case, according to the minutes.
When she was first arrested, Federal Bureau of Investigations agents charged her with an open count of murder.
Federal prosecutor Thomas Aliberti signed the plea deal and filed the criminal information charging her with voluntary manslaughter and the firearm enhancement. Voluntary manslaughter carries a maximum sentence of 15 years while the firearm enhancement carries a minimum 10-year sentence.
According to the plea deal, Martinez intentionally killed McCabe during a sudden quarrel and therefore, without malice.
One of McCabe's children told investigators she witnessed her mother's killing and that Martinez first pushed her mother before going back to her truck to retrieve an AR-15 carbine, which she then loaded in the house, FBI Agent Jeffrey Wright wrote in an affidavit for an arrest warrant. McCabe is referred to as "Jane Doe" in his affidavit.
"DOE attempted to take the rifle away from Martinez," Wright wrote. "As DOE approached MARTINEZ at the entrance to the Hogan, MARTINEZ pointed the rifle at DOE and fired the weapon two times. The first round missed DOE, but the second round struck DOE in the abdomen, after which DOE fell to the floor."
Sentencing is tentatively scheduled for Aug. 24, 2020, at 10 a.m. in the Cimarron Courtroom in Albuquerque in front of District Court Judge William Johnson. It was moved to August after Martinez's attorney, Irma Rivas, filed an unopposed motion to push out the sentencing date because Martinez wants her pretrial interview to be in person but the coronavirus pandemic has eliminated in-person visits at the Santa Fe County Detention Center, where she is being housed.
The killing
The incident is covered in greater detail in the case write-up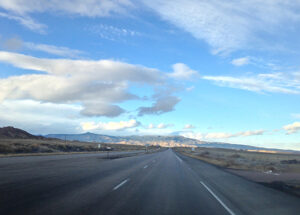 McCabe's daughter told investigators she came home from school and saw Martinez outside the house, cleaning up the yard, before she went into the house, Wright wrote.
"She was upset and complained that no one was helping her clean," Wright wrote. "DOE was inside watching over her children. C.M. observed MARTINEZ enter the home and push Doe. The two began to have a physical altercation. Martinez yelled at DOE and DOE's children to leave the house."
McCabe saw Martinez walk outside, get the carbine, walk into the house and load it. When McCabe approached her, she shot at her two times, hitting her once, Wright wrote.
Martinez allegedly pointed the gun at the girl and yelled something at her. She ran next door to her grandmother's house and the girl's aunt, referred to as E.T., went back to the house with her to take care of McCabe, he wrote.
In her own interview, E.T. told investigators that she was at her house making jewelry with her husband. Sometime during the evening, one of the children ran to her and said that "Trudy shot my mom," he wrote.
"The children explained that their mother (DOE) was laying on the floor in her house," Wright wrote.
She did not hear a gunshot, but was playing music, Wright wrote.
When she went to the neighboring house, McCabe was sitting against a bed, awake and talking, he wrote.
"DOE stated 'Trudy shot me,'" he wrote. "DOE than said that she needed to go to the hospital."
Family members drove her to a nearby gas station, where they met with an ambulance, before she was transferred to another hospital, where she died, Wright wrote.
Four days later, Wright applied for an arrest warrant for Martinez.
According to an FBI press release, Martinez fled with her three children after the killing. On May 9, 2019, she was arrested on the warrant.
Editor's note: An earlier version of this story referred to victim Cornelia McCabe as C.M., the initials used in court documents, because her name was not available when the story first published.
See the case files on Google Drive or on Document Cloud or See the full case write-up.
Do you have information about this case? NM Homicide needs your assistance. Please fill out this form.