• Prosecutor John Duran initially dismissed murder charges after he missed a series of deadlines
• Judge Brett Loveless overruled the order of the previous judge in the case to allow the case to continue, even though the case has been going on for over three years
• Scott Wade Bachicha is now facing a charge of involuntary manslaughter
See the full case write-up
ALBUQUERQUE, N.M. — After years of delays that lead to an initial dismissal of a murder charge, an Albuquerque man will have to wait even longer for his day in court after a judge ordered a stay in his case while prosecutors appeal a dismissal of a firearms enhancement.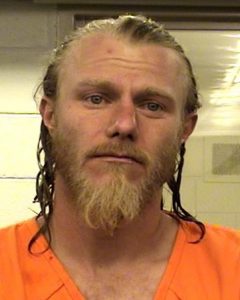 Scott Wade Bachicha, 35, allegedly shot and killed girlfriend Mindy Stuart, 30, with a shotgun blast to the neck on April 16, 2017. In court documents, Bachicha's attorneys argue the shooting was purely accidental but Albuquerque Police Department detectives initially charged him with an open count of murder, followed by a grand jury indictment on a charge of first-degree murder on May 2, 2017. (Read more details about the case in the write-up.)
Second Judicial District prosecutor John Duran missed a series of deadlines and dismissed the case without prejudice on Feb. 12, 2018 and then brought a new indictment on charges of involuntary manslaughter with a firearm enhancement and tampering with evidence, on Dec. 4, 2018.
Bachicha's attorney, Raymond Maestas, filed a motion to dismiss the firearms enhancement on Oct. 8, 2019. District Judge Daniel Ramczyk dismissed the firearms enhancement in an order on Nov. 20, 2019, following a hearing. Maestas also tried to call Duran as a witness and have the Second Judicial District Attorney's Office removed from the case.
After Ramczyk dismissed the firearms enhancement, prosecutor Mia Ulibarri filed a motion for Ramczyk to reconsider his dismissal of the firearms enhancement on Nov. 18, 2019. He denied that request and prosecutors James Grayson and Mia Rubin then filed an interlocutory appeal of his decision on Jan. 29, 2020.
On Jan. 31, 2020, Rubin filed a motion to stay the case pending the appeal of the firearms enhancement.
Ramczyk heard that motion on Feb. 12, 2020 and orally denied the motion, but never filed a written order. On Feb. 21, 2020, Ramczyk recused himself from the case, but listed no reason.
District Judge Brett Loveless was assigned to the case on Feb. 27, 2020, after three other judges recused themselves and on March 11, 2020, Meastas again argued against the stay.
On April 17, 2020, Loveless granted the motion to stay the appeal. According to the docket, all proceedings are suspended.
"Inefficiencies may result from ruling on Defendant's pending motions as they may dispose of the case without approval from or knowledge of the appellate court," Loveless wrote. "This Court will not rule on those matters while the appeal is pending."
Among the motions that are now stayed pending the appeal is a speedy trial motion Maestas filed on Jan. 10, 2020.
"In this case, the nearly three-year delay from Mr. Bachicha's arrest on April 16, 2017 and charging to the present trial setting of March 26, 2020 (total: 1,066 days) is simply unconstitutional," he wrote.
Also pending is a motion to suppress statements as involuntary.
No hearings or pleadings have been filed in the prosecution's appeal of the firearm enhancement dismissal.
See the full case write-up.
See the documents on Google Drive or Document Cloud