• A jury found Mansoor Karimi guilty for vehicular homicide by reckless driving for the deaths of two men
• He faces a maximum sentence of 12 years
Read the case write-up
SANTA FE, N.M. — The sentencing hearing for a Santa Fe man found guilty of killing two men in a reckless driving crash has been set for July 17, 2020, after the courts reopen for in-person hearings.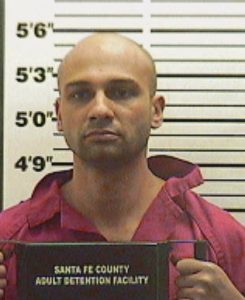 On Feb. 18, 2020, a jury found Mansoor Karimi, 42, guilty on two counts of vehicular homicide by reckless driving for the deaths of Ian Sweatt, 33, and Christopher Bryant, 30, after he T-boned their car on Dec. 16, 2016, according to jury verdict slips.
According to Phaedra Haywoood of the Santa Fe New Mexican, it took the jurors less than two hours to render a verdict following the five-day trial. Another charge, of failure to render aid, was thrown out following a directed verdict.
Karimi blew through a stop sign, at the intersection of Camino Carlos Rey and Plaza Verde, at 60 to 70 mph. The speed limit was 25 mph, according to court documents.
Following the verdict, District Judge Mary Marlowe Sommer ordered Karimi be remanded into custody pending sentencing and to undergo a 60-day evaluation to determine a sentence. He faces a maximum sentence of 12 years.
Sentencing had initially been set for May 13, 2020, but Karimi's attorney, Tom Clark, requested it be set for a day when in-person court hearings were allowed again.
"To conduct this sentencing by video and/or audio limits counsel's ability to effectively advocate on the Defendant's behalf," Clark wrote.
Jury trials in the state are set to resume, on a case-by-case basis, between June 15 and July 15.
In an order dated May 18, Marlowe Sommer set the sentencing hearing for 11 a.m., July 17 in Santa Fe.
"The Court anticipates that appropriate precautionary measures to safely conduct jury trials and in-person evidentiary hearings will be in place on or about July 15, 2020," she wrote.
Lawsuit
On April 22, 2019, Sweatt's family filed a wrongful death lawsuit (D-101-CV-2019-01095) against Karimi and General Motors, which manufactured the Chevy Cobalt that Bryant was driving. That lawsuit is covered in this story.
To learn more about this case, please read the case write-up.
See the court documents on Google Drive or Document Cloud