• Kasey Weaver killed boyfriend Kit Francis II in a drunk car crash in 2017
• She wants the judge to reconsider her sentence because of her record and good behavior
See the case write-up
SANTA FE, N.M. — Kasey Weaver asked the judge who sentenced her to eight years in prison, followed by five years of supervised probation, to rethink that sentence.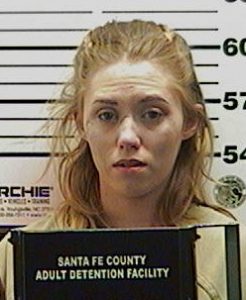 In a hand-written motion on May 14, 2020, Weaver, 27, of Albuquerque, noted she has no prior convictions and, since being sent to prison, has not received any discipline.
"Further, I have been enrolled in multiple programs starting with Matrix in Santa Fe County Jail, Sober Living shortly after my transfer to Springer Womens Facility, and most recently with the completion of the Residential Drug Abuse Treatment Program on the 27th of March, 2020," Weaver wrote.
Attached to the motion are a series of certificates noting the programs she completed.
No hearings have been set and no other entries appear on the court docket.
Weaver and her boyfriend, Kit Francis II, 24, were driving from Santa Fe to Albuquerque after drinking at Meow Wolf on April 16, 2017 when Weaver crashed into a car after she tried to stop at a red light at Cerrillos Road, before the exit to the I-25 interstate.
She was arrested initially for DUI great bodily harm. Francis, who was not wearing a seat belt, was ejected from the car and died later at an Albuquerque hospital.
A jury found her guilty of DUI vehicular homicide on Nov. 16, 2018. On April 19, 2019,  District Judge Mary Marlowe Sommer sentenced Weaver to eight years in prison followed by five years of supervised probation. Weaver faced a maximum sentence of 15 years.
According to the Albuquerque Journal, many of Francis's family members attended the sentencing hearing, including the mother of Francis' 6-year-old daughter, who spoke of her daughter's struggles with her father's death.
Most of Francis' relatives asked for the maximum sentence, 15 years, while Kit Francis Sr. asked for her to "do enough time so that she gets it and understands," according to the Albuquerque Journal.
See the case documents on Google Drive or Document Cloud
See the case write-up