ALBUQUERQUE, N.M. — A 27-year-old Zuni man is being held without bail pending a probation revocation hearing after being arrested on June 18, 2020.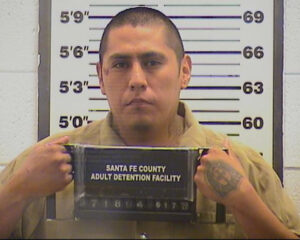 Raylan Reano killed his girlfriend, Nicky Chavez, 26, in a drunk driving crash on Oct. 23, 2016. He received a two-year sentence after pleading guilty to involuntary manslaughter.
After an initial probation revocation hearing on May 18, 2020, Magistrate Judge Laura Fashing set a tentative new hearing for May 22. The same day as the initial hearing, Federal probation officer Christopher Fiedler filed a second amended petition for the revocation of Reano's probation. It was not until June 18 that federal agents arrested Reano on a warrant, dated May 19.
In the original petition filed March 25, 2020, Fielder alleged Reano admitted to using methamphetamine and Suboxone and he tested positive for drugs on Jan. 3, 4 and 7, 2020. He used that as a basis to request Reano have a special condition added to his sentence that he be required to live at a "residential reentry center" for up to six months. On March 16, 2020, District Judge James Parker, who initially sentenced him, added the special condition to Reano's sentence.
In the second amended petition, Fiedler wrote Reano tested positive for cocaine on March 20, 2020 and admitted to using cocaine in a subsequent interview. A drug testing sweat patch, applied on April 17, showed positive results for THC, the chemical in marijuana.
Raylan Reano could spend up to another nine months in prison if his release is revoked, according to federal court documents.
On June 19, at a hearing on his revocation, Reano waived a preliminary hearing and a detention hearing.
A revocation hearing is set for 2 p.m., Aug. 25, via Zoom, in front of Parker.
Reano pleaded guilty on March 13, 2018, to a single count of involuntary manslaughter and a year later, Parker sentenced Reano to two years in federal prison, to be served at the same time as three tribal sentences, followed by supervised release for three years. One of those tribal sentences was for escaping from jail.
According court documents and an autopsy report, on Oct. 23, 2016, Reano, with a blood-alcohol content of 0.365, drove off State Road 53, overcorrected and flipped, ejecting Chavez, killing her.
To read more about the crash, the plea, or the arguments over sentencing, please read the case write-up.
See the case documents on Google Drive or Document Cloud.