Update: Sentencing has been tentatively moved to June 25, 2021.
Allister Quintana pleaded guilty to second-degree murder on Jan. 22, 2020
The in-person sentencing has been postponed to October because of the coronavirus pandemic
See the case write-up or previous stories on this case
ALBUQUERQUE, N.M. — The Dulce man who pleaded guilty to torturing his cousin, binding him and locking him in a closet to die will not be sentenced until Oct. 23 at the earliest as the coronavirus pandemic has closed courtrooms and jails to visitors, including attorneys and psychologists.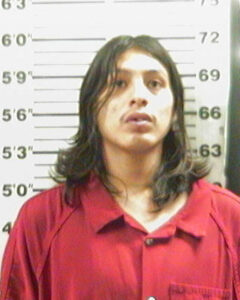 Federal District Judge William Johnson set Allister Quintana's sentencing hearing for 10 a.m., Oct. 23 in Albuquerque.
Quintana, 26, had been set to be sentenced on June 22, according to minutes of a May 26 hearing. Prosecutor Joseph Spindle is seeking a life sentence for Quintana.
Quintana pleaded guilty to a criminal information charging him with second-degree murder on Jan. 22, 2020. His codefendant, Andrew Bettelyoun, 25, previously pleaded guilty to conspiracy to commit kidnapping a year prior, on Jan. 30, 2019.
Quintana and Bettelyoun admitted to torturing Travis Howland, 28, before binding his hands and feet and leaving him, naked, in a closet to die on Feb. 2, 2018 in Quintana's house, according to court records.
During the May 26 hearing, Spindle said sentencing would take 1 1/2 to 2 hours and he planned to call one witness and two "family victims." Quintana's attorney, Ray Twohig, said he wanted to having the hearing moved because of issues related to the pandemic. It was then moved from June 22 to July 27. On June 1, the hearing was again moved, this time to Aug. 21. On July 13, it was moved again to Oct. 23. It is supposed to be in person but the public and media should have access via live streaming, according to the court docket.
In his third motion to reschedule sentencing, filed July 10, Twohig wrote that he "obtained the assistance" of a forensic psychologist, Christine Johnson, to address mental health issues to be considered when Quintana is sentenced.
Quintana is being held at the McKinley County Detention Center and no in-person visits are currently allowed because of the coronavirus pandemic. Twohig needed psychologist Christine Johnson to complete her evaluation because he could complete his own sentencing memorandum but because of visiting restrictions, she was having a hard time, he wrote.
"However, she has been able to arrange Zoom conferences with him," Twohig wrote. "These are difficult to schedule and conduct, since reception  is uneven and the evaluation process is delayed considerably by the use of this  method. She estimates she will need at least one other Zoom meeting in addition to the three Zoom meetings she has been able to conduct."
In a sentencing memorandum, Spindle asked for Quintana to be sentenced to life, an upward variance.
No hearing has been set for Bettelyoun and no filings have been made in his case for over a year.
Do you have information about this case? NM Homicide needs your assistance. Please fill out this form or contact us.
See all the documents for Allister Quintana or Andrew Bettelyoun on Google Drive. View the case files of Allister Quintana or Andrew Bettelyoun on Document Cloud.
See the case write-up
Allister Quintana
Charges: First-degree murder, kidnapping resulting in death and conspiracy to commit kidnapping
Status: Plea to second-degree murder, sentencing pending
Relationship to victim: Cousin
Federal magistrate case number: 18-mj-01776
Federal district case number: 18-cr-03989
Andrew Bettelyoun
Charges: Murder, conspiracy to commit murder and kidnapping
Status: Plea to conspiracy to commit kidnapping; sentencing pending
Relationship to victim: Cousin
Federal magistrate case number: 18-mj-03427
Federal district case number: 19-cr-00216