• A judge dismissed one of the two counts of knowingly leaving the scene of a crash causing death
• Jagjeet Singh does not have a case in district court yet, even though he was bound over on March 4, 2021
• SP Agent Larry Reuter said in court documents that Singh admitted to running over Jessica Ann Copey and her infant child on Jan. 19, 202
See the case write-up or past stories on this case
GALLUP, N.M. — A magistrate judge bound over an Indiana man on a single charge of leaving the scene of an accident causing death, as well as drug charges, for allegedly running over a woman and her infant near Gallup and then fleeing the scene.
Los Alamos Magistrate Judge Pat Casados bound over Jagjeet Singh, 24, of Indianapolis, to district court on additional charges of possession of a controlled substance: methamphetamine, possession of a controlled substance: heroin and possession of drug paraphernalia.
Singh is charged for allegedly killing Jessica Ann Copey, 24, of Tohlakai, and her unnamed infant on Jan. 19, 2021 in a hit-and-run on Interstate 40, west of Gallup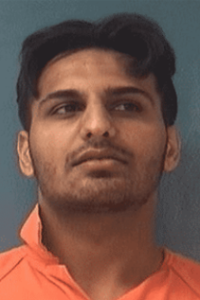 Casados held the preliminary examination on March 3 and entered her order binding him over on the charges the following day.
Singh has neither been arraigned in district court, nor has a district court case been created, as of March 20, according to district court records.
Casados' order does not say why she did not find probable cause for the second count of knowingly leaving the scene of an accident causing death, which carries a maximum sentence of six years.
The two drug possession charges appear in the court record as "IMPROPER STATUTORY CITATION," including in Casados' order.
If convicted on all the remaining charges, Singh could face a maximum sentence of nine years, if he received the maximum on each and the sentences were ordered to be served consecutively, or one after the other.
Singh is living with his family in Indiana. He had been ordered to wear a GPS ankle bracelet but the monitoring company ran out and the defense, with the prosecution's assent, requested he only be required to call his pre-trial monitors once a week, which Casados granted.
State Police Agent Larry Reuter charged Singh a day after a State Police officer found the bodies of Copey and her infant in the median. The infant was in a car seat, State Police Officer Dusty Francisco wrote in a press release. McKinley County Sheriff's deputies had been alerted shortly before to a woman walking on the interstate.
Reuter wrote in an amended statement of probable cause for Singh's arrest that Singh admitted to hitting someone, after Reuter read him his Miranda rights. Singh has requested an interpreter for his court case and Reuter made no mention of reading him his Miranda rights in any language other than English or that Singh had, or did not have, trouble understanding him. Miranda rights are supposed to be knowingly and intelligently waived.
When State Police officers searched his truck, they found heroin and methamphetamine, Reuter wrote.
For more on the incident, see the case write-up.
See the case files on Document Cloud or Google Drive.
Suspect: Jagjeet Singh
Victim: Jessica Ann Copey, 24
Victim: Unnamed infant
Date of incident: Jan. 19, 2021
Charges: One count of leaving the scene of an accident resulting in great bodily injury or death, one count of possession of a controlled substance: heroin, one count of possession of a controlled substance: methamphetamine and one count of possession of drug paraphernalia; an additional count of leaving the scene of an accident resulting in great bodily injury or death was dismissed by a judge.
Status: Bound over to district court; no district court case created yet
Investigating Agency: State Police
Investigator: Larry Reuter
Incident Location: Interstate 40 near mile marker 15, west of Gallup
Judicial District: 11th Judicial District
Prosecuting agency:  11th Judicial District Attorney's Office, Div. II
Prosecutor: Unknown
Defense attorney: David Serna
Magistrate case number: M-35-FR-2021-0021
Magistrate Judge: Pat Casados
District Case number: n/a