• The prosecution and defense agreed to send Larrison Hunch to a mental hospital until he is competent
• Hunch is charged with second-degree murder for the beating death of Alvin Adakai, 62
Read the case write-up
GALLUP, N.M. — A Mentmore man charged with second-degree murder for a motel beating death in 2020 had his case stayed, March 9, 2021, after his attorney raised the question of competency.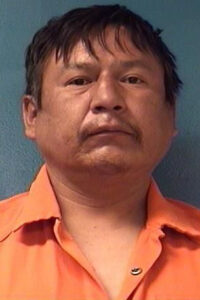 Attorney Todd Farkas raised the issue of Larrison Hunch's competency on March 1, before District Judge Robert Aragon stayed the case on March 9, according to the docket.
Farkas said during a hearing on March 5, 2021, that a neuropsychologist told him she did not believe Hunch, 45, was competent to stand trial, according to audio logs.
During a subsequent hearing on March 29, 2021, prosecutor John Bernitz asked the judge to send Hunch to the mental hospital in Las Vegas for a second evaluation and Farkas said they already reached an agreement on the evaluation, according to the audio logs.
According to the docket, Hunch was sent to the New Mexico Behavioral Health Institute in Las Vegas to "attain competency to stand trial."
No new court dates have been set.
Hunch has been in custody since May 20, 2020, when he was arrested.
On June 2, 2020, Hunch was bound over to district court on charges of second-degree murder, robbery and tampering with evidence.
Hunch waived his right to a preliminary hearing or the presentation of the case to a grand jury on the condition that prosecutors dismiss, with prejudice, the charge of first-degree murder.
District Judge Robert Aragon arraigned him in district court on June 16, 2020 and he pleaded not guilty.
The incident
Read more about the incident and witness interviews in the case write-up
Gallup Det. Andrew Thayer wrote in an affidavit for an arrest warrant for Hunch that he was called out to the Lariat Lodge in Gallup where Alvin Adakai, 62, of Manuelito, had been found dead, on May 17, 2020.
At 10:28 a.m., when the manager Hitendrakumar Patel went to check the room, Adakai was lying on the floor in between the two beds. After grabbing his arm and receiving no response, he called police. Office of the Medical Investigator Field Investigator Harolynn Yazzie told Thayer that Adakai's death was suspicious but the pathologist who conducted the autopsy would contact him with more information, he wrote.
That same day, pathologist Satish Chundru told Thayer Adakai's death was a homicide and his neck bones were fractured.
Larrison Hunch's girlfriend, Kerry Norton, told police that Hunch beat Adakai after he fell off of the bed during the night and after they had been drinking. Hunch was arrested on May 20 and denied hurting Adakai, according to court records.
On May 20, Thayer and Gonzales interrogated Hunch after he signed a Miranda rights waiver, Thayer wrote.
Hunch said Adakai appeared to be suffering from the coronavirus, he appeared weak and he probably died from it, Thayer wrote. Adakai did not look like anything happened to him when they left his motel room in the morning. He denied saying he "manhandled" Adakai.
Thayer and Gonzales left to retrieve the recording and when they came back, Hunch said he wanted a lawyer.
Detectives charged Hunch with an open count of murder, robbery and tampering with evidence.
View the court documents on Document Cloud or read the case write-up
Continue reading "Competency raised for Larrison Hunch, charged for 2020 Gallup motel beating death" →