• Judge denies Jansen Peshlakai's bid for release
• Peshlakai showed no elevated risk from the coronavirus
See the case write-up
ALBUQUERQUE, N.M. — Jansen Peshlakai will continue to be housed in the private Cibola County Correction Center after a federal judge found him to be a danger to the community and that the coronavirus did not pose enough of a specific threat to him.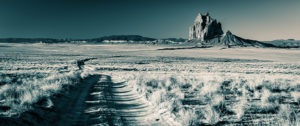 According to minutes from the June 4, 2020 hearing, conducted via Zoom, Peshlakai's attorney, Edward Bustamante, asked he be released to the third-party custody of his sister in Oklahoma.
Federal prosecutor Allison Jaros provided an update on the status of coronavirus cases in the Cibola County Detention Center and asked Peshlakai remain in jail, according to the minutes.
According to the minutes, U.S. Marshal Deputy G. McCoy "provides information re: COVID-19 cases, status of employee's health at Cibola and outlines medical treatment defendants receive upon entry/release from center."
Jaros brought one exhibit, entered onto the record, but it was not uploaded to PACER and the minutes do not state what it was.
At the end of the 45-minute hearing, District Judge Judith Herrera ordered Peshlakai continue to be held as a danger to the community, according to the minutes.
"Court finds defendant has not shown there is an elevated risk to him in contracting COVID-19, outlines reasons and denies request for release," the minutes state. "Ms. Jaros to submit order"
Peshlakai allegedly ran down 20-year-old Dakota Whitehat on July 13, 2018. Whitehat was in a vehicle that stopped because Peshlakai was fighting with his wife on the side of the road and, according to one report, screaming for help, according to court documents. Read more about the case in the write-up.
A grand jury indicted Peshlakai on a charge of second-degree murder three months later, on Oct. 2. 2018.
Peshlakai's competency to stand trial was an issue from the start of the case and he was found not competent on June 14, 2019, before being rehabilitated and found competent on March 20, 2020, his attorney, Edward Bustamante, wrote in a motion for his release.
Jaros opposed Bustamante's request.
The Cibola County Correction Center, and the company that runs it, CoreCivic, have come under scrutiny because of its handling of the coronavirus pandemic.
In a March 30 response to the United States Marshals Service, Cibola County Detention Center Warden Luis Rosa Jr. wrote a vague letter that the facility is following proper guidelines and instituting social distancing within the facility.
That comes in stark contrast to reporting by Jeff Proctor at New Mexico In Depth. Proctor wrote that inmates had to sign a waiver before receiving face masks.
According to a May 12 filing by Jaros, two federal inmates have tested positive for the coronavirus. They were transferred from Otero County in early May, 2020.
No further hearings are scheduled.
The Cibola County Correction Center allegedly forced inmates to sign waivers before giving them face masks, according to Jeff Proctor reporting in New Mexico In Depth.
Do you have information about this case? NM Homicide needs your assistance. Please fill out this form or contact us.
See all the documents this case on Google Drive or Document Cloud. View the docket on CourtListener.com.
Continue reading "Judge finds Jansen Peshlakai a danger to the community and won't release" →