A federal grand jury indicted Maroquez Clah on Nov. 25, 2019 the case was not docketed until Dec. 3, 2019, and he was not arrested until Feb. 14, 2020
Clah allegedly killed a man as a result of a drunk driving crash in August 2019
See the case write-up or read more stories about this case
ALBUQUERQUE, N.M. — A federal grand jury indicted Maroquez Clah, of Red Valley, Ariz., on a charge of involuntary manslaughter on Nov. 25, 2019, for a crash that killed a man in August 2019.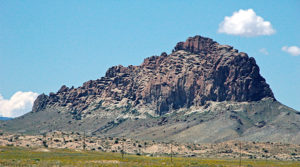 According to the indictment, Clah allegedly killed an unidentified man on Aug. 30, 2019, following a drunk driving crash in San Juan county.
The indictment contains no further details of the crash, its location, the victim or even where Clah was living at the time of the crash. (See updates and more details about the case)
Although the indictment was signed on Nov. 25, 2019, it was not entered into the federal court system until Dec. 3. Clah was not arrested until Feb. 14, 2020. His arrest warrant return was not entered into the online court system.
According to the federal docket sheet, Clah was not released to a halfway house in Albuquerque until Feb. 20, 2020, following a hearing in front of federal Magistrate Judge Paul Briones.
According to the minutes sheet from that hearing, Clah pleaded not guilty to the involuntary manslaughter charge.
Prosecutor Novaline Wilson opposed Clah's release and asked he be held indefinitely even though pretrial services recommended he be released, according to the minutes.
Although Briones made findings in the case, the minutes sheet does not state what they were, or why Wilson argued that he should not be released.
According to Briones' order setting the conditions of Clah's release, he was restricted to travel in Bernalillo county, to avoid all contact with co-defendants, not operate a vehicle and reside at a halfway house in Albuquerque.
It is not clear from court records if there are co-defendants in his case.
Do you have information about this case? NM Homicide needs your assistance. Please fill out this form.
See the case documents on Google Drive or Document Cloud
Suspect: Maroquez Clah
Victim: Unidentified man
Charges: Involuntary manslaughter
Date of incident: Aug. 30, 2019
Type of incident: DWI crash
Status: Pending
Investigating Agency: Federal
Location: Unlisted
Federal district case number: 19-cr-4447