A federal district judge ordered Maroquez Clah released from an Albuquerque halfway house to his parents' home in Red Valley, Ariz.
The district judge granted Clah's appeal, overruling federal magistrate Judge Paul Briones, who refused to release him
Prosecutor Novaline Wilson opposed Clah's release request in what could be an improperly sealed opposition 
See the case write-up or read more stories about this case
ALBUQUERQUE, N.M. — A Red Valley, Ariz. man will get to return home to take care of his ailing father, help is elderly mother and raise his daughter after a federal District Court judge ordered him released from an Albuquerque halfway house, overruling a federal magistrate judge, and federal prosecutor, who wanted to keep him in a communal setting despite the risk of the coronavirus, in a ruling April 20, 2020.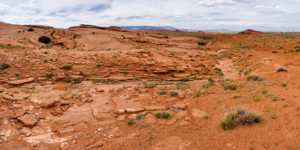 Federal District Court Judge Kea Riggs granted Maroquez Clah's appeal on April 20, 2020, and ordered him released.
Clah is charged with involuntary manslaughter for allegedly crashing his truck while drunk, which killed Darrell Chavez, 22, on Aug. 30, 2019, near Mitten Rock, New Mexico. A grand jury indicted him on Nov. 25, 2019 but he was not arrested until Feb. 14, 2020 and released to a halfway house on Feb. 20, 2020, after he was arraigned by Federal Magistrate Judge Paul Briones, and over the objection of prosecutor Novaline Wilson. (Read more on the details of the crash in the case write-up or read previous stories about the case.)
Briones denied Clah's request to be allowed to move to Red Valley, Ariz., to take care of his parents and daughter, on April 1, 2020 and wrote in his denial that the dangers of the halfway house were justified because of Clah's "pattern of prior conduct" and that his defense attorney didn't show that there are "sufficient safeguards" to protect the community from the risk of Clah drinking and driving, if he isn't living at the halfway house.
Briones relied on two documents filed by Wilson, which she appears to have improperly filed under seal.
According to minutes from Clah's arraignment, Wilson opposed even his release to a halfway house.
According to Riggs' order, Wilson opposed Clah's release because he has one prior tribal drunk driving conviction and may have a substance abuse problem.
Clah's defense attorney, Emily Carey, wrote in her appeal that Clah's father is on dialysis and his health has recently declined and his mother, Bessie Begay, contacted her to say that his father has "developed something akin to dementia." Begay also wrote a letter to the court explaining why she needed her son back in the house. He also took care of his 4-year-old daughter, who is now in Begay's custody.
Clah's doctors are also in Shiprock and Farmington, closer to Red Valley than to Albuquerque and it would remove him from a communal living situation with a potential higher risk for a coronavirus infection, Carey wrote.
In her order releasing Clah, Riggs wrote his medical and physical condition weighed toward his release, especially because he needed surgery on his leg, which is infected and that the halfway house stated they could not take care of his medical needs after he is released from the hospital.
She also found that, contrary to Briones' opinion, the Clah has no access to a vehicle, the only way he poses a danger to the community.
Briones previously ruled Clah be held at the halfway house over the advice of pretrial services, which suggested he be released to his family in Arizona.
"Given that Defendant has a history of compliance with conditions of release or probation, and lacks access to a vehicle, the Court agrees with Pretrial Services' recommendation and concludes that these conditions will reasonably assure the safety of the community," Riggs wrote.
Do you have information about this case? NM Homicide needs your assistance to tell the stories of homicide victims. Please fill out this form.
See the case documents on Google Drive or Document Cloud
See the case write-up here