Allister Quintana pleaded guilty to second-degree murder on Jan. 22, 2020
The prosecutor Joseph Spindle wants Quintana to receive a life sentence because of how heinous his actions were
Quintana had Andrew Bettelyoun help torture and bind Travis Howland before leaving him in a closet to die

Bettelyoun pleaded guilty to conspiracy to commit kidnapping
Update: Sentencing has been tentatively moved to June 25, 2021.
See the case write-up
ALBUQUERQUE, N.M. — A federal prosecutor is asking a judge to impose a life sentence on the Dulce man who beat, chopped, stabbed and bound his cousin before locking him in a closet to die of asphyxiation, starvation or dehydration.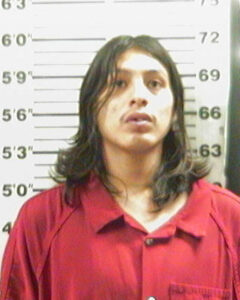 Allister Quintana, 26, pleaded guilty to a criminal information charging him with second-degree murder on Jan. 22, 2020. His codefendant, Andrew Bettelyoun, 25, previously pleaded guilty to conspiracy to commit kidnapping a year prior, on Jan. 30, 2019.
Quintana and Bettelyoun admitted to torturing Travis Howland, 28, before binding his hands and feet and leaving him, naked, in a closet to die on Feb. 2, 2018 in Quintana's house, according to court records.
Federal prosecutor Joseph Spindle filed a sentencing memorandum/motion for an upward departure in Quintana's case on April 2, 2020, asking that he receive a life sentence. Spindle wrote he wants six points added to Quintana's sentencing guideline, to put him at an offense level of 43, where the only suggested sentence is life, regardless of criminal history.
"Defendant's conduct was unusually heinous, cruel, brutal, and degrading to the victim, warranting the imposition of a six-level upward departure pursuant to U.S.S.G. § 5K2.8," Spindle wrote.
The extreme conduct guideline Spindle referenced is for "torture of a victim, gratuitous infliction of injury, or prolonging of pain or humiliation."
Spindle wrote that Quintana's torture of Howland encompassed three phases.
"He beat him with a flashlight, burned him with a lighter, cut him with a machete, and bound him with a cord," he wrote. "Doe suffered three types of trauma, blunt, sharp, and compressional."
Quintana allegedly forced Quintana to sodomize himself with a flashlight and tortured him in three separate rooms before leaving him bound in a closet "where he may have painfully surrounded to starvation, asphyxiation, or dehydration," Spindle wrote.
The pathologist who performed Howland's autopsy wrote that the manner of death was homicide but the means was unspecified, according to the autopsy report. None of his injuries were enough to kill him. (Read more about the cause of death here.)
Quintana also allegedly victimized one of Howland's sisters because she saw his body when responding as a medic, although she did not initially recognize him, Spindle wrote.
What Quintana did to Howland is outlined in greater detail in the case write-up. However, reader discretion is advised because the details are disturbing.
Although Spindle did not write what Quintana's sentence guideline number was, if it took a full six points to get to 43, the highest number, which carries a suggested sentence of life, his number could have been 37. With no criminal history points, the sentencing guidelines suggest a sentence of 17 to 22 years. With the maximum number of criminal history points, and a guideline of 37, the sentence is 30 years to life.
"Coupled with a criminal history category of I, Defendant's adjusted guidelines range would be imprisonment for life," he wrote.
Below is the federal sentencing table, from levels 33 to 43, the highest level.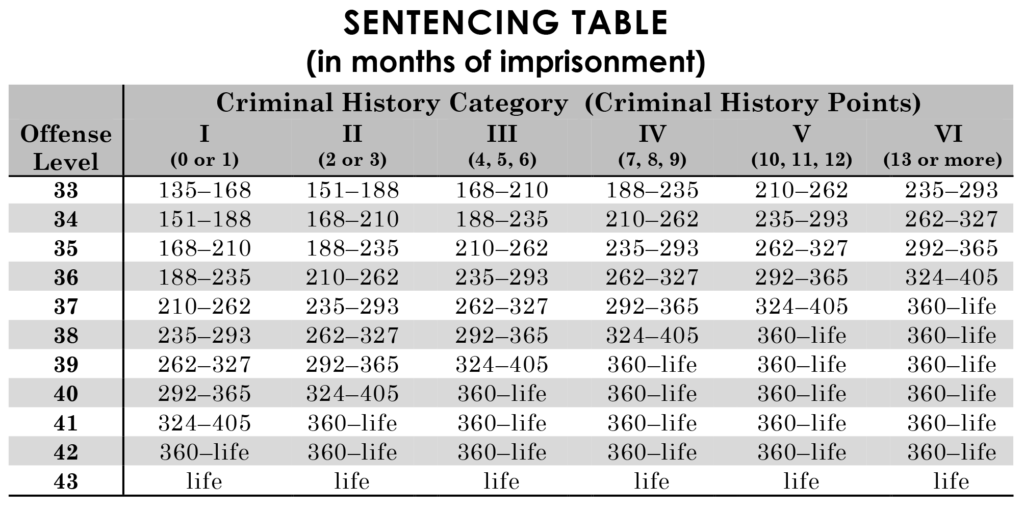 Quintana also has an "abysmal" criminal history that warranted a higher sentence, Spindle wrote.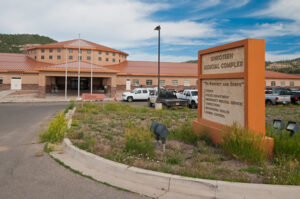 "In less than ten years, Defendant has been charged nine times," Spindle wrote. "While none of his previous conduct was even close to the brutality involved in this case, several times his convictions were for violent crimes. At least five of the crimes appeared to victimize women, and at least one involved confinement of the victim in his home."
It is unclear what alleged crimes Quintana committed, or how many he was convicted of. The only federal case against him is for Howland's death and state court records only show two cases, both for minor in possession of alcohol, from 2015.
In his presentence report and the calculation of his offense level, he did not receive points for his criminal history, Spindle wrote.
Quintana allegedly wanted Howland to suffer before he did by inflicting pain, humiliation and subjecting his sister to the sight of his decomposing body, Spindle wrote.
Spindle wrote:
"A sentence within the guidelines would not adequately reflect the seriousness of this type of sadistic behavior and would signal to the community that a brutal torture is no different from an isolated shooting. But there is a difference ― a huge difference. Doe's death was not quick and painless. He died after being beaten, tied up, and sodomized."
Sentencing "anomaly"
Quintana's current sentencing guideline appears to place him in the sentencing range of 17 to 22 years, based on a presumed sentencing guideline number of 37 based on court filings.
Bettelyoun faces a sentence range of 30 years to life, Spindle wrote. He did not specify what Bettelyoun's sentencing guideline number or criminal history.
Quintana being positioned to receive a lower sentence creates a sentencing "anomaly" between them, he wrote.
Spindle wrote:
"By all accounts, Defendant's conduct was far more egregious than his codefendant, Mr. Bettelyoun's conduct. However, based upon the application of a cross reference in Mr. Bettelyoun's case, his applicable guidelines range is imprisonment for 360 months to life. This is a glaring disparity between the codefendants considering that Defendant and Mr. Bettelyoun have similar criminal histories."
Quintana's sentencing is set for 2 p.m., June 22 in Albuquerque in the Cimarron courtroom in front of Chief District Judge William Johnson. No hearing has been set for Bettelyoun.
According to a motion reschedule the sentencing hearing by Quintana's attorney, Ray Twohig, he has hired a forensic psychologist to help him and sentencing should be done in person. However, the coronavirus pandemic has curtailed in-person hearings and, by June, it is possible that hearings can be held in person again.
The case
According to court records, Quintana was allegedly angry because his cousin, Howland, failed to bail him out of jail in late January 2018. During a night of drinking, on Feb. 2, 2018, at Quintana's house with Bettelyoun and Howland, Quintana allegedly attacked Howland before torturing him, binding him and leaving him in his closet. On Feb. 14, 2018, Howland's body was found in the closet of Quintana's house while Quintana was in jail on a tribal domestic case.
In Instagram messages, Quintana allegedly referred to the torture and killing as "batman shit."
Travis Howland
Amanda Martinez, writing for the Rio Grande SUN, talked to Howland's family about who he was as a person, as well as their reactions to the case.
"He was a guitar player, a graffiti artist, someone who loved metal music and a father," Martinez wrote.
Howland was goofy, liked to crack jokes and grew up with his sisters in and out of foster care, she wrote.
Martinez wrote that Bettelyoun is the nephew of the Jicarilla Apache Nation's Juvenile Officer, Letita Julian, who is married to detective Aaron Julian.
Do you have information about this case? NM Homicide needs your assistance. Please fill out this form or contact us.
See all the documents for Allister Quintana or Andrew Bettelyoun on Google Drive. View the case files of Allister Quintana or Andrew Bettelyoun on Document Cloud.
See the case write-up
Allister Quintana
Charges: First-degree murder, kidnapping resulting in death and conspiracy to commit kidnapping
Status: Plea to second-degree murder, sentencing pending
Relationship to victim: Cousin
Federal magistrate case number: 18-mj-01776
Federal district case number: 18-cr-03989
Andrew Bettelyoun
Charges: Murder, conspiracy to commit murder and kidnapping
Status: Plea to conspiracy to commit kidnapping; sentencing pending
Relationship to victim: Cousin
Federal magistrate case number: 18-mj-03427
Federal district case number: 19-cr-00216