VADO, N.M. — State Police are looking for the driver of a 1998 tan Chevrolet S-10 truck after the driver allegedly crashed into a motorcyclist, killing him, on May 14, and then fled the scene in Vado, south of Las Cruces.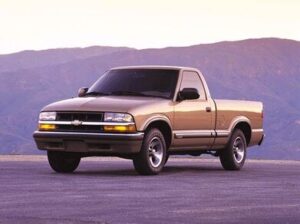 Lt. Mark Soriano wrote in a press release the rider, Guy Hanslin, 54, of Mesquiete, died at the scene, at 10581 Los Alturas Street.
"The initial investigation shows a black 2012 Harley Davidson was traveling north on Las Alturas Street," Soriano wrote. "The driver of a tan 1998 Chevrolet S-10 truck was traveling south on Las Alturas, and for reason unknown turned left striking the Harley Davidson head-on."
Officers found the truck abandoned at a house in Mesquiete, but are still looking for the driver, he wrote.
Soriano wrote that anyone with information should call State Police at 575-382-2500, option 1.
Do you have information about this case? NM Homicide needs your assistance. Please fill out this form.