• Judge orders interrogation of Anthony Wagon be suppressed
• Prosecutors appealed the order the same day
• Judge previously found Farmington police officers illegally seized Wagon on the Navajo Nation
See the full case write-up
AZTEC, N.M. — Prosecutors cannot use Anthony Wagon's statement to a Farmington detective made in the police station, following his illegal seizure on the Navajo Nation, District Judge Daylene Marsh ordered on June 2, 2020, but prosecutors appealed the order same day.
Wagon allegedly ran down his aunt's husband, April 26, 2017, in his car because he was allegedly mad about getting taken to the ground during a scuffle.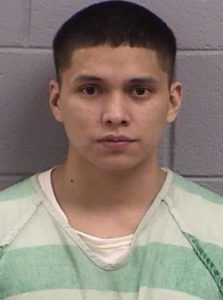 Farmington Police Det. Jason Solomon never read Wagon his Miranda rights after he was brought in for interrogation by detectives Chris Stanton, Jesse Griggs and Chad Herrera, Marsh wrote. The three went to the Navajo nation and, Marsh previously ruled, illegally seized him.
The three detectives went to a house on the Navajo Nation, found Wagon, ordered he come to them, and then transported him to the border where they transferred him into Sgt. Travis Spruell's police car, who then took him to the Farmington Police Department, Marsh wrote in a July 31, 2019 order. In that order, she found the seizure was illegal, but, after further briefings, she upheld the statements Wagon made to Spruell in an order filed Nov. 15, 2019.
Wagon's attorney, public defender Craig Acorn, filed a motion to suppress on Jan 16, 2020, followed by an addendum on March 3, 2020. After a hearing on May 14, 2020, Marsh issued her June 2, 2020 decision.
Acorn wrote that Wagon was very drunk and was never given his Miranda warnings, and even if it were given, he was too intoxicated to waive his rights.
Marsh wrote, in her order suppressing his statements to Solomon, that he was never read his rights, making his intoxication a moot point.
"The inadequacy of the advisement of rights requires the exclusion from use at trial of Defendant's statement to Detective Solomon and whether Defendant knowingly and intelligently waived his rights has become moot," Marsh wrote.
However, his interview with Stanton, Griggs and Herrera was acceptable because of a Miranda warning.
"Defendant's statements to Farmington Police Detectives Stanton, Griggs, or Herrera are not excluded from use at trial in this matter to the extent Defendant would have them excluded for the failure to properly Mirandize Defendant," Marsh wrote.
The same day Marsh issued the order suppressing Wagon's interrogation by Solomon, June 2, 2020, prosecutor Brian Decker filed a notice of appeal.
No further court hearings have been scheduled.
Do you have information about this case? NM Homicide needs your assistance to tell the stories of homicide victims. Please fill out this form.
See the full case write-up
See the case documents on Google Drive or Document Cloud
Location of the alleged killing: