See the case write-up
SILVER CITY, N.M. — A Florida man is set to go to trial on a charge of murder in August, assuming he does not take a plea deal during a pre-trial video conference set for July 27, 2020.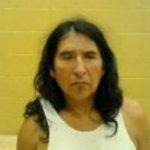 On March 17, 2017, Isaias Lobato-Rodriguez, 56, allegedly tied a belt around Connie Lopez's neck, strangling her in the front seat of her rented mini-van, two miles east of Hachita in Grant County.
Lobato-Rodriguez's murder trial had previously been set back after his attorney left the case to take a job with the state and after issues with an expert interpreter. He was initially interrogated by Border Patrol agents in Spanish, the subject of a motion to suppress.
His trial had previously been set for Oct. 7, 2019, a date that was vacated after his new attorney, Chico Gallegos, filed a motion to continue the jury trial. He wrote that it "became clear" that he needed to hire an expert witness to translate what was said in English, and in Spanish, for the various communications between border patrol agents and Lobato-Rodriguez.
A new trial date of Aug. 17 to 21, 2020, was set by the judge on Dec. 4, 2019. Then on Jan. 21, 2020, a pre-trial conference and plea hearing was set for July 27, 2020 at the district courthouse in Silver City.
On June 5, 2020, the court clerk entered an amended notice of a pre-trial conference and plea hearing set for 1 p.m., July 27, 2020, done via video conference. The hearing is set for 15 minutes.
It is not clear from the court documents and filings if Lobato-Rodriguez plans to plead guilty or if it is a perfunctory hearing before the trial. The hearing is set for 15 minutes.
According to the docket, most of the previous pre-trial conferences have also been labeled as plea hearings.
The trial is still set for Aug. 17, according to the docket.
See the case documents on Google Drive or Document Cloud
Read the case write-up