Judge William Johnson wrote Trudy Martinez has no right to an in-person interview with the probation officers preparing her pre-sentence report
Martinez pleaded guilty in March 2020 to voluntary manslaughter and a firearm enhancement
Alonzo Padilla's motion does not appear in court records and he did not respond to questions about the possible improper sealing of his motion
Update: Trudy Martinez's sentencing hearing has been moved to 1:30 p.m., Nov. 30, 2020.
ALBUQUERQUE, N.M. — Trudy Martinez, 29, of Twin Lakes, has no right to an in-person interview with the federal probation officers tasked with preparing a pre-sentence report and determining the range of her suggested sentence, a federal district court judge ruled.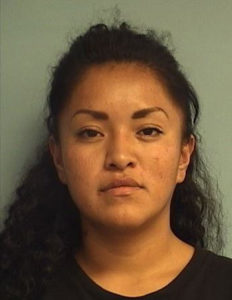 Martinez pleaded guilty on March 16, 2020, to voluntary manslaughter and a firearms enhancement for shooting her sister-in-law Cornelia McCabe with an AR-15 on April 26, 2019. She faces a sentence of 10 to 15 years.
In an Aug. 18, 2020 order, District Judge William Johnson wrote he would grant Alonzo Padilla's motion to continue sentencing the case, but only because there was good cause and not because he agreed with Padilla's position that Martinez was entitled to an in-person interview. He continued sentencing until Nov. 30, 2020.
"To be clear, Defendant is not entitled to an in-person interview with Probation for the purposes of completing her PSR," Johnson wrote. "In fact, the Court finds her insistence on an in-person interview to be unreasonable, especially when she cites no legal authority which would require an in person interview, or even that an interview is required at all."
Either Padilla or Irma Rivas, the other attorney representing Martinez, filed a motion on July 21, 2020, and in it said that he wanted a 90-day continuance "in order for an in-person presentence interview to be conducted given 'the serious nature of this case,'" according to a response in opposition filed on July 23, 2020, by prosecutor Thomas Aliberti.
Padilla's motion was numbered 36 and does not appear in the court docket. It also does not appear that Padilla filed a motion, or for permission to seal his motion to continue the case. Padilla, a public defender, did not return a request for information about his motion.
Writing in New Mexico In Depth, Jeff Proctor illuminated a pattern and practice by prosecutors and public defenders to improperly seal documents in federal criminal cases, contrary to local and federal rules on sealing procedures.
"Judges, not lawyers, are supposed to decide which documents are made available to the public and which should remain secret through an established protocol based in part on decades of case law: Attorneys must submit a written request asking a judge to seal records and a judge must consent before records are sealed," Proctor wrote.
At the heart of Padilla's request, which may be sealed in violation of court rules, is the demand that she be interviewed in person by probation. In-person interviews are problematic because of the coronavirus pandemic, according to court filings.
"The Court has no way of determining how long the pandemic and the corresponding ban on in-person visits at the Santa Fe Detention Center will last, or when an in-person interview can be safely conducted in the foreseeable future." Johnson wrote.
Probation officers are "routinely" interviewing people in other criminal cases, leading Johnson to be at a "total loss to understand how Defendant is prejudiced if she's interviewed by Probation with her
counsel participating utilizing videoconferencing or telephonic equipment."
Johnson wrote he was admonishing Padilla that he will not grant further continuances solely because she wants an in-person interview.
"The PSR will be completed, with or without Defendant's cooperation," Johnson wrote. "The Court will consider Defendant's ability to participate waived if she refuses to cooperate unless the interview is conducted in-person."
Johnson wrote that Padilla also asked for more time to interview members of Martinez's family, on the Navajo Nation, who are disproportionately impacted by the pandemic.
Sentencing is currently set for 9:30 a.m., Nov. 30 in the Cimarron courtroom in Albuquerque and will likely be available via video conference. (Update: Sentencing has been moved to 1:30 p.m.)
According to the plea deal, Martinez intentionally killed McCabe during a sudden quarrel and therefore, without malice.
One of McCabe's children told investigators she witnessed her mother's killing and that Martinez first pushed her mother before going back to her truck to retrieve an AR-15 carbine, which she then loaded in the house, FBI Agent Jeffrey Wright wrote in an affidavit for an arrest warrant. McCabe is referred to as "Jane Doe" in his affidavit.
"DOE attempted to take the rifle away from Martinez," Wright wrote. "As DOE approached MARTINEZ at the entrance to the Hogan, MARTINEZ pointed the rifle at DOE and fired the weapon two times. The first round missed DOE, but the second round struck DOE in the abdomen, after which DOE fell to the floor."
See the case files on Google Drive or on Document Cloud or See the full case write-up.
Do you have information about this case? NM Homicide needs your assistance. Please fill out this form.