• Prosecutor Brian Decker dismissed murder case two weeks after a judge ordered one of Anthony Wagon's interrogations be suppressed
• A judge suppressed Det. Jason Solomon's interrogation, where Wagon allegedly admitted to running down Jeremy Beard
• Wagon spent over three years in jail after initially being released on bond
See the case write-up
AZTEC, N.M. — A prosecutor dismissed the murder case against Anthony Wagon, 23, three weeks after a judge suppressed Wagon's interrogation by a Farmington detective, and three years after a judge ordered him held without bail pending trial.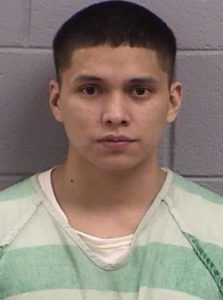 San Juan County District Attorney's Office prosecutor Brian Decker filed the nolle prosequi dismissing the case on June 23, 2020, after District Court Judge Daylene Marsh suppressed Farmington Det. Jason Solomon's interrogation of Wagon following Jeremy Beard's death on April 24, 2017.
After Marsh suppressed the statement on June 2, 2020, in which Wagon allegedly said he ran down Beard after being tackled by him during a fight over a beer, Decker immediately filed an appeal.
Marsh wrote, in her order suppressing his statements to Solomon, that he was never read his rights. His attorney, Craig Acorn, also made the argument that Wagon was too drunk to consent to an interrogation, but her decision made his intoxication a moot point.
"The inadequacy of the advisement of rights requires the exclusion from use at trial of Defendant's statement to Detective Solomon and whether Defendant knowingly and intelligently waived his rights has become moot," Marsh wrote.
Marsh cited State v Serna, a Court of Appeals case from 2018. In that case, the Appeals Court found that a Miranda warning requires "that a person be warned, at least implicitly, that they have a right to counsel prior to questioning." In the case of Ernest Serna, Sandoval Sheriff's Deputy Sal Tortorici, reciting a Miranda warning from memory, told Serna he had a right to an attorney during questioning. The court found this to be "inadequate."
While Solomon never read Wagon his rights, Det. Chris Stanton and Sgt. Travis Spruell did after they illegally seized him from the Navajo Nation.
On June 4, 2020, Decker filed a motion to dismiss his appeal and for Marsh to reconsider her suppression order.
He wrote that Stanton read Wagon the correct Miranda warning and that, when he testified during a motion hearing, it was from memory and not the card he carried. Marsh granted his motion and set a hearing for July 7, 2020.
On June 23, Decker dismissed the case, writing it was in the "best interest of justice."
Prosecutor Dustin O'Brien told the Farmington Daily Times that "the district court followed what is mandated by state law and the Farmington Police Department was issuing Miranda warnings consistent with law at the time."
Police Spokeswoman Nicole Brown told the Daily Times that the case was "dismissed pending further investigation" following Marsh's ruling and that the police department "is still pursuing and investigating the incident."
Wagon was initially released on a bond following his arraignment in magistrate court but after the case was bound over, former district judge John Dean ordered Wagon held without bail on May 26, 2017.
Dean wrote in his order that Wagon's step-mother testified against him, as did Solomon.
"Based on the testimony of Tina Wagon, Defendant's step-mother, Mr. Wagon has a history of anger issues than can cumulate (sic) in aggression and violence — particularly when Defendant does not get his way," Dean wrote. "In fact, Ms. Wagon testified that Mr. Wagon one time became so upset he shoved her and caused her to fall."
Dean wrote that Wagon "fled through a non-direct path" to his parent's home on the reservation, that that he was "indifferent to the consequences of his actions" and that Wagon was a danger to the community.
A civil case filed by Beard's father is still pending as is a battery on a peace officer case stemming from Wagon's three years in jail.
Do you have information about this case? NM Homicide needs your assistance to tell the stories of homicide victims. Please fill out this form.
See the full case write-up
See the case documents on Google Drive or Document Cloud
Previous stories
Victim's father files wrongful death lawsuit against Anthony Wagon
Judge suppresses Anthony Wagon's interrogation, prosecutors appeal
Judge: Farmington police made illegal seizure on Navajo reservation