• Isaias Lobato-Rodriguez received 15 years for strangling Connie Lopez
• A jury previously found him guilty of second-degree murder, a lesser-included offense of first-degree murder
Read the case write-up catch up on the past stories
DEMING, N.M. — Isaias Lobato-Rodriguez received the maximum sentence for strangling a woman outside Hatchita in 2017, after spending over three years in jail awaiting trial.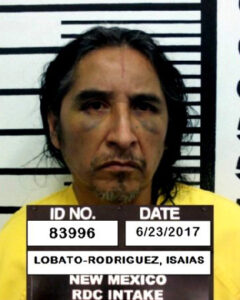 A jury found him guilty of the second-degree murder of Connie Lopez, 57, of Lake Placid, Fla., following a four-day trial that ended Aug. 20, 2020. They deliberated for just an hour. He was charged in district court with first-degree murder.
During a hearing on Nov. 2, 2020, District Judge Jarod Hofacket sentenced Lobato-Rodriguez to 15 years in prison, the maximum sentence for second-degree murder in New Mexico.
Hofacket gave Lobato-Rodriguez credit for the 3 years, 7 months and 17 days he spent in jail before trial, lowering the amount of time he will have to serve to 11 years, 4 months and 14 days, according to a judgement and sentence.
Lobato-Rodriguez is appealing his conviction and a notice of appeal was filed on Nov. 23, 2020. He is being represented by the appellate division of the Law Office of the Public Defender.
Lobato-Rodriguez's attorney, George Harrison, previously asked for a reconsideration of the guilty verdict on three grounds:
An improper comment by prosecutor Matthew Bradburn, during opening statement over Lobato-Rodriguez asserting his right to remain silent, citing the 2007 case State v. Rodriguez.
A failure to correct an improper translation in which Lobato-Rodriguez mumbled that he thought the victim told him he would "be dead that day."
The denial of a previous motion to suppress, previously denied twice by the judge.
Hofacket denied that motion to reconsider, noting that he had previously been asked to consider each of the motions individually and previously denied all three.
The judge took issue with assertion by Harrison that Lobato-Rodriguez used the phrase "be dead that day." He wrote:
"The interpreter informed the Court that she had heard the Defendant say something along the lines of 'because you'll be dead' in reference to why he would not see the mountain again. She stated that she did not understand what he said and asked him to repeat his response. When he repeated his response, he did not make that statement.
In reviewing the Defendant's trial testimony, this interaction did not occur. The Court is at a loss to explain why the court appointed interpreter would assert that it did. All of the testimony regarding the mountain, on direct and on cross is transcribed (unofficially from the audio recording) above."
Hofacket wrote that the blame appears to fall with Harrison, when the interpreter was questioned by the judge and the two attorneys. He wrote:
"Defense counsel stated that it was his understanding that the victim said 'you're going to be dead.' Only then did the interpreter change her testimony from the direct response to the Court's question and said that she did hear the Defendant say something along the lines that he was going to be dead, but that he mumbled, so she asked for the Defendant to repeat himself.
This did not occur and the interpreter's recollection of the trial testimony is incorrect."
On March 17, 2017, Isaias Lobato-Rodriguez, of Florida, allegedly tied a belt around Connie Lopez's neck, strangling her in the front seat of her rented mini-van, two miles east of Hachita in Grant County, according to a statement of probable cause.
He allegedly told two Border Patrol agents, one of whom found Lopez's body, that she was going to kill him and his family and that he was with other people in a berm in the desert. The agents could find neither footprints nor signs of anyone else.
According to Lobato-Rodriguez's trial testimony, Lopez was driving him to his home in Mexico. Lobato-Rodriguez is a Mexican national.
For more details on the killing of Connie Lopez, see the case write-up or read the past stories.