Judge William Johnson postponed Trudy Martinez's sentencing hearing

The private Cibola detention center is no longer transporting inmates for in-person court hearings
See the case write-up or read past stories
MILAN, N.M. — Trudy Martinez sentencing hearing, set for Nov. 30, 2020, has been postponed indefinitely because the Cibola County Correctional Center is no longer transporting inmates to courthouses for in-person hearings.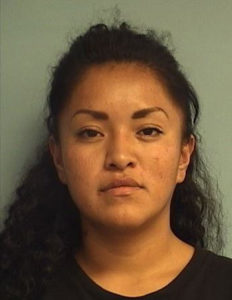 In an order issued Nov. 24, 2020, federal District Judge William Johnson wrote that suspension in transports is a result of the COVID-19 pandemic.
"The Court therefore vacates the 11/30/2020 Sentencing hearing pending further notice," Johnson wrote in the docket.
Martinez, who had been held at the Santa Fe County Detention Center, previously requested her case be continued so that she could have an in-person pre-trial interview, conducted by the probation department to determine what her sentencing guideline should be. It appears she was transferred from Santa Fe on Sept. 18, 2020, according to a jail booking sheet.
Martinez pleaded guilty, March 16, 2020, to voluntary manslaughter and a firearm enhancement for shooting and killing her sister-in-law with an AR-15 in April 2019. Magistrate Judge Paul Briones accepted her plea and deferred final acceptance to the sentencing judge. Federal prosecutor Thomas Aliberti signed the plea deal and filed the criminal information charging her with voluntary manslaughter and the firearm enhancement.
Although Martinez was charged with an open count of murder for shooting her sister-in-law, Cornelia McCabe, 36, Aliberti filed the criminal information charging her with voluntary manslaughter. The case was never presented to a grand jury for an indictment.
Her sentence range is 10 to 15 years. Ten years is the minimum for the firearm enhancement and 15 is the maximum for voluntary manslaughter.
Johnson wrote in an Aug. 18, 2020 order that Martinez is not entitled to an in-person pre-trial interview and that the family of her victim may have to virtually attend the sentencing hearing depending on physical court closures.
Improperly sealed?
It is not clear if the defense or prosecution filed sentencing memorandums in the case.
Martinez's two defense attorneys, Alonzo Padilla and Irma Rivas, appear to have improperly filed at least one motion under seal and 15 of the docket entries are missing, or 28 percent of the total docket.
The motion to delay Martinez's sentencing because she wanted to be interviewed in person by probation officers appears to have been filed under seal, although the prosecution opposition to it was not, nor was the judge's order referencing it.
Padilla did not return a request for comment and information on his presumably sealed motion.
Documents 38 and 39 appear to be sealed, as do documents 42 and 43 and seven documents, starting with 45 and ending with 52. Johnson's order, continuing the sentencing because of COVID-19, is document 53 and the only public document before that was 44, resetting the sentencing hearing from 9:30 a.m. to 1:30 p.m. on Nov. 30, 2020.
Writing in New Mexico In Depth, Jeff Proctor illuminated a pattern and practice by prosecutors and public defenders to improperly seal documents in federal criminal cases, contrary to local and federal rules on sealing procedures.
"Judges, not lawyers, are supposed to decide which documents are made available to the public and which should remain secret through an established protocol based in part on decades of case law: Attorneys must submit a written request asking a judge to seal records and a judge must consent before records are sealed," Proctor wrote.
Investigators talked to McCabe's daughter who told them she came home from school and saw Martinez outside the house, cleaning up the yard, before she went into the house, FBI Agent Jeffrey Wright wrote in an affidavit for an arrest warrant.
Martinez first pushed her mother inside the house before going back to her truck to retrieve an AR-15 carbine, which she then loaded in the house. McCabe is referred to as "Jane Doe" in his affidavit.
"DOE attempted to take the rifle away from Martinez," Wright wrote. "As DOE approached MARTINEZ at the entrance to the Hogan, MARTINEZ pointed the rifle at DOE and fired the weapon two times. The first round missed DOE, but the second round struck DOE in the abdomen, after which DOE fell to the floor."
Read past stories on this case or see the case documents on Google Drive or Document Cloud